HCM City drafts plan for urban development along first metro line
HCM City authorities are drafting design and construction plans for urban development along the city's first metro line, aiming to tackle issues such as flooding and congestion and improve the city's landscapes and residents' quality of life.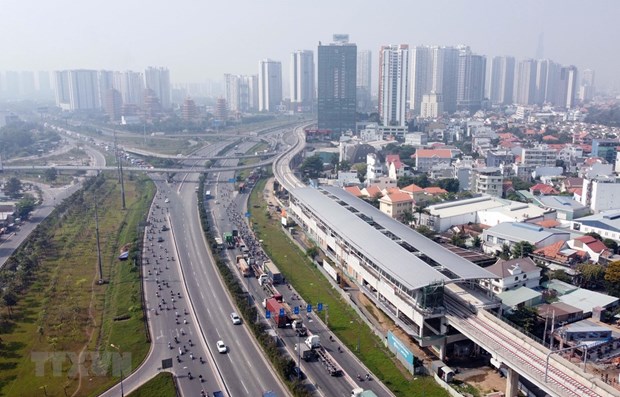 HCM City's first metro line extends between Ben Thanh market in District 1 and Suoi Tien Theme Park in Thu Duc new city. The city authorities are draftingdesign and construction plans for urban development along the line. 
The Department of Planning and Architecture is seeking experts' opinions on exploiting public land along the route, which extends between Bến Thành market in District 1 and Suối Tiên Theme Park in the new Thủ Đức City. 
With natural landscapes and major cultural and historical works along the metro line, the large land fund along it will be developed into multi-functional and specialised service centres.
Under the draft, about 10 urban development projects will be built along a portion of the line that stretches 14.8 km through 11 wards in Thủ Đức City, according to the department.  
Dr Võ Kim Cương, HCM City's former deputy chief architect, said the urban developments would follow the TOD (Transit Oriented Development) model in which public transport would be connected with urban development to save land and ensure that public transport develops sustainably. 
"The metro line will become the main mode of transport, and there will be hundreds of bus routes connecting its stations with residential areas, industrial parks, universities and research institutes." 
People would be able to walk conveniently and safely on sidewalks, which would be designed with the hot, rainy climate in mind.
Hà Ngọc Trường, vice chairman of the HCM City Port and Bridge Association, pointed out, however, that the draft plan could conflict with previous plans, which would be costly to adjust.
Architect Ngô Viết Nam Sơn said the development of transport infrastructure such as the metro, boulevards and highways would increase the value of land in the vicinity. 
However, previous improper planning allowed many "tiny" houses, he said. Improper urban planning had also resulted in too many concrete buildings and encroachment of water bodies and greenery.
"The city needs to develop a comprehensive urban plan to develop housing that will address the issues," he said.
Trường noted that the public urban railway projects would require huge investments (billions of US dollars) and take a long time to recover capital through ticket sales and other commercial activities. 
Architect Ngô Viết Nam Sơn also said the Department of Planning and Architecture should work with the departments of Planning and Investment, Finance, and Natural Resources and Environment to develop a plan to compensate affected households at market prices. 
When the infrastructure is completed, the value of land will significantly increase and the state can later sell or auction it for investors to operate. "With this option, the city will have more budget to reinvest in other projects," he noted.
Public land within a radius of 800-1,000m of the first metro line and Ring Road No 2 (the section through Thủ Đức City) will be auctioned to help the city recover capital to invest in other public infrastructure projects, according to the department.
Experts recommended that the city earmark more public land along the route for urban beautification in line with the plan to develop Thủ Đức City, and that public transport should be predominant. 
The draft regulation on the management of urban architecture has been submitted by the Department of Planning and Architecture to the city People's Committee. 
With a total investment of more than VNĐ43.7 trillion (US$1.91 billion), the 20-km metro line has three underground stations and 11 elevated stations. 
More than 87 per cent of the route has been completed. That is expected to increase to 91 per cent by the end of the year. The completion date, originally slated for the year-end, has been pushed up to the end of 2023 or early 2024 due to the impact of the pandemic.
Source: VNS