HCM City issues instruction to prevent soaring land prices
HCM City authorities have instructed districts to take urgent action to prevent speculators from exploiting the news about urban development planning.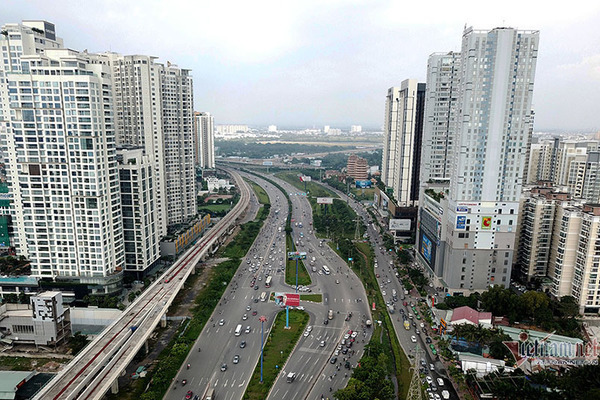 HCM City has experienced two land price escalations so far this year. Earlier this year, when Thu Duc City was established by merging districts 2, 9 and Thu Duc, the land price soared in the eastern part of HCM City.
The news about urban development planning and the apartment shortage has created a new price level in Thu Duc City. It is very difficult to find apartments with selling prices below VND40 million per square meter there.
The latest land price fever in HCM City originated from the proposal on changing the five suburban districts Can Gio, Cu Chi, Binh Chanh, Hoc Mon and Nha Be into inner districts or cities in 2021-2030. Though the plan is still on paper, it has had an impact on land prices in suburban areas.
The sharpest price increases can be seen in the suburban district of Can Gio. T. a local real estate broker, said that people had rushed to sell land since the news about Can Gio possibly shifting to a city was released.
A 600 square meter land plot on Giong Ao Road in Can Thanh Town was offered at VND15 billion, or VND25 million per square meter. Another land plot on the same road, 180 square meters, was offered at VND19 million per square meter.
Meanwhile, garden land is cheaper. A landlord in Can Thanh Town is selling a land plot, 6,400 square meters, adjacent to Can Gio sea, at VND11 million per square meter.
Le Ba Chi Nhan, a respected economist, said that in 2018-2019, the property price in HCMC was at medium level or even lower than 2017. Only when Thu Duc City was about to be established did the land price begin soaring.
HCM City authorities on May 21 released a series of instructions to district authorities and relevant departments to curb the price fever.
The Architecture and Planning Department and the Department of Natural Resources (DNRE) and the Environment have been asked to make public the urban development plan so that people can access official information.
DNRE, the Land Registry Office and local authorities have been requested to strictly observe the regulations on land-use rights transfers and changes in land-purpose in order to control phony transactions that push prices up.
The Construction Department has been asked to inspect transactions and control real estate brokerage activities, and strengthen control over real estate projects.
The results of the implementation of the tasks must be reported prior to May 31. 
Phuong Anh Linh - Ho Van

Though land fever has eased, prices are still high. The apartments in projects in advantageous positions are being offered at sky-high prices of VND300-400 million per square meter.

The Ministry of Natural Resources and Environment has told local authorities to inventory land and report on land use.