Xoang dance of the Ba Na

Xoang dance has been an inseparable part of Central Highlands culture. Whenever Central Highlanders hold a festival, they play gongs and do Xoang dancing.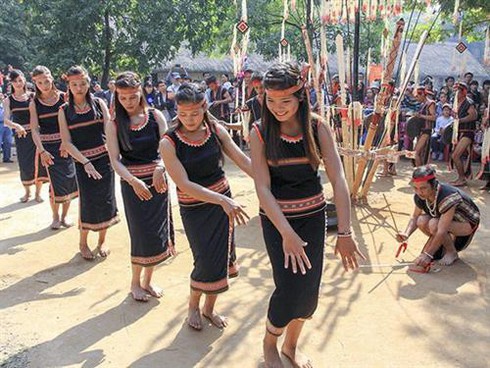 Xoang dance is popular among ethnic groups in the Central Highlands
Xoang is a traditional community dance performed by ethic groups who live in the Central Highlands, particularly the Ba Na. To the beat of drums and gongs, people form a circle and move anticlockwise slowly and rhythmically.
Tran Lam, an official of Kon Tum province's Culture, Sports, and Tourism Department, said, "In the post-harvest period, ethnic groups in the Central Highlands hold many festivals. Every festival has a gong performance and Xoang dancing. They don't learn Xoang dancing at school, but at community events and from their mothers, sisters, and friends."
Men and women take small steps and sway their body and arms slowly. They dance in the front yard of the communal house, around a tall bamboo pole called a Neu tree, which is believed to ward off evil spirits.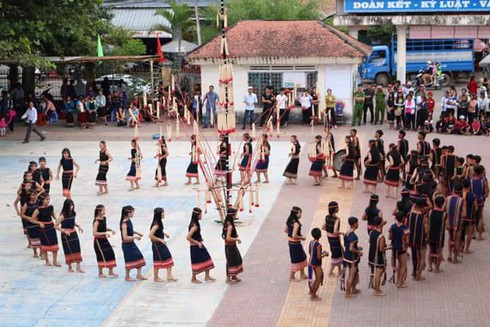 Every festival has a gong performance and Xoang dancing.
The Xoang dance delegation follows the beat of a Cho gut drum, which also leads the gong team. The Cho gut drumhead is made of goat leather or cowhide and beaten with a drumstick.
The Xoang dance describes a person's lifespan. Movements imitate daily activities such as catching an animal, lighting a fire, cutting trees, and sowing seeds, and expressing emotions like love, compassion, and hate.
Y Blun of Dak Ro Wa commune said, "I saw my aunts and sisters dancing. I love the dance very much. There are three main movements of the body and the hands. It's not difficult. People watching the dance can understand what the movement is about."
Ritual Xoang dance accompanies rituals performed at particular ceremonies and festivals. After that all the villagers join in a free Xoang dance, where they can freely express their emotions through independent movements.
A good Xoang dancer has elegant movements of arms and hips and an expressive face.
Village chief A Buu said, "When I was small, I often watched people dance Xoang. Now my wife and I often call our children to dance Xoang on the weekend. The children dance nicely to the beat of Central Highlands music."
Dancers have modified the traditional Xoang movements to make them more beautiful. Dance troupes have adopted Xoang dance movements for their performances at regional and national festivals. VOV5