Vietnam's 7th full-moon festival

Vietnamese people call the 7th full moon festival "Vu Lan bao hieu" (Parents' Day) or "Xa toi vong nhan" (Wandering Soul's Day).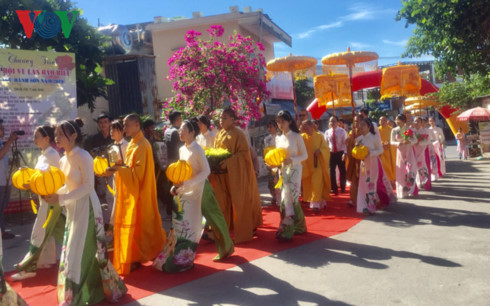 People flock to pagodas to celebrate the 7th full-moon festival
The festival is the second largest annual traditional festival in Vietnam after the lunar New Year (Tet) festival, and it is celebrated by Vietnamese people through various religious rituals and humanitarian activities.
The seventh lunar month is believed to be when wandering souls return to their former homes.
During the festival, people visit pagodas and temples to worship, burn incense and offer votives to their ancestors and wandering souls.
They prepare offerings of food, clothes and votive papers, and release animals like birds or fish.
They also buy presents and flowers to show their deep love and gratitude towards their parents.
Venerable Thich Tinh Thien, Deputy Head of Hanoi's Sung Phuc monastery, said "The festival is a beautiful Vietnamese tradition and is an occasion for family members to show their affection for each other and pay tribute to their ancestors. This helps to educate the younger generations about their filial duties. We don't have to wait until the 7th lunar full moon festival to pay our respects to ancestors and parents, that's something we can and should do every day."
Many people go to the pagoda on this occasion and hold religious rituals to worship their ancestors and pray for the wandering souls.
"On this occasion I go to the pagoda to worship my parents who passed away and pray for the peace and good fortune of my children," said a visitor to Sung Phuc monastery.
"I go to the pagoda to wish for peace, health, and happiness for my parents and all my family members," said a Buddhist follower.
vietnam's 7th full-moon festival hinh 1 The festival is dedicated to both parents who are alive and those who have passed away. It's often said that the greatest happiness in life is to love and care for one's parents.
A pagoda visitor, Le Van Loi, told VOV "The 7th full-moon festival is very popular among Buddhists and non-Buddhists alike. This is a chance for children to express their gratitude for their parents, and those who have performed selfless deeds."
Many people opt to eat vegan food during the annual festival.
Nguyen Thi Ha of Hanoi's Hai Ba Trung district said "All of my family members are Buddhists. We hold two rituals, one on the 11th day of the 7th lunar month and the other during the full-moon day, for which we prepare vegan food. It's not necessary that we prepare a lot of fancy food on this occasion. Each of us just needs to pay our sincere respects to our parents."
Each person participating in the occasion wears either a red rose if their parents are alive or a white rose if their parents have passed away.
The rose is a symbol of the love and gratitude on the part of every family towards their ancestors. VOV5

The Vietnamese Buddhist community joined together at pagodas and temples throughout Vietnam in order to honour their parents and ancestors to mark the Buddhist festival of Vu Lan.

The Vu Lan Festival opened on August 11 with thousands of Buddhists flocking to the Kim Son-Lac Hong Pagoda in the northern province of Hoa Binh to honour their parents and ancestors.

The Vu Lan festival which falls on the 15th day of the 7th lunar month is an occasion for Vietnamese people to express their gratitude toward their parents.