Traditional fabric creates environmentally-friendly toys
A studio located in a small lane on Thuy Khue Street, Hanoi, is making eco-friendly toys from environmentally-friendly material – hemp.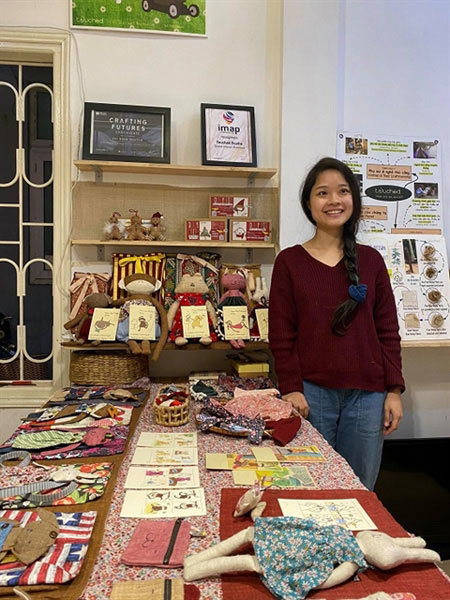 Bui Hanh Nguyen is pictured with her handmade toys made from hemp fabric. –Photo nguoiduatin.vn
Prior to the establishment of Touched Studio, Bui Hanh Nguyen spent three years travelling through many mountainous provinces in northern Vietnam to seek a green material that could help change people's consumption habits, contribute to environmental protection and improve livelihoods of ethnic minority women.
After graduating from the Foreign Trade University in 2010, Nguyen worked as a designer for a fashion company. However, she realised that industrial fabrics still prevailed over traditional fabrics, posing harm to the environment when discarded.
The 33-year-old was then obsessed with a series of questions, like how to create fashion products that are beautiful, environmentally-friendly, naturally originated and made in Vietnam.
Those questions became more intense when Nguyen had the opportunity to work as an intern at a French fashion company, where she witnessed the development of local fashion brands and preference of French consumers for affordable, eco-friendly fashion products rather than expensive brands.
Motivated to seek answers to those questions, she embarked on the journey through the mountainous provinces of Ha Giang, Son La, Lao Cai and Cao Bang.
Her efforts paid off when she discovered hemp fabric, one of the oldest ethnic Mong fabrics in Ha Giang. The production process of the fabric, from seeding, spinning, softening to weaving, is completely done manually.
Particularly, the more the fabric is used, the softer it will become and when the old fabric is discarded, it will decompose very quickly and leave no harm to the environment.
Initially, Nguyen wanted to make clothes from hemp fabric but due to the limited size of hand-woven fabric and high production costs, she decided to try making toys instead, developing the idea of Touched Studio.
Nguyen's idea of using hemp fabric to make handicraft items was certified by the British Council at the 2017-2018 Crafts and Design Competition for contributing to solutions to ethnic women's livelihoods and creating a healthy business environment from the awareness of environmental protection.
"I want to help ethnic women increase their income; so that they can be more respected and have a stronger voice in the family. I also hope this job can preserve a traditional job as well as generate environmentally-friendly products," she said.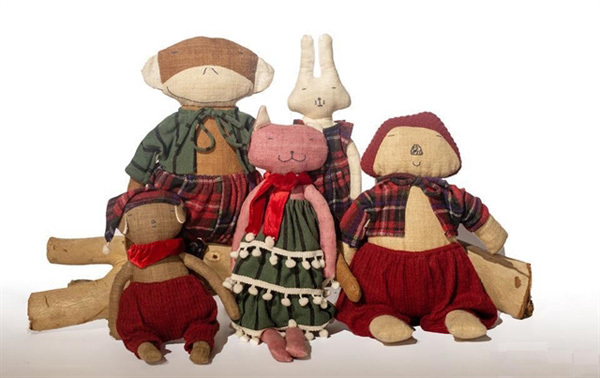 Nguyen's toys are made from discarded materials and ethnic Mong's fabrics. – Photo Touched.Studio Facebook
With the assistance of friends, Nguyen has turned pieces of hemp fabric into pretty toys for little children. She also started to collect scraps of fabrics for recycling by turning them into tiny accessories for dolls.
One of the tailor shops that Nguyen frequently visited to ask for scraps is Tran Nhu Quynh, located on Nguyen Luong Bang Street.
"My shop used to throw away many wasted fabrics every month," the shop owner said. "Since I started to sort them out for Nguyen to make toys, I feel very happy to have been able to reduce waste to the environment."
The fabric is also dyed with natural ingredients like indigo plant, bitter yam or beetroot that are safe for children.
Besides selling craft products from hemp fabric, Nguyen has regularly organised workshops with different themes in which the young participants could learn about traditional weaving and craft products themselves every month. Due to the COVID-19 pandemic, the workshops are temporarily halted.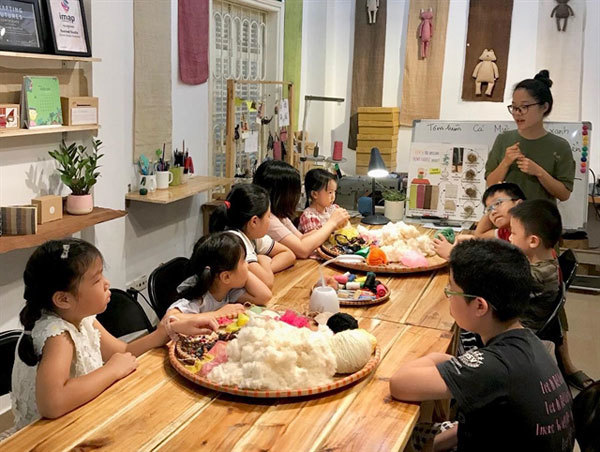 Nguyen has organised many workshops with different themes in which the young participants could learn about traditional weaving and craft products themselves. Photo Touched.Studio Facebook
The idea for such workshops has won plaudits among many parents.
"I brought my daughter to one of the workshops of Touched Studio with the aim to distract her from smartphones and TV. Unexpectedly, she has been interested in the story behind each environmentally-friendly product and that has inspired me as well," said Nghiem Quynh Phuong, a mother in Hanoi.
Nguyen said five per cent of the sales revenue of her products is spent on opening classes for ethnic and disadvantaged children in remote areas to design and make their own toys from traditional fabrics.
"I hope that young generations could understand that traditional materials are not only used for making garments but they can also create many other values. Therefore, they will have more motivation and passion to preserve their traditional craft.
"I'm planning to open a workshop teaching disadvantaged children living along the Red River to make toys from rags, aiming to bring them joy, create a playground of equality and awaken their creativity," the founder of Touched Studio said.
VNS

There is no limit on creativity and no disadvantage could ever prevent you from being creative, and you need to look no further than Trieu Hong Ho Em from Cho Moi District in the Mekong Delta's An Giang Province for an example of how true that is.

Several weeks before the Mid-Autumn Festival, Mr. Dong and his employees have had to stay up overnight to make 10,000 paper masks.

After a hard day at work, Luu Chung Nghia from Vong La Commune on the outskirts of Hanoi returns home to his favourite hobby: creating toys from trash.