Traditional clothes of the Nung

The indigo clothes of the Nung in Cao Bang province are distinguishable from others by their designs, which have very few decorations or embroidery. Nung clothing reflects their culture and customs.
Indigo is a common plant in Vietnam's northern provinces. Indigo plants are soaked in water, ground up, and sifted to produce indigo powder. Each dyer has their own formula for mixing the dye to create a distinctive deep blue color.
Fabric is soaked in indigo dye for about 1 hour and dried in the sun. The process is repeated several times until the fabric has the desired color. Nung women make most of the clothes for themselves and other members of their family.
Luong Thi Xuan, a Nung woman in Quang Yen district, said, "Indigo cotton fabric is thick and not airy in summer but sun-proof when we work in the field. It's very warm in winter if we wear double-layer pants."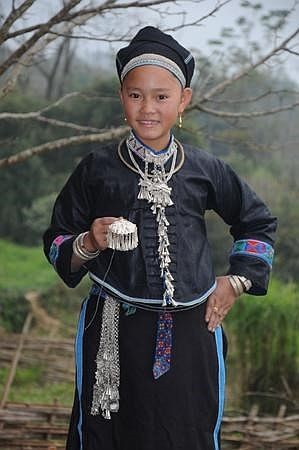 Nung women prefer silver jewelry. (Photo: dantocmiennui.vn)
The Nung say that since the old days their ancestors have been farmer, mostly growing rice on terraced fields. They dye their clothes with indigo to save time cleaning them and to harmonize with nature. Indigo dye makes the fabric more durable.
Nong Van Thang, a culture official in Phuc Sen commune, said, "They dye and make clothes by hand. Shamans always wear indigo clothes when they perform rituals. It's a preservation of their traditions."
Nung women wear loose pants and blouses with large sleeves and collages of brightly colored fabric on the hems and collar. The blouse buttons on the right side and has 4 pockets. Nung women love to wear silver jewelry and accessories such as embroidered bags, waist bands, and headbands. Nung men wear a simple indigo blouse and loose pants.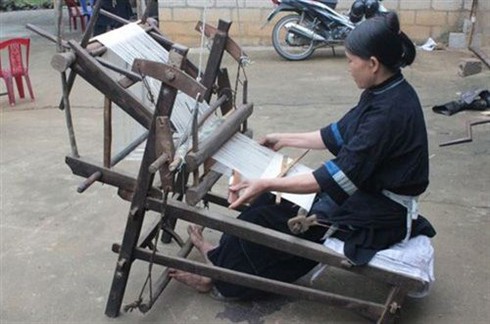 Many Nung women still weave fabric and make clothes manually. (Photo: dantocmiennui.vn)
"In the past we grew cotton, wove fabric, and made our own clothes. We still wear our traditional clothing for daily life, farm work, office work, and festivals. Wearing our traditional clothing is a way of preserving and promoting our culture," said Nong Van Thang.
The authorities of Cao Bang province have launched programs to promote the traditional clothing of the Nung.
"We organize a biennial Fashion Contest among the Nung communities. Ethnic pupils at district's boarding schools wear the traditional clothes of their group on the first day of the week and at festivals," said Nong Thi Thuy, a culture official in Quang Yen district. 
The Nung also use indigo fabric to make blankets, pillows, and bags that range from light blue to dark blue to blue-black. VOV

The Institute of Vietnamese Costumes has officially launched with a mission to honour and preserve the beauty of Vietnamese clothing.

The Lu ethnic minority of Lai Chau province have long earned their living by growing cotton, raising silkworms, spinning thread and weaving fabrics.

Language, writing, and costumes are important identifications to differentiate Vietnam's ethnic groups.