The last iron forger keeps the furnace's flame burning on Hanoi's old street

In the memories of many Hanoians' generation, Lo Ren street in Hoan Kiem District houses many forging furnaces.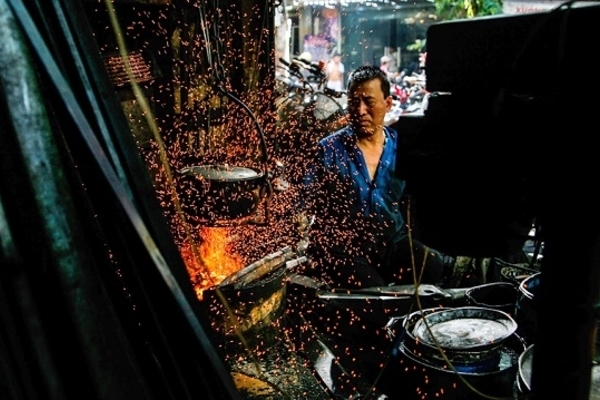 Nguyen Phuong Hung is the last blacksmith who has ceaselessly worked to maintain the traditional craft of iron forging (Photo: zing.vn)
However, as time has gone by, the flames have gradually gone out inside the furnaces, leaving only one manually forging furnace still in operation. In his workshop, which is just 4 meters squared, Nguyen Phuong Hung is the last blacksmith who has ceaselessly worked to keep the traditional craft of the old street alive. 
It must be fate
Born in 1960, Hung has been involved in his jobs for dozens of years. Working in such a small area sounds boring, but it turns out to be interesting instead. His workshop stands out in the street among big mechanic shops. Since Hung is the only blacksmith here, he has many orders to keep him busy all day and earn enough to live a comfortable life.
"My job is like others, as long as you work hard and are dedicated to it with full responsibility, you will be rewarded," Hung said, noting with pleasure that he well supported a family with his wife and children and even built a spacious house thanks to this little workshop.
Hung is the third generation in his family to engage in ironworking. His grandfather was a famous iron forger on the street, which used to be bustle with the echoing sound of hammers striking iron. The trade was then handed down to and successfully taken over by his father even though the forging industry on Lo Ren street had fallen into decline at that time
Hung called it fate. As the sons of an iron forger, Hung and his brothers used to support his father with stuff around the furnace. However, when the boys grew up and realised how hard the work was, none followed in the father's career. After graduating from high school, Hung worked as a car driver and an automobile repair mechanic.
When his father became too old to manage the job, he told Hung about his appeal to have a son uphold the family's business. Resultantly, at the age of 35, Hung returned to Lo Ren Street, and has worked under the spirit of his father "As long as you work hard and are dedicated to your job with full responsibility, you will be rewarded."
It has been more than two decades since Hung fulfilled his destiny. He revealed that the more he got involved in this job, the more passionate he has become. His skill has paid off with his fame and popularity among many customers.
The concern of a fading craft
According to Hung, many people assume that the forging craft solely requires good health and iron sprit; however, it is indeed an art. It takes time for the forger to master their skill, patience and high accuracy in every movement.
It has not yet been mentioned that each type of iron and steel has different properties, depending on the weather, the air temperature; thus, the time to keep them in the furnace for the best quality can vary. A forger must take a lot of time to figure it out by himself.
As Hung's smithy is the only one left in Hanoi, how to keep the furnace's flame going on Hanoi's old street is his most considerable concern. He admitted that few young people are now willing to work this hard, sweaty, manual job. Therefore, over recent years, many people have come to him for vocational training but they all gave it up.
Even Hung's children are all working office jobs and none of them show interest in their family trade.
Understanding how hard the job is, many times Hung's wife, children, relatives, and friends have advised him to quit and leave the let modern machines replace the manual work. However, Hung loves his work and is determined to do it for as long as his health permits.
"If I am lucky enough to find a good apprentice, the flame will be kept alive on Lo Ren street. If not, there is high possibility that the craft of blacksmithing on this street will soon conclude its mission. It is regretful but I count myself helpless," Hung said with a sigh.
Looking at Hung busily and whole-heartedly working near his furnace, it can be said that his job is not only a traditional craft in Hanoi's Old Quarter but also represents a cultural practice of the capital city. It would be a pity if someday the fire will go out in the furnace, and Lo Ren, which was once famous for the forging craft, will be just known as the name of a street. Nhan Dan

Folk toys are now lost among the digital products of modern life. However, there are still people who quietly preserve the craft of making traditional toys, keeping the beauty of Mid-Autumn season of the old days.

Sơn Đồng Handicraft Village in Hoài Đức District, 20km west of downtown Hà Nội, has long been the source of some of Việt Nam's finest carved wood worship objects.