The craft of casting bronze in Yen Xa commune

Vietnam is the home of the traditional hand-crafted bronze drum, aged 4000 years.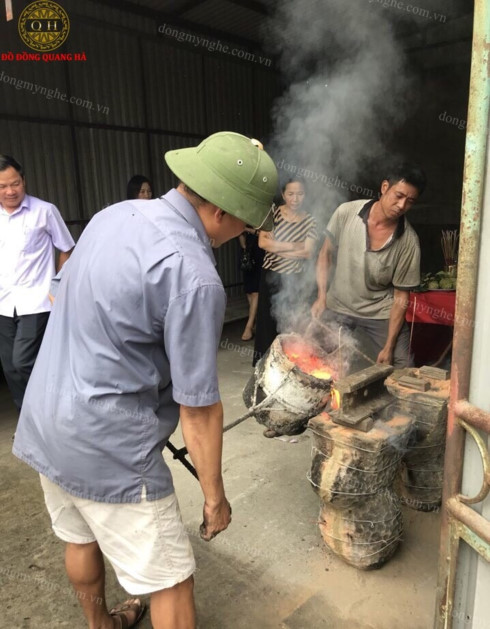 One of processes to cast a bronze product of Van Diem artisans (Photo: dongmynghe.com.vn)
It is said that tens of thousands of ancient bronze arrowheads were stuck dating back before Christ in the age of King An Duong Vuong. Located about 20km from Nam Dinh city, Yen Xa commune, Y Yen district, Nam Dinh province, is considered one of the homes of traditional bronze casting craft.
For over 900 years, bronze casting in the commune has been preserved and strongly developed, enriching the life of the local people. Today, let's take a tour of the locality to explore the bronze casting there.
Today, coming to Yen Xa bronze casting village, Y Yen district, Nam Dinh province, visitors can find burning stoves everywhere. Bronze casting is not only hard and dangerous work but requires high meticulousness and sophistication to create perfect products.
The casters have to go through many stages from choosing clay for building the kiln, setting the fire, choosing bronze for making molds, and melting the bronze. All must be done carefully and correctly to ensure the quality of the products. In the development process of this craft, there have been many talents and artisans with excellent skills and business capabilities. 
Born and raised in Van Diem bronze casting village, Yen Xa commune, Y Yen district, Nam Dinh province, with the tradition of bronze casting of more than 900 years, artisan Duong Ba Tien has been on intimate terms with bronze casting since he was a boy.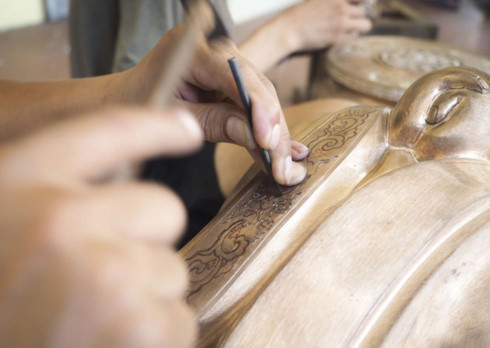 Van Diem craft village is the cradle of bronze casting in Y Yen district, Nam Dinh province (Photo: dongmynghe.com.vn)
Through 30 years of establishment and development, the brand of bronze products of artisan Duong Ba Tien has been popular throughout the country. Like many other bronze casting families in Van Diem, Tien starts work early in the morning.
His mold-making skill helps Tien succeed in casting portrait statues. This is also the most difficult stage in casting a bronze portrait artwork. Tien said: "To create a standard mold, we have to imagine the shape and the soul of the character and convey it in the mold. When making the mold, we should identify and detail the piece that we intend to create. Experienced artisans make the best products."
The most important and decisive step in the production process is pouring bronze into the mold. A dozen workers must follow the command of the leader. Nearly 1 ton of raw materials including bronze, tin, and lead is put into the pot. After nearly an hour, the materials begin melting at a temperature of nearly 1500 Degrees Celsius.
When the bronze melts and fills all of the jars, it is poured into the mold quickly and with minute accuracy. This moment is one of high anticipations in looking forward to the finished product. After the cooling, the workers remove the mold and then do the finishing work. The finishing needs specific tools such as drill, file table, and knife.
Tien said "After being cast, the statue must be cooled and filed to be more vivid and beautiful. This is a craft, so in many stages, we have to work manually. Therefore, the workers always have to sharpen their skills."
Bronze casting is not simple and the casters have to rely on their experience and passion when making products, especially those works with historical and cultural significance. It is not merely a question of the mechanical work of the fingers, but the artisan's mind and soul. Although Duong Ba Tien did not have a chance to meet President Ho Chi Minh, his works show his heartfelt love for him.
Despite many difficulties, Tien and the workers in his village still work hard. This passion and mastery have helped him make artistic masterpieces. "The product must adhere to our standards of aesthetic quality, color and smoothness. We should give our time, passion and energy to each product for the best quality," said Tien.
According to the elders, the founder of the bronze casting craft worshiped at the village's communal house is Khong Minh Khong, who taught the villagers the skills of making bronze pots, trays, and other items. According to historical books, nearly 900 years ago, in Yen Khanh (now Ninh Binh province), there was Nguyen Chi Thanh who followed Zen Master Giac Khong to become a monk from a young age.
With profound knowledge, he went to many regions to teach others. When coming to Yen Xa, he taught the villagers how to make molds for casting bronze. Over centuries and the many trials of history, the craft still exists in this land. To remember his merits, the villagers built a temple to worship him.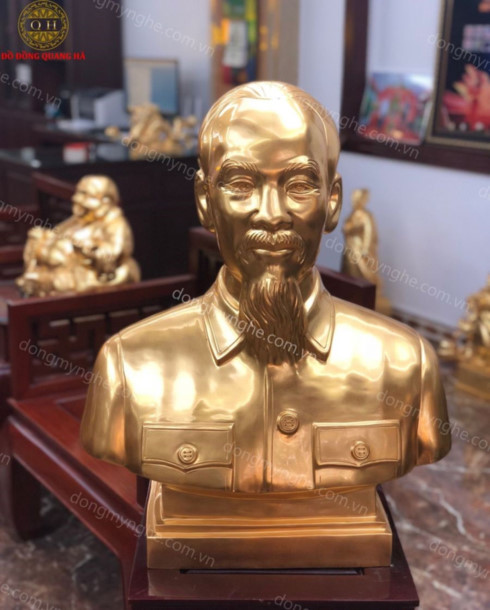 Bronze bust of President Ho Chi Minh (Photo: dongmynghe.com.vn)
Nguyen Van Khanh, the President of Y Yen district Foundry Association, said "The craft was taught to the villagers by Founder Nguyen Minh Khong on February 12, 1118. It has been over 900 years now. Originally, he taught us to cast bronze and iron. Gradually, the craft was developed, and in the past two years, it has been expanded to steel casting with large kilns. We do not export many steel products. They are sold in the domestic market, replacing imports. In terms of quality, our products are of the same standard as foreign goods. We receive many orders from factories."
Therefore, every year, in the middle of the 2nd lunar month, the village holds festivals to commemorate the merits of the Founder.
Gradually, Van Diem village has become known all over the region for its sophisticated casting products. Among the 200 establishments with thousands of workers, Duong Ba Dzung's factory is one of the more famous factories in the region. Born in a family practicing the traditional craft of casting bronze, Dzung has pursued his passion for this craft since he was small.
In 2000, he started building his own bronze casting facility where many products were created and received by domestic and international customers. His statues of mermaids and animals were highly prized by the Embassy of Sweden. Artisan Duong Ba Dzung said, "My village has been practicing the traditional craft for hundreds of years, and we have to continue to preserve the craft of our ancestors. Bronze products are popular, even in Western countries, so I think following this craft is the right choice. In so doing, I also satisfy my love for the arts."
Besides thinking about how to create unique products, artist Duong Ba Dzung always pays attention to passing on his experience to others. Currently, his facility has about 20-30 workers, many of whom also want to be involved in this traditional craft. For Dzung, this craft is a matter of pride. With the dedication and creativity of the craftsman of Yen Xa bronze casting village, he will create more unique works to honor the craft and uphold the quality of his homeland brand.
Through his efforts, he received the Golden Hand award in the Indochina Art program and many certificates of merit. He was also recognized as an artisan by the Vietnam Craft Village Association in 2009.
"In the old days, our ancestors did the craft manually, however, today we have to apply modern science and technology. As our process develops, we have to learn much about sculpture and design to create the best products for our customers," said Dzung.
In the old days, Yen Xa bronze casting village only focused on producing items to serve daily life. Today, the products are extremely diverse in design and function to catch up with increasing demand. They can be divided into the following main categories: household items, fine art items, and worship items.
The worship items here are divided into two groups for worshiping at home and at temples, pagodas, and tombs. For every Vietnamese family, worshiping ancestors has become a common practice for many generations, so on the ancestor's altar, there are often worship items such as an incense burner, candlesticks, and flowerpots. The objects can be made from different materials such as wood, porcelain, and gilded wood. However, wealthier families prefer bronze items for their beautiful color, strong quality, and intricate designs.
Statues are a casting product that is tied to the brand name for Yen Xa bronze casting, helping the products of the village be commonly found both domestically and abroad. The statues here are divided into many types, typically decorative statues and worshiping statues.
These include the statues of national heroes such as Ly Thai To, Hung Dao Vuong Tran Quoc Tuan, President Ho Chi Minh, General Vo Nguyen Giap, and Buddha statues. In this field, the Tan Tien bronze casting enterprise is one of the leading enterprises in casting bronze statues, especially monumental ones. Artisan Duong Ba Tan, its owner, knows how to apply advanced technology to the production process.
With the monumental works such as Yen Tu bronze pagoda, apricot tree, Queen Y Lan statue, Tien's factory has won many major awards such as the gold medal for new technology products in 2003, "Vietnam's Quintessence" Golden Globe in 2003, Typical rural industrial product 2006, Gold Medal at Hue Exhibition Fair 2009, Golden Hand awarded by Vietnam Craft Village Association and many certificates of merit.
In 2016, artisan Duong Ba Tan was awarded the title of Meritorious Artisan in the field of handicraft, contributing to the promotion of Yen Xa bronze casting village and bringing more orders for the village. This year, Tien's facility has completed the work "Uncle Ho with Northwestern people" of 8 square meters high, weighing 25 tons. The statue was placed in Son La square, Son La city.
Tan said "This is a very meaningful statue. We have coordinated with metal experts in Vietnam to apply the latest technology of mixing the metals. This is one of the first works in Y Yen village to be made with medium frequency furnace."
With skillful hands, creative minds and the combination of ancient and modern features, Yen Xa artisans imbue a sense of soul in their products, which attract many customers. The Van Diem bronze casting village has seen an excellent revival and strong development. VOV5