Stitch arts for the soul
While looking for a new hobby a few years ago, Russian designer Katerina Lamteva, or Kate, came upon embroidery and fell in love with the art instantly.
She decided to organise a weekend embroidery workshop to share her knowledge and connect people through embroidery.
Her class runs from 10am to 1pm on Saturdays at Craft Box Hanoi in Tay Ho District. It is designed for everyone and every level of skill. People came here to learn how to embroidery, improve their creativity and make new friends.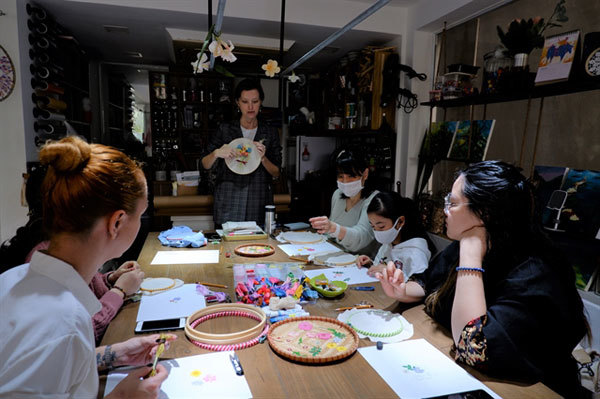 SHARING PASSION: Kate enthusiastically instructs her students how to embroider. — VNS Photo Nguyen Minh
"It's not that I have been interested in craft art since a young age. Crafting and embroidery are not as difficult as people often think," said the 31-year-old.
"And everyone has their embroidery speed, so it doesn't matter what your level is," she added.
Before a workshop, Kate chooses themes and prepares essential materials and tools. At the workshop, she explains all the details from introducing materials, drafting patterns on paper, transferring the patterns onto fabric, choosing thread colours and creating stitches.
Kate gently pulls the needle and thread up through the fabric to demonstrate stitches to her students. She moves her hands up and down to give her students a clear visualisation of how the stitches look. She is always ready to provide hands-on support if needed.
"I prefer to keep my class size small with eight people maximum because I want to spend my time with students and help them as much as I can," she said.
Under Kate's instruction, her students have become more confident and excelled at their embroidery skills.
"I watched some videos on embroidery on YouTube as I wanted to embroider for my daughter her favourite stuff - carrots and rabbits. But the videos looked very difficult for me," said Chu Tuyet Le, a workshop attendee from Hanoi.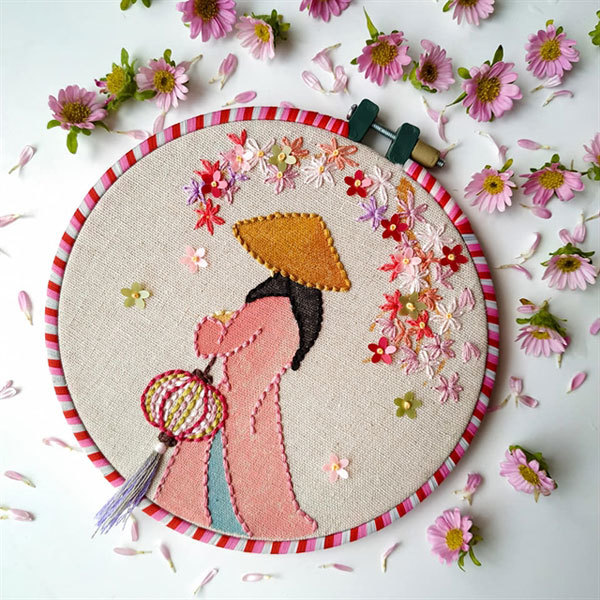 INSPIRED BY VIET NAM: Vietnamese áo dài on Kate's work. — Photo from Kate's Instagram
"However, as Kate's made everything so much easier, I can follow without any problem though I am a beginner. I will make lots of stitch carrots and bunnies for my little girl," she added.
Kate has been running the workshops for 1.5 years and welcoming numerous people. Many of them keep coming back because of her enthusiasm and dedication, though her workshop is not free.
She is also reachable on her Facebook page – Hanoi Embroidery Meetup, where she posts craftwork photos and workshop schedules as well as helps those embroidering at home by answering questions. 
Appreciating individuality
Kate employs modern embroidery techniques because they offer more freedom for artists due to having fewer rules compared to the traditional way.
She contrasts today's innovation with traditional embroidery, which is meticulous and precise.
"If artists use only one or two threads to make stitches conventionally, modern embroidery allows me to go with one, two or six threads at the same time," Kate explained. "And I can choose any colours and materials other than threads for my craftwork, such as dry flowers, ribbons and ink."
With a passion for the colours of the natural world, Kate reflects them in her brooches. She also encourages her students to go with whatever they like to make their work.
Even when her students make mistakes, she doesn't stop them or ask them to remake their work.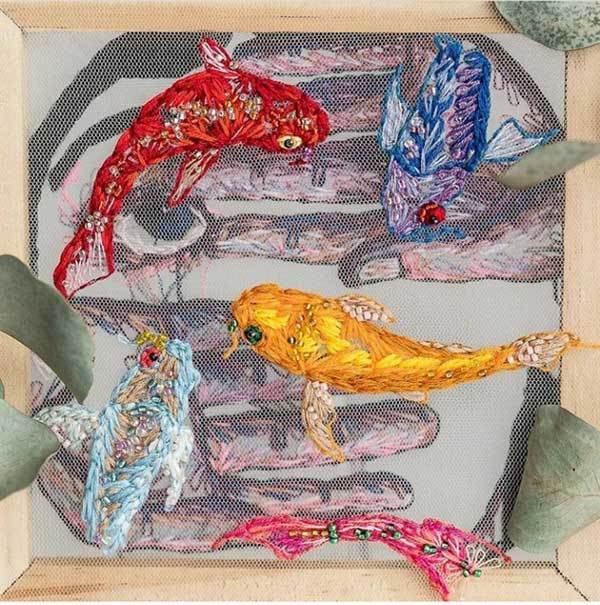 LAYER ON LAYER: Japanese culture elements on tulle. — Photo from Kate's Instagram
"In traditional embroidery, your cloth should be knot-free, which means no mistakes. But there is no right or wrong in modern embroidery. A mistake or a knot can be a highlight or add a texture to even the front side of your fabric," Kate said.
"In the end, art is personal," she added. "It's like body positive. My body is mine in both perfect and imperfect ways. So is my embroidery work."
According to Kate, modern embroidery is more individualistic, making it more suitable for everyone. It has become an art therapy for Kate and her workshop attendees. That's why many of her students keep embroidering at home besides taking her weekend classes to de-stress, improve their crafting skill and express themselves. 
Asian inspiration
Vietnam is like a second home for Kate. After a couple of years of living here, she has fallen in love with the country and the local customs. 
Many of her works reflect Vietnamese culture, like the traditional áo dài, Mid-Autumn festival, Tet holiday and local flowers like lotus and banana. They are also the themes of her weekend workshops.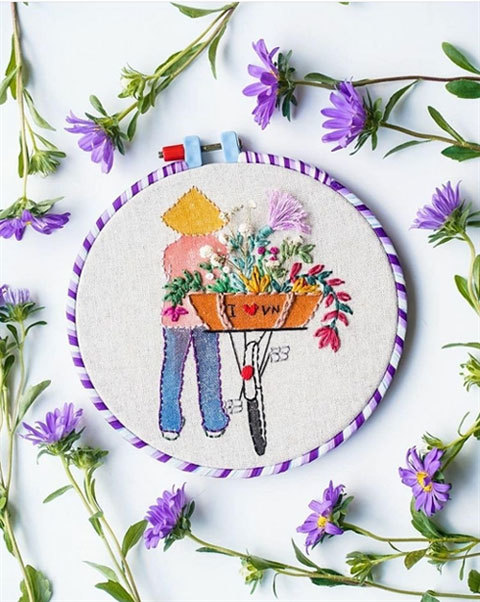 FROM STREETS TO STITCHES: Kate captures Hanoi's street flowers. — Photo from Kate's Instagram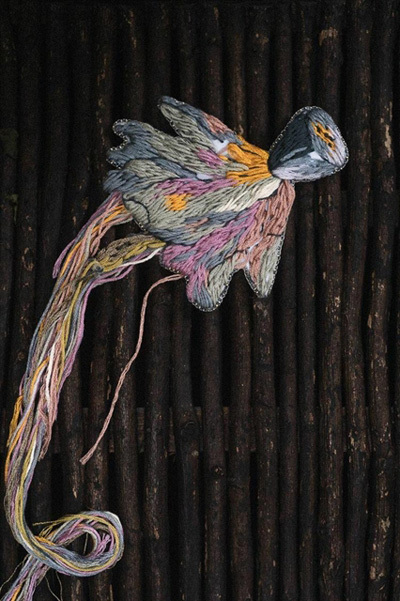 COLOURS OF NATURE: A colourful lotus features a unique personality. — Photo from Kate's Instagram
Asian culture is another inspiration for her due to its endless mystical creatures, fascinating rituals and holidays.
"I used to travel a lot to China with my family when I was younger. Maybe that's why I'm interested in Asian culture," Kate said.
She has embroidered Japanese koi fish, Chinese dragons and characters on different materials, including cotton, linen, canvas and tulle. She is now working on a book about modern embroidery, of which Asian culture is a crucial part.
She also dreams of publishing an embroidery fairytale book and hopes that will be about Vietnamese fairytales.
VNS

In the feudal time, Dong Cuu village in Hanoi's suburban Thuong Tin district was famous for its embroidery profession. 

If you go to an expat restaurant in a big city, chances are you'll get some authentic cuisine cooked. This is true about so many Vietnamese restaurants in France and the US.