South African woman mends broken heart in Vietnam
Many wonderful stories start from heartbreak.
 Young South African woman Alushka Jansen van Vuuren felt the pain of falling in love with the wrong person and travelled to Vietnam to get over her sorrow but then a new love began, the love for a beautiful country.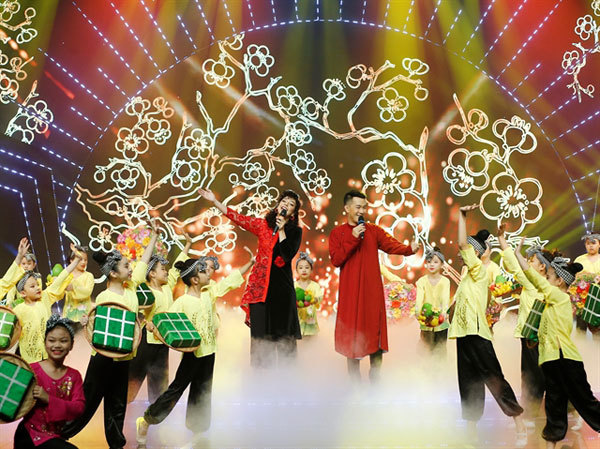 Alushka Linh features singer Ho Trung Dung during a concert held on the occasion of Lunar New Year of the Buffalo. Photo courtesy of VTV
In 2013, she was in university studying to become a teacher. One day, while she was sitting heartbroken at home, her best friend called from France and asked if she wanted to go to Vietnam. Without even thinking about it, Alushka agreed.
The beautiful beach in Nha Trang City and a diving course there were unforgettable for her.
Alushka came to Vietnam for the first time at the age of 19 and now she's 28 and is so glad she stayed.
"I spent a few months in North Africa and Thailand teaching English, but something always brought me back to Vietnam. For four years I lived in Nha Trang and deep down, I really feel like I found myself there," she said.
After being heartbroken and lost she felt peace in Vietnam. The people and their kindness moulded her and her personality into a very kind and honest woman. Alushka thinks she owes a lot of wisdom and growth in her 20s to Vietnam. It has been a wonderful and peaceful experience being able to live here and feel safe and happy wherever she goes. 
"The people here are my absolute favourite part of Vietnam. I am sure Vietnamese people hear it a lot, but honestly, it is true," she said.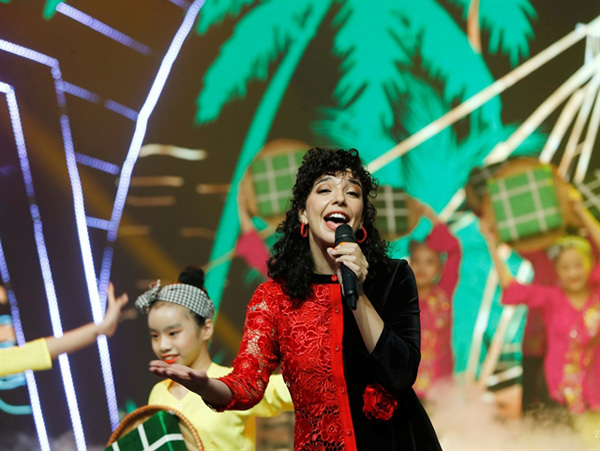 Alushka Linh performs during a concert held on the occasion of Lunar New Year of the Buffalo. Photo courtesy of VTV
A country filled with opportunities
Alushka came to Vietnam firstly to be a diver, then she started teaching English. She also works as a host of a weekly talk show for the LGBT community called Come Out presented on the MCV YouTube channel.
This Tet (Lunar New Year), she was invited by VTV to travel throughout the country to discover the culture of different localities. Then she appeared on the TV show Đón Tết (Welcoming Tet) to recall what she experienced during the trip. It was a precious opportunity for her.
"It's so lovely to be able to travel and really experience the Vietnam in a deep and meaningful way. There are actually so many different experiences that it's hard for me to choose just one. For example, I absolutely loved playing female football in Binh Lieu District, the northern province of Quang Ninh," she said.
During the trip, Alushka also tried to chew trầu (tobacco in betel leaves) and said it felt like drinking 10 bottles of the energy drink Sting. 
She also had a chance to visit blind children. All these memories are so bright in her heart and it makes her feel proud to be a part of something so wonderful.
"My mom always tells me how proud she is of me and shows everyone at home including my school friends that I am on TV in Vietnam.  It's a dream come true moment for me. I am humble and thankful for all the love and kindness I have received," said Alushka. 
The teacher from South Africa also thinks she's lucky to be here during the pandemic because of how Vietnam has handled the situation.
"I really think other countries could learn a lot from how tech-savvy and proactive Vietnamese people are. I have felt so safe living here," said Alushka.
Her school was really good at solving problems and moved to teach online. 
During her first years in Vietnam, life was difficult for Alushka as she tried to adapt to the culture and lifestyle here. 
By her third year in Vietnam, she started putting more effort into learning the Vietnamese language and Vietnamese culture. She named herself Linh to make it easier for Vietnamese people to pronounce her name.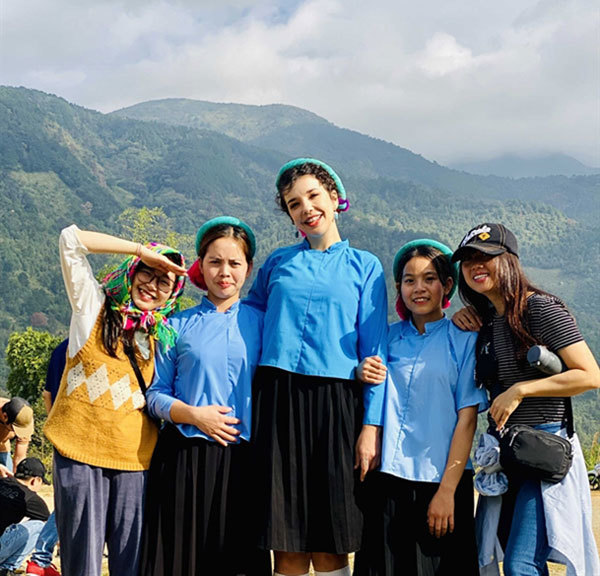 Alushka Linh joins a football match with Sán Chỉ women in Binh Lieu District, Quang Ninh Province. Photo courtesy of VTV
"I started by waking up early and going to the beach with elderly people from my neighbourhood in Nha Trang and then learning Vietnamese with them, it was nice because elderly people have a lot of patience and they speak slowly. They are also very curious so they always asked me questions and I would practice answering them. This was when I really started to become Vietnamese," she said.
Now she is more adapted to Vietnam. When someone asks her where she's from, she says: "I am South Africa, but inside my heart, I am Vietnamese now."
VNS 

Born and raised in Europe but Liisi has a special passion for Vietnamese Ao Dai (traditional gown) and Vietnamese silk products.

The last year has seen several foreigners living in Vietnam experience unprecedented changes, particularly with 2020 being heavily affected by the COVID-19 pandemic, meaning that travelling between countries has become increasingly difficult.