Ok Om Bok Festival of the Khmer
The Khmer in Vietnam's southern region are celebrating the Ok Om Bok or Moon Worship Festival.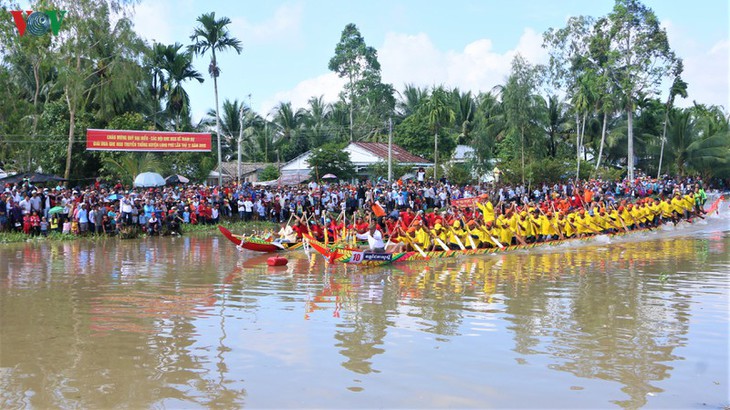 10 teams join the 2019 Ghe Ngo race in Soc Trang province.
After the harvest, they hold the Ok Om Bok Festival to honor the Moon, a supernatural power, for protecting their crops, regulating the weather, and blessing them with fruitful crops and prosperity.
The Khmer believe the Moon deity is in charge of regulating the weather. After the harvest, they offer young sticky rice and other farm produce to the Moon deity on the 10th fullmoon day of the year. A ceremony is held in a pagoda or in someone's home.
Young sticky rice is flattened to make a specialty called Cốm, a center piece of the offerings, which also include potatoes, coconuts, bananas, and rice-powder cakes. 
The offerings are placed on a table in the yard where all family members gather for the Ok Om Bok ceremony. The oldest person in the family feeds pieces of Com to the children and asks them about their wishes.
If the ceremony is held in a pagoda, a monk or another prestigious member of the community feeds the children.
After the ritual, the offerings are distributed to everyone as a symbol of unity and friendship. Do Minh Dung, a Khmer man who lives in Soc Trang, said, "This is a special festival of the Khmer every year.  We contribute offerings to the pagodas and our community."
Besides the ritual, the Ok Om Bok festival includes entertainments such as art performances and Ghe Ngo races.
A Ngo is a junk approximately 22 to 24 meters long carrying 50 to 60 rowers. The junk's stem is carved in the shape of an animal. The body is colorfully painted. Junks, valuable community assets, are kept at pagodas and used just once a year for the Ok Om Bok junk race.
Ngo Hung, Vice Chairman of the Soc Trang provincial People's Committee, said: "The Ghe Ngo race is held every year during the Ok Om Bok festival and preserved the Khmer culture in Soc Trang. We want to promote its attractions to tourists." VOV5

The Xiem Can Pagoda in the Mekong Delta province of Bac Lieu has attracted many visitors with its splendid beauty and great hospitality of the local people.