Ke Mon jewelry making village in Hue Imperial City

Ke Mon Village which is located about 40km northeast of Hue is home to some of the most esteemed silversmiths and goldsmiths in Vietnam.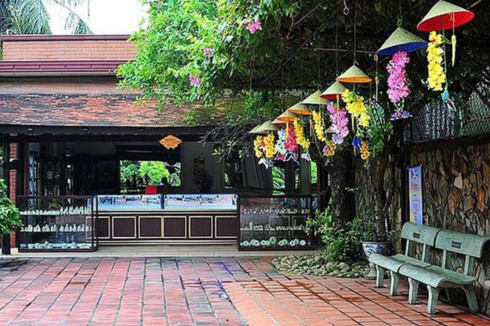 Ke Mon jewelry products are on display (Photo: Thu Hang)
Ke Mon village was founded in the 14th century in the reign of King Tran Anh Tong, beside the Tam Giang Lagoon. The residents lived by farming and fishing.
In 1789, after defeating the Chinese Qing invaders, King Quang Trung made Phu Xuan, former name of Hue, his capital city and called on talented people to help him rule the nation. Cao Dinh Do, a Thanh Hoa native, came to Hue to work as a goldsmith.
While crossing the O Lau River, his family encount an accident, but they escaped death thanks to several Ke Mon villagers. Mr. Do later returned to Ke Mon to teach the villagers goldsmithing and pass on his expertise to them as a token of gratitude.  
Bui Van Day, head of the Ke Mon culture village's executive committee, said "Located between a river and the sea, Ke Mon village has a place called "Bau Nguoc" which means anyone passing by will meet a headwind. People from northern provinces must go through Tam Giang Lagoon to Dien Huong and take a ferry-boat to reach Hue.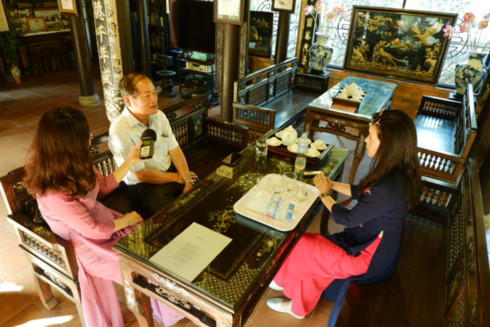 Artisan Tran Duy Mong talks to VOV reporters (Photo: Thu Hang)
Cao Dinh Do and his family were in distress there, but were saved by two men of the Tran Duy clan and one of the Hoang clan. After a period working in the Royal Court, Mr. Do returned to Ke Mon to repay those who saved him by passing on to them his expertise in goldsmithing."
200 years later, Ke Mon village has become the region's gold jewelry center. Local jewelers have supplied the rich citizens and mandarins of Hue since the end of the 18th century.
Ke Mon jewelry is considered of better quality than jewelry from other places because of the skill, experience, and creativity of the local artisans. Their intricate decorative techniques grace gold and silver necklaces, bracelets, rings, and earrings. 
Cultural historican Tran Dai Vinh said "The locals were taught goldsmithing and their skilled hands turn out sophisticated products. Part of their earnings have been used to embellish the house of worship and tomb complex of their ancestors."
Today, many Ke Mon artisans have moved to other places in Vietnam or abroad to practice goldsmithing. 
In Texas, for example, there are 40 goldsmithing workshops owned by former Ke Mon villagers.
Ke Mon village has 16 clan houses of worship to acknowledge the ancestors who established and developed the art of goldsmithing.
Born and raised in a family with a jewelry tradition, artisan Tran Duy Mong has been engaged in the craft since he was just 18.
Mong recalled "I'm a Ke Mon native. Two ancestors named Cao Dinh Do and Cao Dinh Huong handed down the jewelry craft to my village. I want to always preserve and develop it." VOV
Thu Hang

Hu tieu, a type of rice noodle served with seasoned, sautéed beef is a signature dish of Vietnam's southwestern region.

Nguyen Ngoc Trong is known as the best artisan of metal inlaying craft. He is one of only 4 artisans practicing this craft of the capital city of Hanoi.  

Under the deft hands of local artisans in the northern province of Ninh Binh, water hyacinth has become an eco-friendly material for producing sophisticated handicraft items for exports.