Cultural characteristics of the Kho Mu

The Kho Mu are one of 5 ethnic groups in the northern mountainous province of Lai Chau. Despite physical hardships, they have developed strong cultural traditions and customs.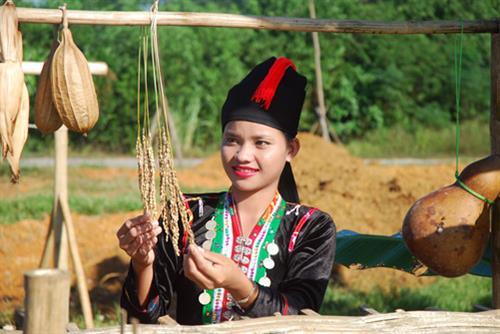 A Kho Mu woman
There are about 7,500 Kho Mu people, living mainly in the Tan Uyen and Sin Ho districts of Lai Chau province. They make up 2% of the provincial population. The local administration has enhanced communications and created incentives to encourage the Kho Mu to preserve their culture.
In addition to farming, the Kho Mu weave rattan and use bamboo to make farm tools, household utensils, and worship items.
Lo Thi Xuan of Ta Mit hamlet said they have different weaving techniques to make different items, which are attractive and durable. Weaving earns them extra income.
"We teach our children to weave. It's a traditional craft and we'll never abandon it. We use woven items every day and we can earn good income from weaving," said Xuan.
Like several other ethnic groups, the Kho Mu live in stilt houses. A typical stilt house has a living room, cooking room, and worshiping room. Each room has a wood stove.
Hoang Van Phanh in Ta Mit hamlet explained, "Our stilt houses have 3 or 4 rooms. We cook in the rooms. The house has a front door and a back door. A new bride uses the back door for several days after the wedding ceremony. There is a wood stove in the front room for cooking and one in the worshiping room to keep the ancestors warm. Another wood stove is used to distill wine and steam rice for the New Year celebration."
Luong Van Tem, Chairman of Pac Ta commune, said the Kho Mu have original forms of dancing and singing and unique musical instruments. Each hamlet has an art troupe for local entertainment and performances for tourists.
"The Kho Mu culture is basically like that of the Thai. The ancestral altar is placed on a woven table which they replace every year. The Kho Mu weave bamboo baskets and beds," said Tem.
Despite physical hardships, the Kho Mu keep up their local festivals to promote their distinctive customs and lifestyle. VOV

Numerous cultural and arts activities are taking place at the Vietnam National Villages For Ethnic Culture And Tourism in Hanoi from January 1-31.

A collection featuring photos of people from different ethnic groups living in northern Vietnam has bagged the top prize at a photography contest organised by Vietnam Airlines in flight magazine Heritage.