A cake hawker from Belarus
Many aliens who have been stranded in Vietnam have tried their best to survive tough times here during the protracted pandemic. In several cases, they have to do all kinds of jobs available to pay for food and accommodation.
They have also received hearty support from local communities. Irina Khmylnikova from Belarus is one of them.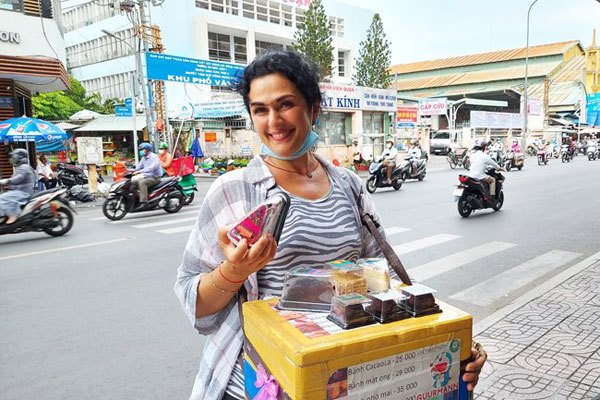 Irina Khmylnikova and her Styrofoam box and cakes – SGT Photos: Thanh Hoa
Over the past two months, Saigonese passing by Tan Dinh Market in District 1 have seen a Westerner selling cakes to locals. Every day, the vendor appears two times, from seven to eight o'clock in the morning and from four to five o'clock in the afternoon. She is Irina Khmylnikova, 47, who is often addressed as "Irina" by some locals, or simply "the Western cake seller".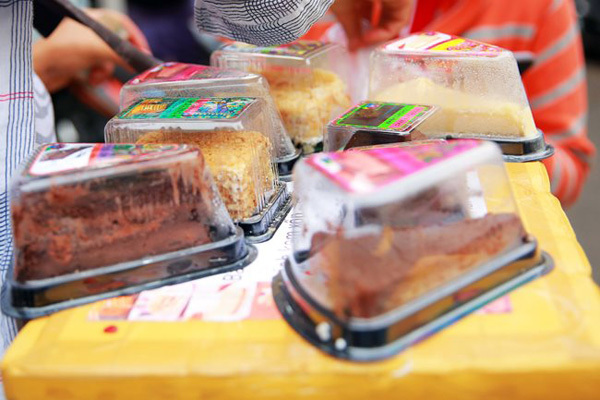 Some of Irina Khmylnikova's best offers.
A special cake hawker
The first impression about Irina to many Saigonese who have met her is her warm smiles and fair skin. While on the sidewalk, she always has a
Styrofoam box suspended in front of her chest, on which pieces of cakes are neatly arranged.
Her offers include chocolate cakes, cocoa cakes, honey cakes and the like, whose prices range from VND25,000 to VND35,000 (roughly US$2-3). Irina speaks neither Vietnamese nor English. Yet she is able to sell her cakes to Saigonese. To make her business somewhat easier, she has the Vietnamese names and prices of the cakes printed on the Styrofoam box.
Irina says all her cakes are made by her friends in Nha Trang and sent to Saigon to her. This group, including Irina, has done this job for about one year.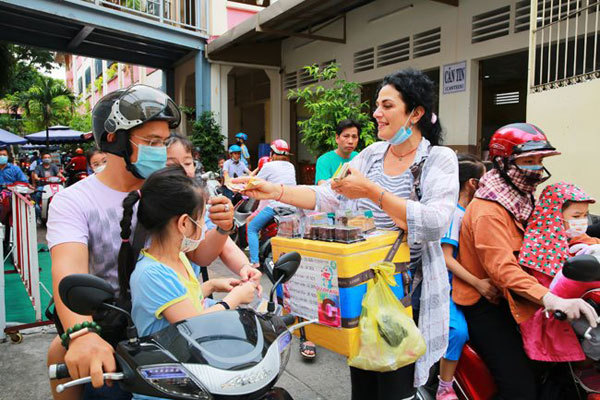 Buyers always receive a warm smile from the cake hawker.
Although she speaks only broken Vietnamese, Irina can pronounce the word "Bánh đây!" (Here comes the cake!) clearly and correctly. Her beautiful smile obviously helps her attract local buyers.
Every week, Irina works from Monday to Saturday, selling cakes. In the morning, she often offers her cakes in the area of Tan Dinh Market in District 1 while in the afternoon, she sells them at a school nearby. On Sundays, she says she spends time exploring local culture. "I've visited many places in Vietnam," she says. "Dalat, Halong Bay, Hanoi and even the Ca Mau Tip in southern Vietnam are some.
"I'm trying to learn more Vietnamese so that I can communicate better with Vietnamese," says Irina. "With improved Vietnamese, I could better understand locals."
Irina has two children in Belarus where she was a shop assistant for 20 years. One day, she felt the urge to travel. After having arranged her family affairs, she rode on a motorbike to travel to every corner of Belarus before thinking of making overseas trips.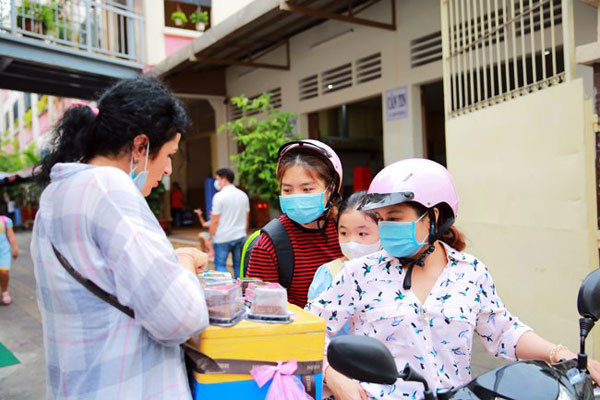 Her customers who are students of a school near Tan Dinh Market.
Irina says she has traveled to countries across different continents. She has visited Russia in Europe, Chile in South America, Egypt in Africa, Israel in the Middle East and Thailand in Asia. In 2019, she first arrived in Vietnam.
The first place in this country to welcome this Belarussian woman was Nha Trang. In February 2020, she made her second trip to the country, determined to have a permanent job to live here for a long time.
Irina and some of her friends set up a firm and began to make and trade in cakes under the brand of GUURMANN. Her business also provided job opportunities for Belarussians, Russians and Ukrainians living in Vietnam. "We mostly worked in the hospitality industry," says Irina. "Some of us even have children who are studying in Vietnam."
When asked why she has chosen cakes but not something else, Irina answered hawking cakes is a temporary job due to Covid-19. "My firm used to sell Vietnam tours to foreign visitors, mostly Belarussians, Russians and Ukrainians," she says. "'Why do I choose cake making?' It is just by chance. I noticed that during their trips here, many visitors seemed to prefer cakes. So, I pick cakes to sell them." 
Irina's optimism
Irina always keeps a smile despite the scorching heat and the polluted atmosphere of Saigon. "I remain optimistic and believe I can stand on my own feet with my temporary job."
Often, Irina is able to sell out her cakes within an hour. Among her customers are Vietnamese students who always receive her greeting "Xin chào!" (Hello!)
"I hope the pandemic will be over soon," says Irina. "Then life will be much easier to me and many other foreigners."
For now, with all her cakes sold, Irina says "Xin chào!" to call it a day and returns to her lodging.
To foreigners like Irina, Saigon and Vietnam are often generous and faithful. It is this generosity that has helped many aliens survive the current hardship while waiting for a better time to come.
SGT

The 50-year-old Frenchman who is known simply as Fabric by Vietnamese can be said to have been rather famous in HCMC, at least in several local social media over the past few months.

The last year has seen several foreigners living in Vietnam experience unprecedented changes, particularly with 2020 being heavily affected by the COVID-19 pandemic, meaning that travelling between countries has become increasingly difficult.