Vietnamese team wins friendly football tournament in Czech Republic

FC Sapa Praha, a football team of the Vietnamese community in the Czech Republic, has became the champion of the annual friendly football tournament held by the Czech Senate for ethnic communities.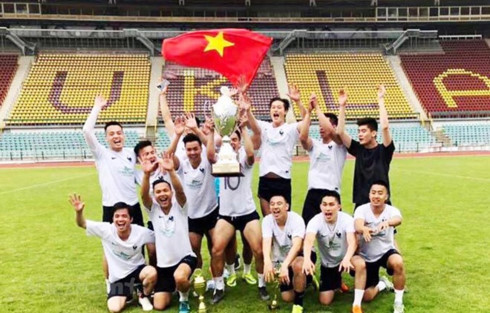 The FC Sapa Praha team
This is the second time the Vietnamese community's football team has won the tournament. The first time was in 2011.
Addressing the opening ceremony, Czech Republic Senate's Vice President Jiri Ruzcka said that the tournament this year was of good quality with the participation of 24 teams.
He showed his delight that the event attract a large number of Vietnamese football lovers. He held that the Vietnamese team is a strong team that has won many tournament.

He expressed his hope that the Vietnamese team will continue actively engaging in the tournament in the future, showing the strong integration of the Vietnamese community in the host society. VNA