Vietnamese expatriates in Australia get together for Lunar New Year celebrations

Overseas Vietnamese in Australia and many international friends gathered to welcome Lunar New Year (Tet), at a celebration held by the Vietnamese Embassy in the host nation on January 4.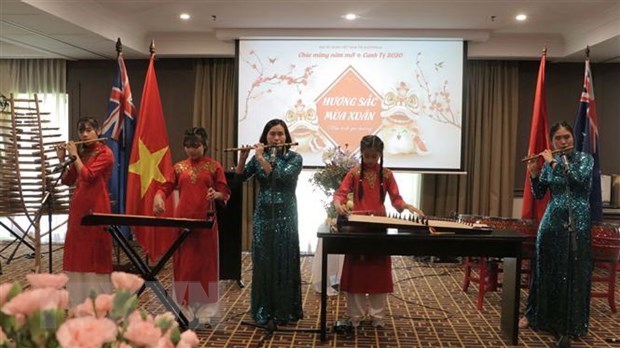 Art performance at the Lunar New Year celebrations
Ambassador Ngo Huong Nam told the participants that the year 2019 was a milestone in the Vietnam – Australia strategic partnership, with impressive bilateral cooperation.
Delegation exchanges at all levels increased 30 percent from the previous year while two-way trade reached more than 8 billion USD, a year-on-year surge of 10 percent, he said, adding strong growth was also seen in two-way investment.
Several Vietnamese corporations like VinGroup, TH Truemilk, FPT, Vietjet Air and Bamboo Airlines are working on projects worth billions of USD in Australia, helping enhance trade between the two nations while creating thousands of jobs for local labourers, he said.
Particularly, the first batch of Vietnamese longan hit supermarket shelves in Australia in September 2019, and the fruit has won the taste of Australian customers, he stressed, saying more Vietnamese farm produce will be present in the country in the time ahead.
The Vietnamese diplomat also expressed his delight over the fruitful cultural exchanges, education and tourism cooperation between the two nations in the past year. He said many Vietnamese people are holding key positions at the government's apparatus and enterprises in Australia while many young scientists are making contributions to the homeland's construction cause.
Meanwhile, Tran Ba Phuc, member of the Vietnam Fatherland Front's Central Committee and President of the Vietnamese Business Association in Australia, rejoiced at the Vietnam – Australia close-knit relations, affirming the ties have been developed thanks to efforts made by the Vietnamese people community.
He believed that the annual Lunar New Year get-together has helped preserve and popularise Vietnamese traditional culture to international friends, hoping the Vietnamese expatriates will work more to further the Vietnam- Australia relations in the coming time.
Participants together enjoyed traditional food and art performances for the special event.
On the occasion, Ambassador Nam presented certificates of merit to the Vietnamese Business Association in Australia and the Vietnamese Students Association in Canberra for their contributions to the homeland./.VNA