Vietnamese culture shines in Czech city

A Vietnamese cultural event took place in the southern Czech city, Ceske Velenice, on April 26, as a highlight of the 'Vietnam Culture Month' programme that runs throughout April in the city.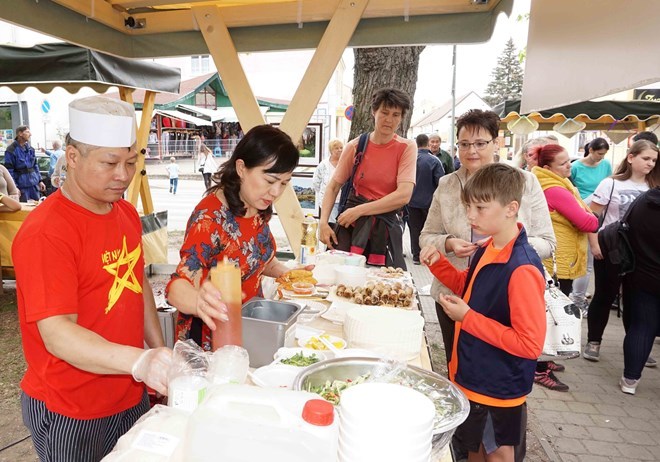 A food festival as part of the 'Vietnam Culture Month' programme in Ceske Velenice
Speaking at the event, Tran Vinh Bac, Counsellor in charge of cultural affairs at the Vietnamese Embassy in the Czech Republic, thanked the municipal authorities for their support of the organisation of the programme as well as Vietnamese expatriates' integration to the local community.
The event is held in the context of the Vietnamese community preparing for their celebration of the 20th founding anniversary of the Vietnamese Association in Czech Republic (1999 – 2019) and the two countries about to mark 70 years of their diplomatic relations, he added.
Mayor of the city Jaromir Sliva said the two countries' traditional ties and potential for further cooperation create favourable conditions for boosting exchanges and mutual understanding between people of the two countries, and between Czech natives and Vietnamese expats.
The official lauded the Vietnamese community's integration efforts and contribution to Ceske Velenice's socio-economic-cultural development.
He stressed the city supports the organization of the 'Vietnam Culture Month' as it helps locals better connect to the Vietnamese expat group and understand more about Vietnamese culture.
According to Chu Minh Khanh, head of the Vietnamese Association's chapter in the city, this is the first time his organisation has cooperated with the local authorities to hold a programme on the Vietnamese culture. The programme comprises various activities, including a photo exhibition, performances of traditional music, a food festival and film screening event.-VNA