Vietnamese culture promoted in France

Vietnam's culture, landscape, and cuisine is being promoted at the Metz International Fair, which opened in Moselle province, France recently.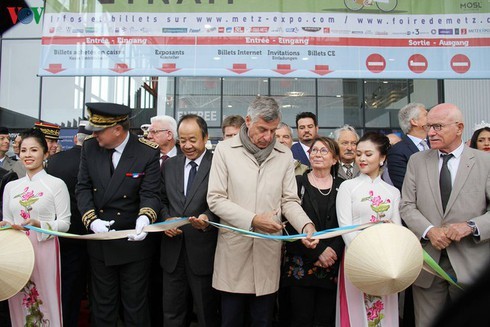 Vietnamese women showcase "ao dai" (traditional long gown) at the opening ceremony of the Metz International Fair on September 27, 2019.
Vietnam, as an honorable guest, will hold a roundtable discussion on trade promotion with France on October 4.
Nghiem Xuan Dong, Vice Director of the Vietnamese Cultural Center in France, said "Vietnamese artists are performing Cheo (traditional opera) and water puppet at the fair. Other activities to showcase Vietnamese culture include film screenings, an exhibit of paintings by famous Hanoi painters, and demonstrations of 'to he' (toy figurines made from rice powder) and calligraphy."
The International Fair of Metz is one of three largest annual fairs in France, bringing together thousands of companies and trademarks of Grand-Est, an administrative region in northeastern France resided by three million people.
Jean Luc Bohl, the first Vice President of the Grand-Est region said Vietnam was invited to this year's event to introduce the French people to its history, culture, and potential for future cooperation between the two countries, especially in economics.
The fair will close on October 10. VOV5