Vietnamese businessman brings grilled fermented pork rolls to Thailand

A Vietnamese called Ho Van Lam is running a successful business in Udon Thani province, Thailand, which sells grilled fermented pork rolls.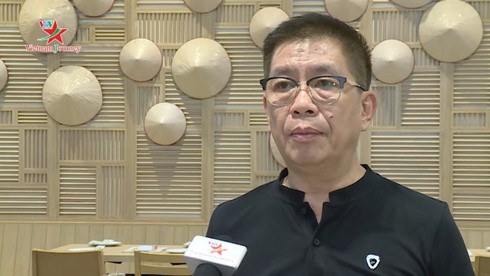 Mr. Ho Van Lam, the owner of VT grilled fermented pork rolls restaurant chain in Thailand. (Photo: truyenhinhdulich.vn)
This Vietnamese specialty is included in the Thai royal menu and is popular with many Thai people. 
The VT brand grilled fermented pork roll owned by Ho Van Lam is widely known in Thailand, especially in Udon Thani province. Lam, whose Thai name is Thong Kulthanwat, is President of the Thai-Vietnam Business Association.
He runs a 6-hectare food court with a capital investment of more than 30 million USD. It's hard to believe Mr. Lam could set up such a complex with the money he earned from grilled fermented pork rolls.
Ho Van Lam is the third child of a Vietnamese family who moved to Thailand in 1945. Lam earned a living dong different jobs, including lathe operator, clock and watch repairman, and tailor, but eventually turned to the food sector as the best way to promote Vietnamese culture to the world.
"When I was young, I wanted to become a lathe operator and planned to open a workshop. Later, I changed my mind. Now, my lathe skills are applied in manufacturing machines to make grilled fermented pork rolls," said Lam.
Lam learned the recipe for grilled fermented pork rolls from his mother. As a businessman, Lam gives priority to providing healthy, nutritious food to his customers, according to VT employee Ta Khay.
"I've worked for the VT brand for more than 10 years. Mr. Lam is a prestigious businessman. He always puts health first in his products," said Ta Khay.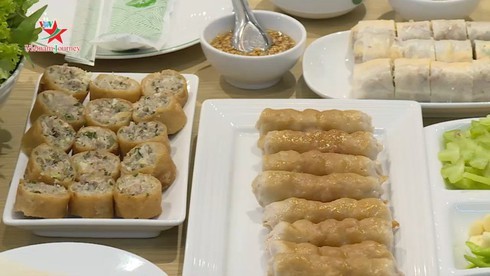 VT brand grilled fermented pork rolls. (Photo: truyenhinhdulich.vn) 
Mr. Lam is very strict about selecting good ingredients. Pork is purchased from well-known companies. His business has a section that specializes in growing organic vegetables.
He regularly talks with customers so he can cater to the tastes of the locals while still keeping the authentic flavor of Vietnam's central region.
"I think there is some similarity between Thai and Vietnamese cuisine. Thai people like spicy food. Vietnam's grilled fermented pork roll is flavored with several kinds of herbs which are very delicious and healthy," said Muathong, a Thai customer.
VT brand has opened more than 40 stores around Thailand. VOV