Vietnamese ambassador to Russia honoured with Friendship Order
Deputy Minister of Foreign Affairs of Russia Igor Morgulov has presented Russia's Order of Friendship to Vietnamese Ambassador to Russia Ngo Duc Manh in recognition of his contributions to promoting the relations between the two countries.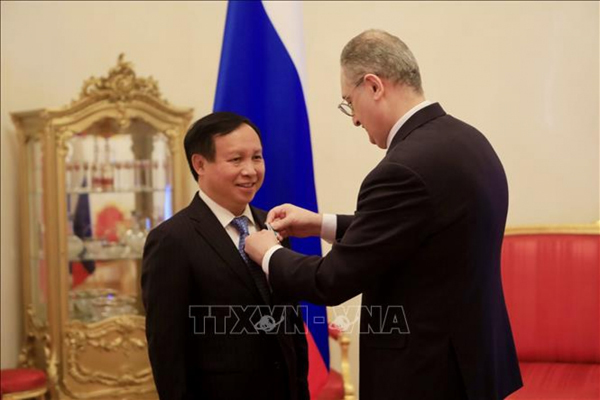 Deputy Minister of Foreign Affairs of Russia Igor Morgulov confers the Order of Friendship on Ambassador Ngo Duc Manh. 
The Order was conferred under decree #182 signed on March 29 by Russian President Vladimir Putin.
This is the first time the Russian President has presented the honour to a Vietnamese diplomat, said Morgulov at the awards ceremony held on April 6.
Morgulov noted that during Manh's working term both Russia and Vietnam have maintained reciprocal visit exchanges and increased bilateral cooperation in various areas, especially in economics and trade, despite the impact of the COVID-19 pandemic.
For his part, Ambassador Ngo Duc Manh thanked Russian leaders, organizations, partners and friends for their support and assistance, which he said helped him perform his duty well during the term. He expressed his belief in the promising future of the comprehensive strategic partnership between Vietnam and Russia in the coming years.
The same day, Ambassador Manh bid farewell to Gennady Zyuganov, leader of the Communist Party of Russia (KPRF) at its headquarters in the State Duma.
Zyuganov congratulated Manh on the successful completion of his term, and affirmed the KPRF always attaches importance to and stands should to shoulder with the Communist Party of Vietnam to overcome difficulties in all circumstances.
The KPRF leader awarded the Vietnamese diplomat the Order of Lenin, the KPRF's noble award to those who have made important contributions to the Party's activities.   
Ambassador Manh presented the KPRF leader a book featuring 70 years of Vietnam-Russia diplomacy compiled by the diplomat.
VOV

The ASEAN Week 2020, with a series of cultural, scientific and educational events, concluded on December 11, helping to strengthen ASEAN-Russia exchanges and cooperation.

Contemporary Vietnam has all the ability to conduct comprehensive modernisation and develop successfully and with stability, while overcoming obstacles such as corruption and acts of sabotage by hostile forces,