Vietnam provides COVID-19 assistance to Laos
The Vietnamese community in Laos are working with Lao authorities and people to overcome the current COVID-19 outbreak by raising funds and donating cash, necessities and medical supplies to the host country.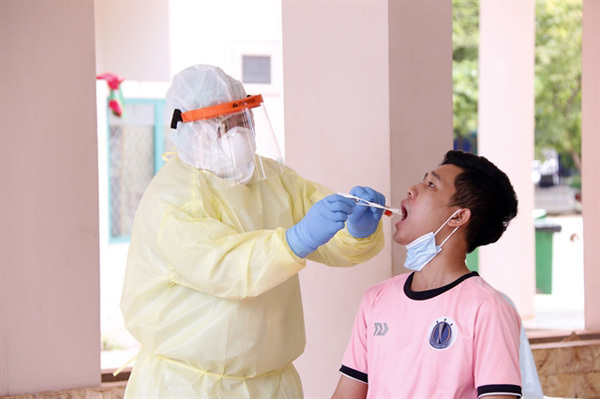 A Vietnamese student in Laos has his sample taken in Vientiane. Lao medical staff in co-operation with the Vietnamese Association in Vientiane conducted COVID-19 testing on Vietnamese living and working in some areas. 
After learning about a number of Vietnamese in Laos getting infected with COVID-19, the Vietnamese Association in Vientiane has taken a range of measures to support the Vietnamese community in the country.
The association has called on the Vietnamese community to stay calm amid the outbreak in Laos, while providing COVID-19 patients or those in quarantine with food and necessities.
It has also co-ordinated with the Lao health ministry to open COVID-19 testing sites in the areas in Vientiane, where many Vietnamese are living.
Vice Chairman of the association Le Anh Duc told Vietnam News Agency that the association has helped Vietnamese with medical declarations for contact tracing.
"If the situation gets worse, it will coordinate with the Vietnamese Embassy to ask for permission to join the Lao National Taskforce for COVID-19 Prevention and Control to set up concentrated quarantine facilities for Vietnamese with high risk of infection," he said.
Meanwhile, the embassy and the Vietnamese Consulate General in Luang Prabang have provided necessities for Vietnamese students in the host country.
Vietnamese associations and their chapters in Laos have called for support for Vietnamese who are in difficulties due to COVID-19, and those under treatment and quarantine.
A group of 35 Vietnamese doctors and caregivers left Vietnam on May 4 for Laos aboard a Vietnam Airlines flight to assist the nation's fight against COVID-19. The group's mission is to support in testing, treatment, building of treatment hospitals, and training for use of Vietnamese-funded medical equipment.
They will stay in Laos for between 15 and 17 days, which could be shortened or prolonged based on the circumstances. Expenses of their working trip are sourced from Vietnam's State budget.
On May 5, Star Telecom (Unitel), a joint venture of Viettel in Laos, presented the Lao Government and people with more than 5 billion kip (US$538,000) in cash and technology solutions to improve the efficiency of COVID-19 prevention and control.
Particularly, along with transferring over 500 million kip to the Lao Ministry of Health's steering committee for COVID-19 prevention and control and over 1 billion kip to the bank accounts of frontline medical staff of Vientiane and Champasak and Luang Prabang provinces, Unitel assisted Laos' Health Ministry in operating a national vaccination information system worth more than $200,000.
Amid the complex developments of the pandemic, Lao medical staff in co-operation with the Vietnamese Association in Vientiane conducted COVID-19 testing on Vietnamese living and working in Thatluang, Naxay and Sisangvone wards and the area around the NUOL.
Those showing symptoms will be placed in quarantine and receive treatment.
Earlier on May 3, LaoVietBank, a joint venture between the two countries' banks, also presented the Health Ministry of Laos with medical supplies worth more than 100 million kip (over $10,000). Meanwhile, Vietnamese mining firm Sakai also handed over to Laos more than 208 million kip worth of cash, medical supplies and necessities.
At the same time, Venerable Thich Minh Quang and Buddhist dignitaries and followers in Phat Tich Pagoda in Laos as well as the Vietnamese Association in Vientiane capital provided free meals at some charity facilities in Vientiane.
Vietnam's help highlighted in Lao newspaper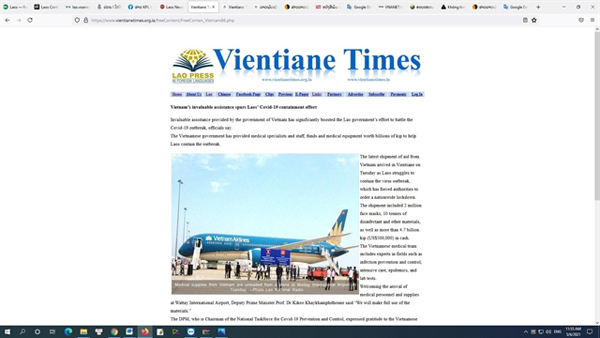 An article on Vientiane Times praises Vietnam's support for Laos. — VNA/VNS Photos Pham Kien
Lao newspaper Vientiane Times recently highlighted Vietnam's assistance for the country in the fight against COVID-19.
The English language newspaper on May 6 reported that the Vietnamese Government had provided medical specialists and staff, funds and medical equipment worth billions of kip to help Laos contain the outbreak.
The latest shipment of aid from Vietnam arrived in Vientiane on May 4 as Laos was struggling to contain the pandemic that forced Lao authorities to order a nationwide lockdown.
The shipment included 2 million face masks, 10 tonnes of disinfectant and other materials, as well as more than 4.7 billion LAK ($500,000) in cash.
"The Vietnamese medical team includes experts in fields such as infection prevention and control, intensive care, epidemiology, and lab tests," the newspaper added.
It reiterated that Vietnam had been an active provider of assistance to Laos to help the country's fight against COVID-19 and had already provided a number of aid packages.
On May 3, the People's Army of Vietnam sent four medical specialists and equipment to support Laos' response to the outbreak.
At the start of the pandemic, Vietnam provided similar assistance, delivering medical supplies worth more than 2 billion LAK (over $300,000).
The shipment included 330,000 face masks, 1,000 sets of protective clothing and other essential equipment.
Vientiane Times quoted Lao officials as saying that Vietnam's assistance "has significantly contributed to efforts to prevent and control the spread of the coronavirus in Laos".
As of Tuesday morning, Laos reported 1,327 positive cases of COVID-19. The positive test results were obtained after 4,429 samples were tested for the virus on May 9.
Vientiane has recorded the highest overall number of infections, followed by Bokeo and Champassak. The outbreak has spread through 15 provinces, with only Attapeu, Xaysomboun and Huaphan remaining virus-free.
Some 1,089 people are currently in hospitals around the country after testing positive for COVID-19. More than 3,352 people have been admitted to 45 quarantine centres and samples taken from them have been sent for COVID-19 tests, according to Vientiane Times.
There has been one death so far, a 53-year-old Vietnamese woman who died in a hospital in Vientiane on Sunday.  
VNS

Vietnam's assistance for Laos in the COVID-19 combat was handed over at a ceremony held at Wattay International Airport in Vientiane capital city on May 4 morning.

A group of 35 Vietnamese doctors and caregivers is expected to leave Vietnam on May 4 for Laos aboard a Vietnam Airlines flight to assist the nation's fight against COVID-19.