Vietnam Day in Switzerland 2021 promotes bilateral relations
The Vietnamese Embassy in Switzerland hosted Vietnam Day in Switzerland 2021 in an online format on October 9 to commemorate 50 years of diplomacy between the two countries.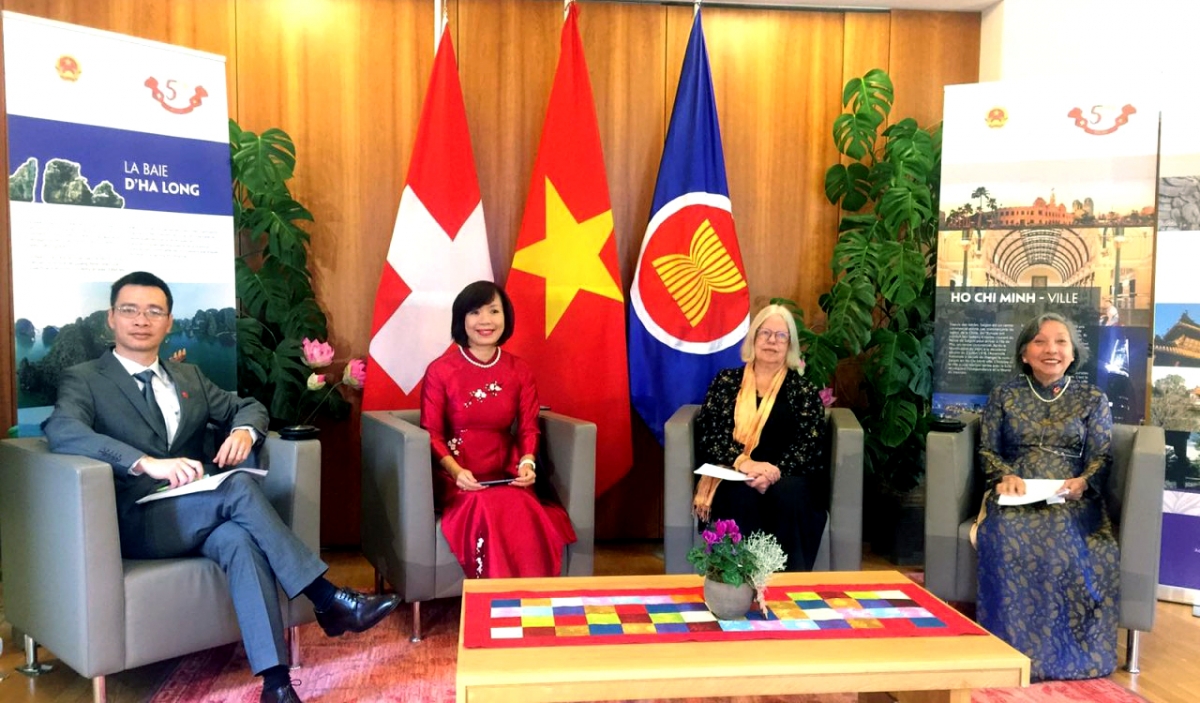 Addressing the event, Ambassador Le Linh Lan said that the Vietnam – Switzerland relations have made steady progress in all areas, from politics-diplomacy to trade - investment, development cooperation, culture, and education over the past 50 years.
She stressed the two countries have great potential for stronger cooperation in the field of innovation to promote sustainable development in the coming time.
Philipp Rosler, former German Chancellor, said he is proud to work as Honorary Consul of Vietnam in Switzerland, and vowed to work hard to beef up trade-investment ties between Vietnam and Switzerland.
He said Vietnam remains an attractive investment destination globally as it has a young, well-trained workforce. He also suggested that Vietnam take advantage of the European Union – Vietnam free trade agreement (EVFTA) which came into force in August 2020, as well as a future FTA between Vietnam and the European Free Trade Association (EFTA) to promote trade exchanges.  
"Three main factors that affect trade and prosperity of a nation are market openness, free trade and fair competition. The EVFTA has a positive impact on the parties involved, and similarly the FTA between Vietnam and EFTA, when it is signed, will certainly bring many trade, investment and employment opportunities for the two economies," said Rosler.
Meanwhile, Anjuska Weil, President of the Switzerland-Vietnam Friendship Association, underscored the importance of people-to-people diplomacy, saying her organisation has since its establishment in 1982 carried out various activities to popularize Vietnam's image, increase people-to-people exchanges and strengthen cooperation between the two countries.
The association has mobilized donations from different sources to support poverty reduction efforts in Vietnam and help the country overcome the consequences of the Vietnam War decades ago, she said.
For his part, Luu Vinh Toan, head of the Association of Vietnamese intellectuals and experts in Switzerland, stressed both Vietnam and Switzerland hold great potential for cooperation in the fields of science - technology, innovation, and digital transformation.
Despite differences in their economic development levels, he said the two countries attach importance to sustainable development through education, environmental protection, information security, digital governance and digital economy strategies.
In his opinion, both economies can complement each other supported by the fact that the deployment of digital infrastructure and application of information technology in Vietnam is taking place very quickly, while Switzerland is very strong in building processes or practical applications.
Toan expressed his belief that Vietnam and Switzerland will soon become reliable strategic partners in the fields of science - technology, innovation and digital transformation, making a positive contribution to the diplomatic relations between the two countries.
Vietnam Day in Switzerland 2021 took place simultaneously via an online platform at Vietnam Television, the Embassy of Vietnam in Switzerland, and the headquarters of the Permanent Delegation of Vietnam in Geneva.
The programme welcomed many intellectuals, politicians, businesspeople, artists, and community representatives from Vietnam and Switzerland. It introduced Vietnam's land, people and culture, as well as cooperation opportunities between the two countries.
Source: VOV