Vietnam calls for initiatives to ensure efficient functioning of APEC supply chains
Asia-Pacific Economic Cooperation (APEC) economies needs to continue promoting free and open trade and investment, undertake initiatives to ensure regional supply chains to function smoothly and efficiently,
 and facilitate the movement of essential goods, Minister of Trade and Industry Nguyen Hong Dien has said.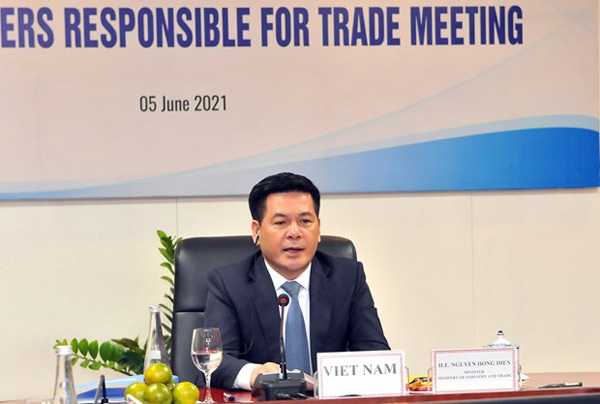 Minister of Trade and Industry Nguyen Hong Dien speaks at the virtual APEC Ministers Responsible for Trade Meeting on Saturday. — VNA/VNS Photo
He made the statement at the virtual APEC Ministers Responsible for Trade (MRT) Meeting chaired by Damien O'Connor, New Zealand's Minister for Trade and Export Growth on Saturday. The meeting focused on trade and investment's role in ensuring widespread and equitable access to COVID-19 vaccines and essential goods, and how to prevent disruption of global supply chains.
To gain positive economic growth and social stability, APEC economies should stay united and determined to maintain free and open trade and investment, strengthen regional economic integration, and enhance APEC's leading role in Asia-Pacific, Dien said.
He urged the APEC member economies to focus discussions on finalising an action plan for the APEC Putrajaya Vision 2040 this year, which would lay a basis for intra-bloc cooperation over the next two decades.
As COVID-19-induced social distancing rules and travel restrictions remain in place in many economies, e-commerce and digital transformation play an increasingly important part in economic development and daily life.
The Vietnamese minister proposed APEC to bolster collaboration in innovation, digital trade and the internet; ensure effective digital infrastructure and connectivity; building digital capability for its businesses and workforce, particularly disadvantaged groups such as women and people with disabilities.
He singled out the pressing issue of COVID-19 vaccine production and distribution, which is considered the most effective way to protect the community's well-being. Vietnam supports cooperation within APEC that ensures safe, effective, fair and timely production and supply of COVID-19 vaccines; minimise intellectual property barriers to COVID-19 vaccines; and foster information exchange and technology transfer for the vaccine production, he said.
In that spirit, he continued, Vietnam backed the adoption of a APEC MRT Statement on COVID-19 Vaccine Supply Chains.
He further noted that Vietnam is ready to cooperate with other APEC economies in addressing challenges posed by the pandemic and developing a post-pandemic economic recovery plan that provides supports for affected enterprises and maintain social welfare.  
VNS 

While negotiating with foreign vaccine providers, Vietnam will accelerate vaccine purchases to ensure that all people have access to Covid-19 vaccines.

On the occasion of the New Year, Permanent Deputy Minister of Foreign Affairs Bui Thanh Son granted the media an interview on the results of Vietnam's international economic integration in 2020 and orientations for the new period.