Vietnam calls for constructive dialogues to promote political process in Syria
Ambassador Dang Dinh Quy, Permanent Representative of Vietnam to the United Nations (UN) has urged all parties concerned to Syria to intensify constructive dialogues to promote the political process in the country.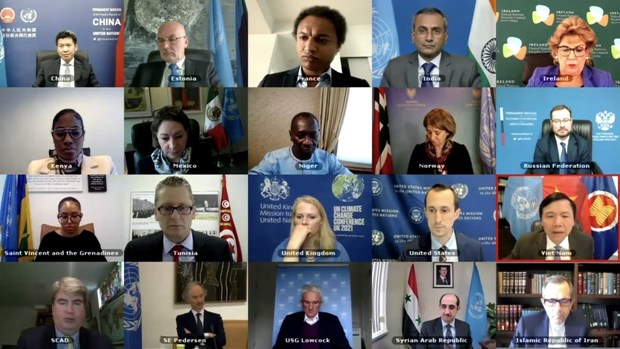 Participants at the debate (Photo: VNA)
In his remarks at an online debate of the UN Security Council (UNSC) on the situation in Syria on April 29 (Vietnam time), Ambassador Quy highlighted the important role of the international community in seeking a political solution to the crisis in Syria.
Regarding the humanitarian situation, Quy showed his concern about the worsening situation in Syria and called for increased coordination among parties as well as enhanced international support to ensure that humanitarian aid will be provided to people in all regions of Syria.
He stressed the need to promote cooperation in globally supplying adequate and equitable COVID-19 vaccines, especially for people in conflict zones or areas where living conditions are difficult.
Quy took the occasion to thank UNSC member countries and the UN Secretariat for helping Vietnam run smoothly activities during the month of its presidency.
At the meeting, UN Special Envoy for Syria Geir O. Pedersen briefed participants on the discussion process between the Syrian government and the opposition to narrow differences, towards reaching an agreement on working methods and preparations for further talks to build a Constitution on the basis of the UNSC's Resolution 2254 in the coming time.
Meanwhile, UN Under-Secretary-General for Humanitarian Affairs M. Lowcock underlined the necessity to maintain humanitarian assistance, especially the provision of vaccines to Syria in the time to come in the context that Syrian people are facing the seriously difficult situation due to the economic crisis and the COVID-19 pandemic./. VNA