Vietnam backs comprehensive political solution to Libyan issue: Diplomat
Ambassador Pham Hai Anh, Chargé d'Affaires a.i. to the UN, reaffirmed Vietnam's support for a comprehensive political solution led and owned by Libyans on the basis of respecting its independence, sovereignty, and territorial integrity.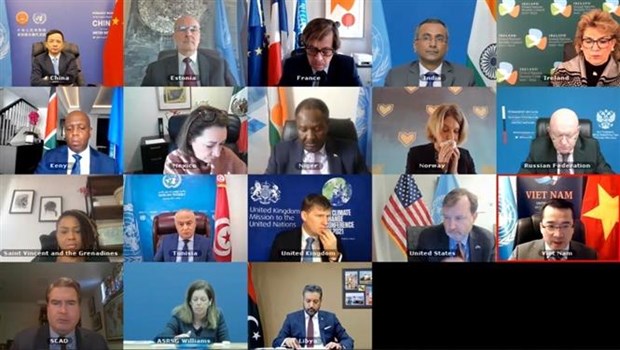 Participants at the online meeting of the UN Security Council on current issues in Libya (Photo: VNA)
Addressing an online meeting of the UN Security Council (UNSC) on current issues in Libya and operations of the UN Supported Mission in Libya (UNSMIL) on January 28, the Vietnamese diplomat spoke highly of the positive developments in politics and security in the country and urged the Libyan parties to make further progress on forming an interim government to start a transitional period leading to elections in the country.
He also praised the efforts of UNSMIL, acting special representatives, neighbouring countries, regional organisations, and relevant partners in promoting the peace talks.
Acting Special Representative of the UN Secretary General for Libya Stephanie Williams applauded the recent positive developments in politics and security in the country, saying the Libyan parties have agreed to establish a mechanism to monitor the long-term ceasefire agreement in Libya, signed on October 23 with support from the UN.
Williams, who is also Head of UNSMIL, called on the UNSC to continue its support to promote the peace process in Libya, including allowing UNSMIL to support the ceasefire surveillance mechanism.
Representatives from UNSC member countries called upon stakeholders to fully comply with the ceasefire and continue to promote a roadmap towards elections.
They also expressed their hope that Jan Kubis, the UN Secretary-General's newly-appointed Special Envoy for Libya, will continue accelerating the peace process.
Meanwhile, a Libyan representative stressed the commitments and efforts of the Government of National Accord (GNA) in promoting a peaceful solution to the Libyan issue, expressing a hope that the UNSC and UNSMIL will take more concrete actions to push up the peace process in the country./. VNA