Sputnik: 2020 is really a special year for Vietnam
2020 is really a special year for Vietnam as for the first time in its diplomacy history, the country assumed both rotating ASEAN Chair and non-permanent member of the UN Security Council (UNSC), according to the Sputnik news agency of Russia.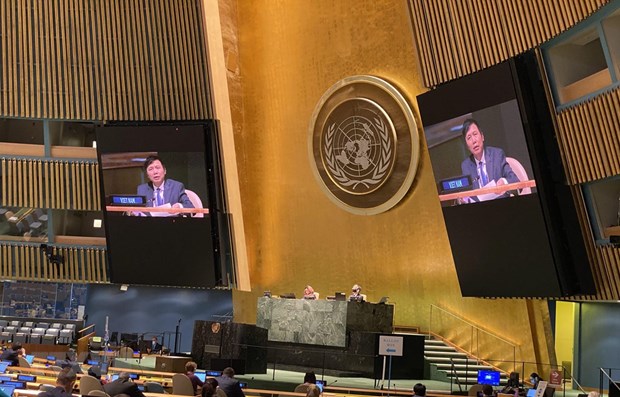 Ambassador Dang Dinh Quy, Permanent Representative of Vietnam to the UN, speaks at a session of the UN General Assembly on November 23 
This is also a challenging year for Vietnam since the COVID-19 pandemic have been developing complicatedly, changing the life of the whole world.

After reviewing the outstanding diplomatic events of Vietnam during the year, the news agency assessed that as a non-permanent member of the UNSC, Vietnam has put forth many initiatives in less-mentioned fields such as humanitarian activity, peacekeeping missions, climate change mitigation, and cybercrime prevention. Of note, the country proposed the UN General Assembly approve a resolution taking December 27 as International Day for Epidemic Preparedness.
Regarding the role of rotating ASEAN Chair, Sputnik emphasised that the most remarkable feature of ASEAN 2020 was online conferences. Vietnam quickly adapted to the situation, applying cyberspace to organise conferences set in the plan of the ASEAN Chairmanship Year in the online format. This was warmly responded by all ASEAN countries as well as the bloc's partners. It proved that the COVID-19 pandemic could not break the cohesion of the entire ASEAN.
According to Sputnik, a great success of ASEAN 2020 was the signing of the Regional Comprehensive Partnership Agreement (RCEP) by ASEAN and its five partners namely China, Japan, the Republic of Korea, Australia and New Zealand. The deal opens up a promising new period of economic and trade cooperation, which will contribute to accelerating the process of building the ASEAN Economic Community 2025. From which, ASEAN will become a dynamic and powerful partner that promotes cooperation for mutual prosperity.
The Russian news agency concluded that "playing" the two important "roles" in 2020, Vietnam has always been consistent and firm in principle, but extremely flexible in measures and conduct./.VNA