Singaporean, Australian media highlight economic opportunities for Vietnam
The Straits Times of Singapore on January 28 ran an article that views 2021 as a year of opportunity for Vietnam while the Australian Financial Review (AFR) said Vietnam has become an essential cog in the global supply chains.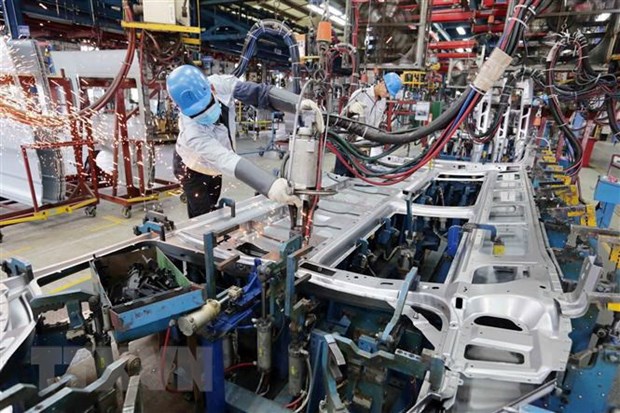 The Australian Financial Review said Vietnam has become an essential cog in the global supply chains (Photo: VNA)
The Straits Times wrote that the ongoing 13th National Congress of the Communist Party of Vietnam is to pick new leaders and chart its next course with a strong tailwind from its recent successes.
It said in his opening speech of the congress on January 26, Party General Secretary Nguyen Phu Trong hailed the country's economic development and its containment of the COVID-19 pandemic as twin major achievements. Southeast Asia's rising star does have bragging rights, the paper noted.
This year can be Vietnam's breakout moment after having controlled the COVID-19 pandemic ahead of economies in the region. It can steal a march on the others, as it is probably already doing, taking up the slack as factories in the region stay shuttered while demand for tech, medical and other products surge.
The new leaders it selects and the new course it sets will determine how well it does this and what role it can carve for itself in the region, according to The Straits Times.
In addition, the newspaper added, it is also mindful of the domestic challenges and external uncertainties that could thwart its ambition to become an upper-middle-income country by 2025 and an industrialised economy by 2030.
The article cited Party General Secretary Nguyen Phu Trong as admitting that there are shortcomings, including an economy that is not yet highly resilient. While Vietnam has privatised many state-owned firms, which make up nearly a third of economic output, are low in efficiency and account for many bad loans. The economy remains dominated by low-end assembly work rather than high-end manufacturing. The outdated higher education system also cannot turn out enough highly skilled workers.
In its article on the 13th National Party Congress, the AFR said domestic tourism and everyday life are largely back to normal.
It noted Vietnam's leaders are focused on attracting more foreign investment as the country has become an essential cog in the global supply chains.
Low labour costs and negligible barriers to entry that initially attracted multinationals such as Unilever and Pepsico in the 1990s and early 2000s remain a drawcard. More recently, electronic giants such as Apple-supplier Foxconn have become keen for opening manufacturing establishments here.
The article added that the World Bank describes Vietnam as one of the most dynamic emerging countries in East Asia.
The AFR also quoted Francis Wong, senior adviser to the Australia-Vietnam Business Council, as saying that one of the keys to successful economic policies for Vietnam is stable and predictable succession in the government that's driving the push towards an open economy, and that this creates confidence for investors both within the country and foreigners./. VNA