Mrs. Ao Dai Vietnam Europe 2020 launched in Germany

The Mrs. Ao Dai Vietnam Europe 2020 pageant organizers held a press briefing in Germany on June 9 to introduce the contest and honour the women with outstanding contributions among the Vietnamese community in Europe.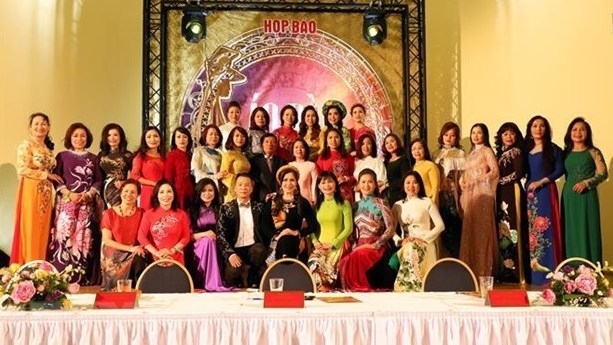 The organising committee honours the women with significant contributions to activities of the Vietnamese community in Europe.
The 2020 pageant, the second of its kind, is scheduled to take place in Dresden in late May 2020, featuring the theme of Hanoi Ao dai in the 1960s. It will be open to women aged 35 or above, regardless of their nationalities.
Pham Gia Hau, chairman of the Vietnamese culture & arts association in the Czech Republic and head of the organising committee, said that the Mrs. Ao Dai Vietnam Europe contest is hoped to become a healthy and useful playground for ladies across Europe, aiming to advertise the beauty of Ao dai (Vietnamese traditional long dress) to international friends, enhance solidarity among the overseas Vietnamese community, and promote young people's understanding and passion for Vietnamese Ao dai.
According to Counselor Dang Chung Thuy at the Vietnamese Embassy in Germany, the Mrs. Ao Dai Vietnam Europe 2020 contest in Dresden will be a meaningful event to celebrate the 45th anniversary of Vietnam-Germany diplomatic ties.
At the inaugural pageant in 2018, Tran Hoang Mai Anh from Poland claimed the top honour of the 31-50 age group, while Dang Bich Lan from Germany finished first in the age group for over 51.
The Mrs. Ao Dai Vietnam Europe is held biennially and alternately between different countries. On the sidelines of the event, the organising committee and contestants participate in many meaningful social activities, including charitable activities and offering help to those in extreme difficulties.
Nhan Dan

The Miss Universe Vietnam pageant has been held three times and some of the beauty queens have gone on to achieve outstanding results in global pageants.

Nguyen Quynh Nhu, Vietnam's representative at Miss & Mrs Top of the World 2019, was awarded the first runner-up title along with the Miss Friendly sub-title during the pageant which was recently held in Riga, Latvia.

An evening gown worn by H'Hen Nie during the Miss Universe 2018 semi-finals has topped a list of the Top 10 yellow evening gowns worn during the pageant's 10 years, as announced by website Missosology.