Move over Hanoi Hannah … meet Havana Hannah

On a summer morning just before Vietnam's Reunification Day, April 30, an elderly American lady showed up at VOV's office.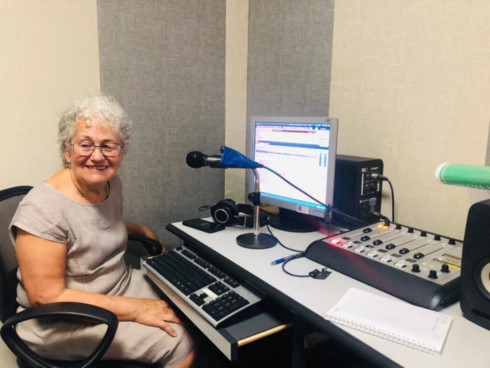 Mariam Ansara visits VOVWORLD office in Hanoi in late April, 2019. 
All we knew about her was that she used to work for VOV's English service at Radio Havana, Cuba, in the early 70s. But a quick chat revealed a surprising fact. She was much more than a VOV news announcer who reported the war in Vietnam to the American audience daily. She was part of one of the most significant moments in Vietnam's history. 
"It's one morning I came into work, me and Robert, and there was Phuc, the director, we called him Fernando. There were Minh and Phuong, who were my age in their 20s, and they said 'We have something special for you to read', and told us to go to the sound booth which we did. And Robert and I sat down on the microphone without knowing what we were reading. And the music played,and then we said: 'This is the voice of Vietnam' and then we started reading, and we had to stop, because what we were reading was the announcement of the signing of the Paris Peace Accords, which was bringing the war to an end. And it was extraordinary because it was so unexpected."
More than four decades have passed, but the memory of that special broadcast in late January, 1973, remains fresh in the mind of Mariam Ansara. The announcement was broadcast live on VOV's English program at Radio Havana Cuba. This was the first time the signing of the Paris Peace Accords was announced to the Western hemisphere and to the United States.
"It was an extraordinary moment. To realize that the extraordinary suffering was coming to an end, and that in fact the Vietnamese people, not just after the US and French, but after a thousand years of struggle, would finally be independent and have peace, was an amazing moment in my life.", Mariam said.
In 1967, VOV decided to broadcast from Cuba, targeting the US in order to influence Americans, particularly those whose husbands and sons were involved in the war in Vietnam. The Cuban government supported the initiative and asked Havana Radio to make it happen.
A group of Vietnamese editors from VOV's English and Spanish services went to Cuba to work with their Cuban colleagues to produce the planned radio programs. Many native English speakers were willing to help with editing and reading the scripts on air. Mariam was one of them. The Vietnamese team in Havana received input materials from Hanoi and translated them into English and Spanish. Mariam and her broadcast partner, Robert, read the documents over the airwaves during the daily 1-hour program. Reporting on the war in Vietnam was one of the hardest things Mariam's ever done, because, as she said, it was heart breaking.
"It was a very difficult program to broadcast because, 1972 through 1974, the war was at its height. The atrocity and the death were just unimaginable. So, day after day, we had to read the accounts of how many people were killed, how many villages were destroyed, and how many factories were destroyed. And it was hard not to weep while reading those reports. That experience was very important to me to understand the suffering of the Vietnamese people and their determination to be independent," said Mariam.
Mariam was nicknamed Havana Hannah by her co-workers at Radio Havana after VOV's legendary announcer Trinh Thi Ngo, who was called Hanoi Hannah by American GIs during the Vietnam War for her mesmerizing voice.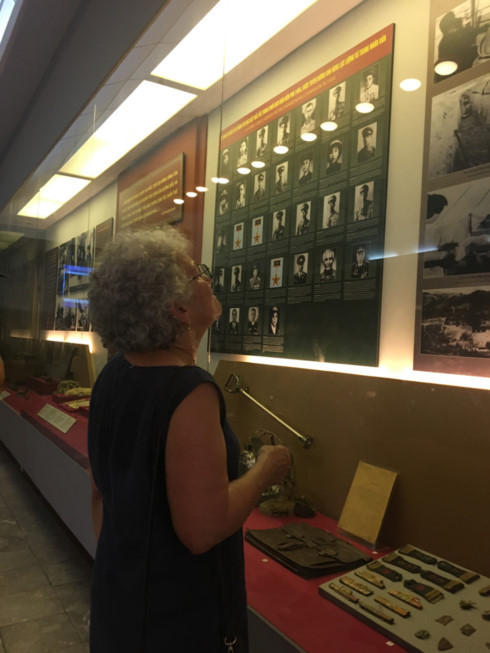 Mariam visits the Vietnam Military History museum in Hanoi in April, 2019. (Photo: VOV)
Besides reporting on the war, Mariam was also in charge of a weekly music program, broadcasting Vietnamese songs to the US audience. The music, as Mariam said, was sappy and sentimental, and attracted her every time she listened to it, even though she understood not a word. She still has the recording, often plays it and loves listening to those Vietnamese songs at home.

Mariam, now retired, at the age of 75, came to Vietnam for the first time not just to see the country that she had only read about, but to meet some of the people she worked with at Radio Havana.
One of her VOV coworkers at Radio Havana was Nguyen Van Nhan. Nhan studied in Cuba and graduated from Havana University's English Faculty. Before returning to Vietnam to work for VOV, he had worked at Radio Havana Cuba for 3 months at the end of 1971, where he met Mariam for the first time. Nhan was sent to Cuba again in 1974. Though they hadn't met for more than 4 decades, since the program ended in 1976 following Vietnam's reunification, the two found much to talk about.
"Even though he was there for a very short time, I have to say that with the Vietnamese team, we used to have the most wonderful dinners. And at that time, in Cuba, there was a lot of food scarcity, and I don't know how they did it, but they did prepare the most delicious Vietnamese dishes. When I went back to the US, I would look for them, but I have to say I have never had spring rolls as good as those young men prepared," said Mariam.
"That is a Vietnamese tradition for the guest. We always show them hospitality, so we try to prepare big dinners, especially Fernando. He was a good diplomat and the leader of the team. His Vietnamese name was Phuc," Nhan replied.
"I was communicating with Robert prior to coming here. And he said "Oh he was so kind to me, and I said 'me too'. He must have been at least 40 at that time, and he just was so kind to all of us young people," Mariam said.
During her time in Vietnam, Mariam traveled around Hanoi and attended a reunion party with her VOV co-workers at the famous Bat Trang pottery village on the outskirts of Hanoi. The trip to Vietnam helped her understand the country that she used to report on during the war - a country that went from widespread destruction to what it is now. Mariam said she walked several miles to VOV from her hotel, looking for evidence of the bombs and mines that she talked about almost daily on the air during the war, but she could not find any. Vietnam, and Hanoi, now in her mind is no longer a land devastated by war, but a beautiful and peaceful place.
"Hanoi is one of the most beautiful cities I have ever visited. I love the leafy trees, the parks, the narrow alleys. There's extraordinary development here. Everybody is very friendly and kind. I really like it here," said Mariam.
With all the experiences she had in Vietnam, Mariam said the trip has fulfilled one of the last dreams in her life.
VOV5