Lao nationals in Quang Nam granted Vietnamese citizenship

In late 2019, 20 Lao people living in the Tay Giang and Nam Giang border district of Quang Nam province were granted Vietnamese citizenship.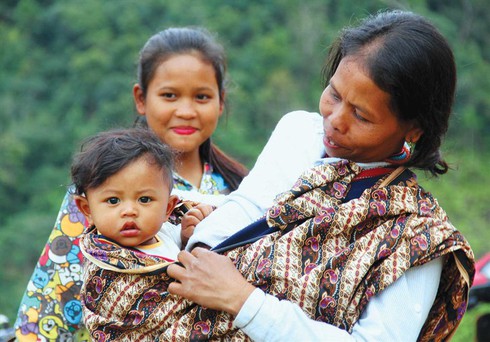 Po Loong Thi Sop and her children were granted Vietnamese citizenship in 2019. (baoquangnam.vn)
Many of them burst into tears of happiness when their long-awaited wish came true.
Atu 1 hamlet in Ch'om commune, Tay Giang district, is located deep in the forest. It takes about 3 hours to walk on the mountain trails from Atu 1 hamlet to Kalum district in Laos' Sekong province. People of both sides often cross the border to join in festivals and New Year's celebrations.
Ngol Nhong, a Co Tu man in Ch'om commune, fell in love with Po Loong Thi Sop, a Lao girl in Avol hamlet, Kalum district. They got married and live in Avol hamlet.
Having 6 children, their life became more difficult. In 2013 they moved to live in Ch'om commune. In 2018 they had one more child. All of the children didn't have birth certificates.
There are many Lao-Vietnamese couples like them. A Co Tu man, Bh'ling Dong, met a Lao girl, Zo Ram Na, when he helped her relatives build a house. They fell in love and got married. Bh'ling stayed with his wife's family in Laos for some years because he was unable to afford her village's custom to take his wife to Vietnam.
In 2012, he and his wife saved enough money to return to Atu 1 hamlet. The local administration and other villagers helped them build a house.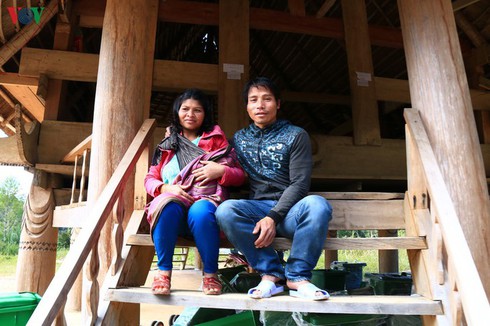 Bh'ling Dong and his wife Zo Ram Na, who was given a Vietnamese citizenship in 2019.
Bh'ling Dong said, "When we got married, we didn't finish the legal procedures. My children were unable to go to school. Now my wife and my children have been given Vietnamese citizenship and they can go to school. I'm very happy."
Free migration along the Vietnam-Laos border in the past has caused a lot of difficulties to the residential management. Children of many Vietnamese-Lao couples, who don't have marriage certificates, could not benefit from    the Vietnamese government's incentives for ethnic minority people. But the local administration and villagers have always supported them to stabilize their lives.
A Lang Rep, Vice Chairman of Ch'om commune's People's Committee, said they have been given land to build houses while villagers share rice and food with them. But legal procedures are the biggest challenges.
"In the past, many Lao people came to Vietnam during the New Year festival. We reported their cases to administrative agencies to give them Vietnamese citizenship. We also helped them build houses," Rep said.
Quang Nam province has a 155 km border with Laos. A Lang Mai, Chairman of Nam Giang district's People's Committee, said Quang Nam province and Se Kong province signed a memorandum of understanding in 2017 to support free migrants and marriage without a license to complete civil registration procedures.
"They got married and live in Vietnam as Vietnamese citizens. They will benefit from the government's subsidy programs such as the New Year celebration for the poor. They also receive the government's support for social beneficiaries." VOV