Free Vietnamese course held for children in Czech Republic

The Vietnamese Centre at the SAPA Trade Centre in Prague, the capital city of the Czech Republic, is holding a free Vietnamese language course for Vietnamese children in the country.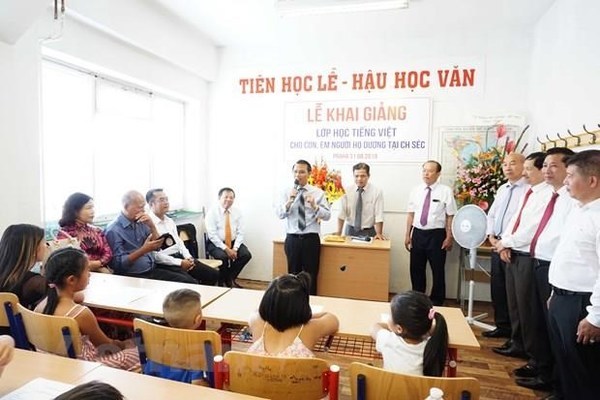 At the launching ceremony of the course
The course aims to encourage the studying of Vietnamese among the Vietnamese community in the European country, thus preserving the traditional culture of the motherland, and nourishing patriotism for younger generations.
According to the organising board, the children are divided into two classes depending on their reading and writing skill levels. The one-year course will take place every Sunday.
Nguyen Duy Nhien, President of the Vietnamese Association in the Czech Republic, said the association hopes to contribute to making the Vietnamese community in the country stronger and more united, and closer to the motherland.
The course was launched by a family in the Czech Republic in the hope of helping Vietnamese children become fluent in Vietnamese, so that they will have a better understanding of the culture and history of their motherland and deeper sentiments towards the homeland, he added.-VNA