Free language classes offered to Vietnamese citizens in Laos
A course providing free Vietnamese, Lao, and English language classes for Vietnamese expatriates in Laos opened at the Phat Tich Pagoda in the Lao capital Vientiane on December 22.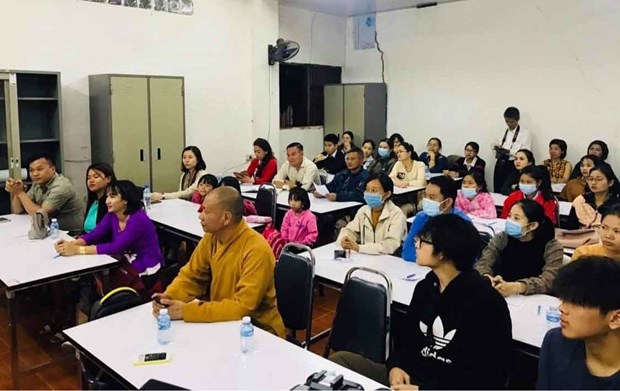 At the opening ceremony of the course 
Speaking at the opening ceremony, Venerable Thich Minh Quang, head monk of the pagoda and member of the Executive Council of the Vietnam Buddhist Sangha (VBS) in Laos, said the pagoda is responsible for the facilities and teachers in the course.
Also head of the coordinating board of Vietnam-Laos Buddhist cooperation, the monk said the programme will help children of Vietnamese citizens in Laos learn their mother tongue and appreciate traditional Vietnamese culture.
Lao and English, meanwhile, will facilitate their life here, he added.
The course consists of one Vietnamese class, one Lao class, and two English classes on evenings at the pagoda for about three months. Lessons are delivered by Lao teachers who once studied in Vietnam, Vietnamese teachers studying in Laos, and foreign teachers.
Most participants are Vietnamese working and living in Laos for many years, who can communicate but cannot read and write the local language./.VNA
A Vietnamese language course for the 2020-2021 academic year was recently opened for children of Vietnamese people in the North Moravia region of the Czech Republic.