First Vietnamese book stall inaugurated in RoK

Ho Chi Minh City Book Distribution JSC (FAHASA) on November 21 coordinated with Kyobo group of the Republic of Korea (RoK) to organise a book exhibition and inaugurate Vietnam's first book stall in Seoul.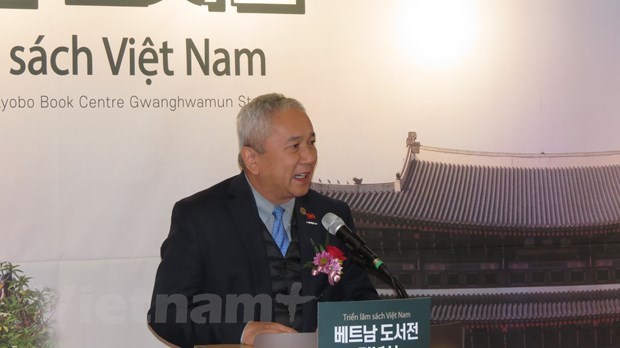 Vietnamese Ambassador to the RoK Nguyen Vu Tu speaks at the event.
Speaking at the event, FAHASA CEO and General Director Pham Minh Thuan said the exhibition, to last until November 30, displays 5,000 copies of more than 2,000 book titles of different topics.
FAHASA hopes that the book stall, which is set up at Kyobo Gwanghwamun book store, will help Vietnamese and mixed-race families in the RoK access Vietnamese books, and develop the Vietnamese language, he said.
In his remarks, Vietnamese Ambassador to the RoK Nguyen Vu Tu said there are more than 180,000 Vietnamese in the RoK, while nearly 200,000 Koreans are living in Vietnam.
Last year, more than 4 million Vietnamese and Korean tourists travelling between the two countries, he said, attributing the development of the bilateral relationship to mutual cultural and social understanding and similarities shared by the two countries.
The ambassador expressed his hope that the book stall as well as cooperation between FAHASA and Kyobo will contribute to the mutual understanding and collaboration between the governments and people of the two countries.
In May 2019, FAHASA and Kyobo jointly held a Korean book week and inaugurate the first Korean book stall in HCM City./.VNA