Czech media spotlights Vietnam's rising position, achievements
Media reports in the Czech Republic have highlighted Vietnam's rising position and recent development achievements, 
as well as the flourishing development of the traditional friendship between the two countries, on the occasion of the ongoing 13th National Congress of the Communist Party of Vietnam (CPV).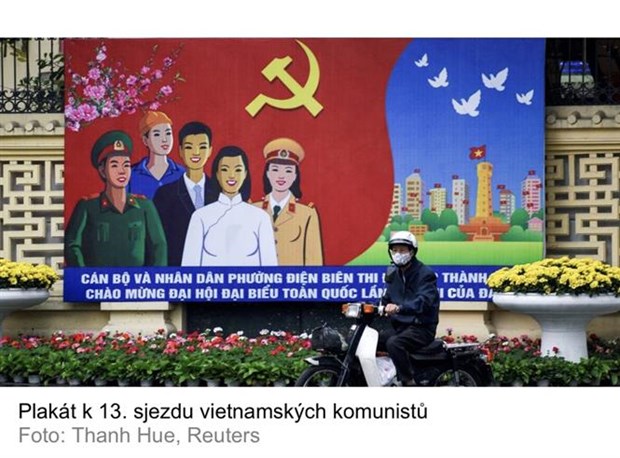 A poster for the 13th National Party Congress featured in an article of a Czech newspapaer (Photo: VNA)
The online newspaper halonoviny.cz ran an article on January 25 emphasising that the Congress is one of the most important political events in 2021 for Vietnam, attracting interest internationally.
Under the leadership of the CPV, in recent years Vietnam, as a member of ASEAN, has had an rising role and position in the region as well as in the world, the article said.
In 2020, despite the COVID-19 pandemic, it was internationally praised for its pandemic prevention and economic recovery efforts.
The article also mentioned the key tasks relating to Vietnam's domestic and foreign policies and orientations to be set at the Congress.
Notably, it highlighted the importance as well as the solid foundation for strengthening the traditional friendship between the two countries.
The Czech Republic, a member of the EU, actively supported and promoted the signing of the EU-Vietnam Free Trade Agreement (EVFTA), considering Vietnam a market of potential and a gateway for its exports into ASEAN, it noted.
The article also underlined the increasing role played by the Vietnamese community in the European country, saying that it acts as a bridge to promote the relationship.
Meanwhile, the website parlamentnilisty.cz on January 24 spotlighted Vietnam's economic development achievements after 35 years of its "Doi Moi" (renewal) process, as well as the country's success in international integration.
In 2020, though affected by COVID-19, Vietnam's GDP growth was among the highest in the world.
Besides economic growth, Vietnam has also recorded important achievements in improving people's lives and ensuring social security, becoming one of the leading countries in the world in the fight against poverty, meeting the requirements of the UN Millennium Development Goals (MDGs) with a rate of poor households falling to below 3 percent in 2020.
Vietnam's achievements over the last 35 years prove the important leadership of the CPV in the cause of national construction and development and show that Vietnam is a model of success, it added./. VNA