Bangladeshi artists bring Ho Chi Minh's life to stage

Late President Ho Chi Minh's life, career and ideology were depicted by Bangladeshi artists in a special concert held by the Vietnamese Embassy in Bangladesh last weekend.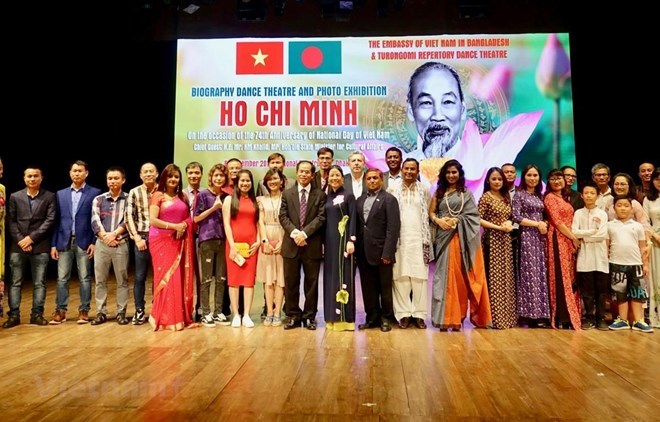 Participants at the event
Speaking at the event, Vietnamese Ambassador to Bangladesh Tran Van Khoa said local people's respect and admiration for the late leader inspired the embassy's collaboration with the Turongomi repertory dance theatre in Dhaka to arrange the show.
He said the joint project is an effective way to popularise Ho Chi Minh's thoughts among Bangladeshi people and helps strengthen the two nations' friendship.
Pooja Sengupta, director and choreographer of the 40-minute art performance, said her parents told her about Ho Chi Minh when she was a child.
Her admiration for the man, her visit to Vietnam in 2017 and Khoa's encouragement led to the start of the project, she added.
Najmul Sheikh, a university lecturer in Dhaka, said he was moved by the show, while Vu Thi Khanh Ly, a Vietnamese expatriate in the country, said the event taught her that Ho Chi Minh is a source of pride for not only Vietnam but also international friends.
Ho Chi Minh led the revolution to gain independence for Vietnam from France in August 1945 and later became President of the country. On September 2, 1945, he read the Declaration of Independence, pronouncing to the world the founding of the Democratic Republic of Vietnam, now the Socialist Republic of Vietnam.
He began writing his testament in May 1965 and finished it in May 1969 – four months before he passed away. The document has become a guideline for Vietnam's revolution and development during the past 50 years.-VNA