World-renowned Son Doong Cave tours postponed due to pandemic

From March 17, Oxalis Adventure, the only tour company licensed to bring tourists to Son Doong as the largest cave on the planet, will cancel tours until the end of May.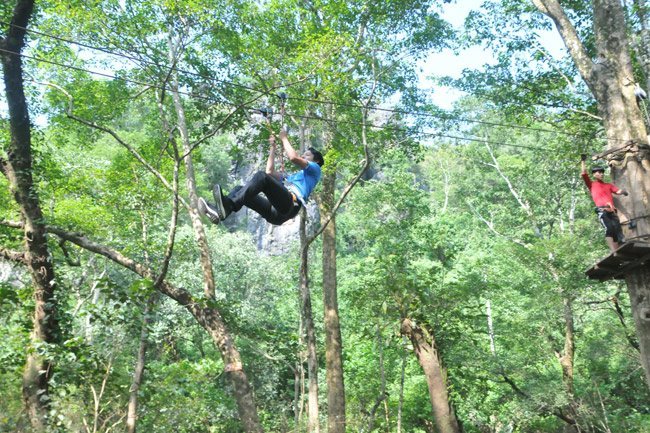 Visitors enjoy the zipline game at Ozo Natural Park, part of Phong Nha-Ke Bang National Park, which must be closed temporarily due to the pandemic
Tours to this and other caves in Quang Binh Province may be postponed until June or even up to 2021 depending on the development of the novel coronavirus.
During the period, all Oxalis employees will work as usual. The team of 350 porters will receive VND1 million each per month. The porters' incomes mostly stem from the tours, so when these tours are cancelled, they cannot earn a living anymore.
Talking to the Saigon Times on the phone, Nguyen Chau A, general director of Oxalis Adventure, noted that this action was aimed at ensuring the safety of tourists. Moreover, it responds to the latest requirements of Quang Binh leaders, temporarily cancelling tours to the Phong Nha-Ke Bang National Park and Tu Lan Caves.
The director did not reveal the losses being borne by his company, but according to Saigon Times' investigations, it is a large sum.
From now until the end of March, tours to Son Doong Cave departing on six days have already sold out. The four-day tour is priced at VND69.8 million per person (or US$3,000) with a maximum of 10 guests aged 18 and over.
According to the schedule posted at https://oxalisadventure.com/en/tour, 14 departure dates in April and 12 trips in May are sold out.
The world-renowned Son Doong Cave is the most adventurous tour of the 10 tours offered by Oxalis. Other less adventurous tours include the four-day Tu Lan Caves (VND15 million per person), three-day En Cave (VND7.6 million per person) and one-day national park tour (VND1.65 million per person).
From today, Quang Binh Province will temporarily suspend permissions for guests to visit certain tourist attractions such as the En, Va, Nuoc Nut and Tu Lan caves and Ozo Natural Park. Tours for exploring nature and learning the culture of the Van Kieu ethnic community are also unavailable.
Ho An Phong, director of the Quang Binh Department of Tourism, remarked that foreign visitors to the central province are mostly from Western countries and have high spending patterns. However, Europe is now the focus of a coronavirus outbreak, so the province must cancel these tours. SGT
Nhan Tam

H'Hen Nie, a Top 5 finisher at Miss Universe 2018, has participated in a tour over the course of four days and three nights to discover Son Doong Cave in the central province of Quang Binh.

Authorities of the central province of Quang Binh have allowed tours to the world's largest cave of Son Doong to be continued until the end of 2030.