Weird yet tasty dishes in Dong Trieu
Dong Trieu Town, the eastern gate of northeastern Quang Ninh Province, has long been known for its coal and pottery industries. 
Visiting here, travellers are not only overwhelmed with the natural landscape, historical temples and pagodas but also with unusual cuisine bearing its own identity. 
Cha ruoi Dong Trieu
Rươi (clam worm) is the main ingredient of many dishes, of which chả rươi (fried clam-worm nugget or pancake) is considered the most famous dish in the area.
The clam worm is a small creature, which usually lives in brackish water areas or rivers. In Quang Ninh, they are only found in Dong Trieu Town, distributed mainly in the Da Bac, Dam Thuy, Cau and Cam rivers.
The clam worm season is around October when they often float on the water surface, so the locals just need a net to catch them.
Dong Trieu clam worms are usually large in size, fresh and delicious. When eaten, they have a fleshy, fatty, slightly greasy taste. They are known for being nutrient-rich.
To prepare the dish, people choose fresh clam worms that are pink or brown in colour. Clam worms are cleaned and blended with eggs, pork mince, spices, ginger and some dried tangerine peel, which are good for digestion and can help balance the taste of the dish. Next, the mixture is deep-fried in a hot pan until well-cooked.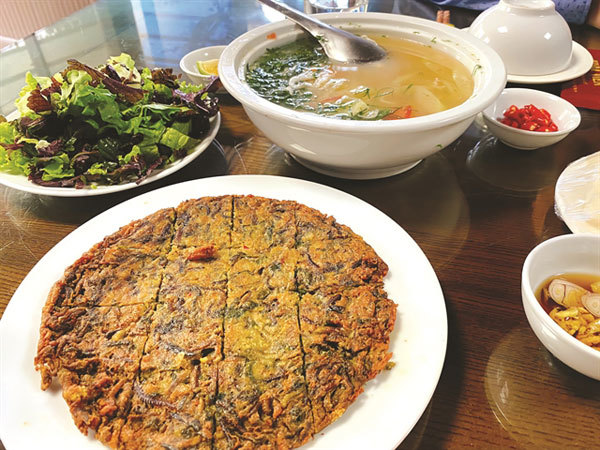 Clam-worm pancake is frequently served with hot rice, fresh vegetable and fish sauce. VNA/VNS Photo Bao Ngoc
Dong Trieu clam-worm pancake costs from VND200,000 for a small portion to VND600,000 for a large one.
The dish boasts a crisp yellow colour without being dry, and a pleasant tangerine aroma. To enhance the unique flavour, the dish is usually served with hot rice, fresh vegetables and fish sauce. 
Sour Ngan fish soup
Ngan is a small cartilaginous fish, about 8-10cm long. The body of the fish is white with eyes like tiny black dots.
The fish is only available in season. February is when it tastes best. According to locals, the fish spend a long time starving in the winter and only in the warm spring do they find the food that gives the flesh a slight savoury taste and firmness.
It can be cooked in many different dishes, but the tastiest is sour fish soup (canh chua cá ngần).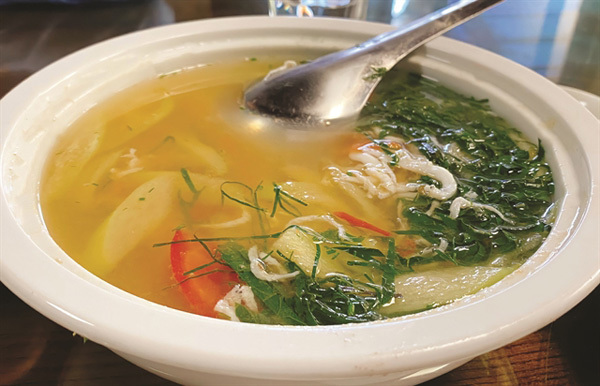 Sour Ngan fish soup has the sour taste of green tamarind and the savoury taste of fish. VNA/VNS Photo Bao Ngoc
The recipe for sour Ngan fish soup is simple. First sauté onions in a hot pot, then add thinly sliced tomatoes and stir-fry. Prepare a suitable amount of water into the pot, bring to a boil and then drop in some sliced ginger, thinly sliced pineapple, green tamarind puree, chili peppers and a few tomatoes, along with some sliced Indian taro.
Bring to a boil again, then add the Ngan fish until the water boils, then skim off the foam. Season to taste with finely chopped onions and dill, and add a little more pepper to flavour the soup.
The fish soup can be eaten with hot rice or vermicelli, but is best enjoyed with raw vegetables such as lettuce, morning glory, banana flower, basil and coriander.
Because the quantity is limited and only available in season, Ngan fish is a favourite food of many visiting Dong Trieu.
A portion of sour Ngan fish soup costs about VND70,000 depending on the size.
When in Dong Trieu, diners can enjoy the sour fish soup from restaurants or buy raw fish to cook at home for about VND300,000 for 500g. 
Ca ra Crab
In Vietnam, there is a folk saying "Cua tháng ba, cà ra tháng tám" (Crab in March, Cà ra in August), highlighting the "cà ra season" according to the lunar calendar.
Ca ra, a species of freshwater crab also known as hairy crab, lives only in natural freshwater habitats and rivers.
The section of the Da Bac River flowing through Yen Duc Commune, Dong Trieu, Quang Ninh is the ideal place for ca ra. The crab is in season from the end of September to November when most appear at the sluice gates where water leads from the river to the lagoons.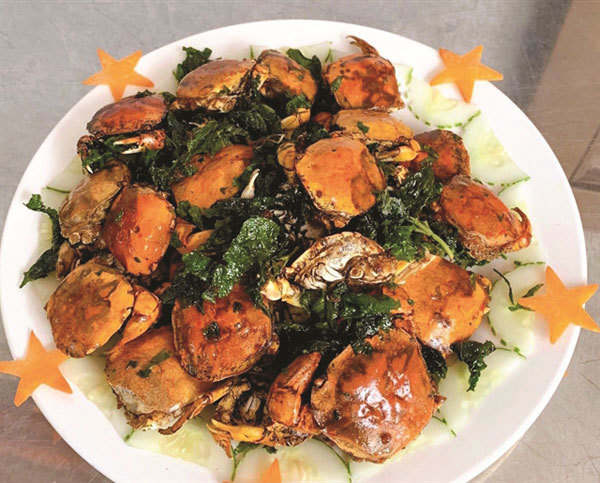 Fried crab with crispy guise leaves is a favourite dish of many diners visiting Dong Trieu Town. — Photo courtesy of Xuan Vien Restaurant
Ca ra crabs usually make caves in deep water at the sluice gate. The species is nocturnal and eats molluscs and small fish. People drop traps on the riverside from noon, then lift the traps next morning to harvest.
These hairy crabs can be cooked in various high-nutritious dishes such as fried ca ra, ca ra soup or ca ra hotpot.
The price of 1kg of raw crab ranges from VND500,000 to 600,000 depending on size.
The hairy crab has high calcium and mineral content, a rich taste and highlights the unique flavour of Dong Trieu cuisine. 
Source: Vietnam News

Not only famous for its natural landscape, Quang Ninh is also a land of diverse and impressive cuisine.

A street stall "ragworm-pie" in Hanoi's hectic Old Quarter earned its fame among local and foreign visitors.