Waterway tourism in the Mekong Delta needs an ugrade

'Monotonous' is the word used to described tourism in the Mekong Delta. The tourism products in the region's provinces are nearly the same with no originality.
Thoi Bao Kinh Te Sai Gon (Saigon Times) quoted experts as saying that the tourism products in the region are not diverse and are identical in different provinces.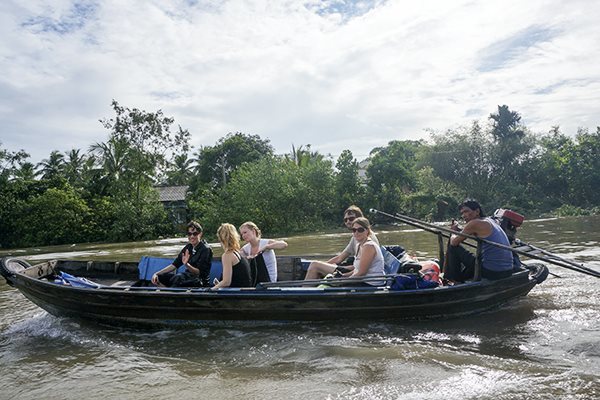 According to travel firms, because of similar geographical natural conditions and the lack of experience in tourism development, provinces often develop similar tourism programs: inviting travelers to row boats on canals, visit orchards, listen to don ca tai tu (southern amateur singing) or catch fish. Even the dishes offered in the localities are nearly the same.

Meanwhile, local authorities argue that local tourism products have become more diverse. Kien Giang province, for example, has sea tourism, and Bac Lieu has wind power fields and ecological shrimp farms, while An GIang has spiritual tourism.

Local officials said it is unfair to say the tourism products in provinces of Mekong Delta are identical.

According to some travel firms, about 80 percent of travelers to HCM City visit the Mekong Delta as well. My Tho, Cai Be and Can Tho are the most popular destinations for travelers.

'

Monotonous' is the word used to described tourism in the Mekong Delta. The tourism products in the region's provinces are nearly the same with no originality.
Phu Quoc Island has become a famous destination for travelers. However, many travelers to HCM City do not choose to visit the island for their itineraries, partially because they think the sea there is similar to Nha Trang and Mui Ne.

The povinces in Mekong Delta have been trying to diversify their tourism products. Dong Thap provincehas tried to exploit the attractiveness of Sa Dec Flower Village and Orange Garden. Can Tho has developed community tourism, and Phu Quoc has wonderful resorts and entertainment areas.

However, some travel firms still commented that there are not many original products to offer to travelers.

Some localities take pride in the tourism products in flooding season. However, they can only attract Vietnamese travelers, not foreign travelers who come to Vietnam only once.

Ben Tre province now attracts a high number of travelers thanks to waterway games. However, travel firms said these were seen in Dong Nai several years ago.

Some travel firms complain that good accommodations are lacking in provinces. Though homestays have boomed, most of them are not well equipped and can only partially satisfy the requirements of travelers.

The director of a travel firm has suggested developing inner-region waterway tourism with connections with Cambodia. He said foreign travelers would be willing to spend hundreds or thousands of dollars to travel on cruises along Mekong River.
Kim Chi 

Tourism officials from Viet Bac region in the north of Vietnam and Guangxi Province in China discussed working together at a conference held in the northern province of Lang Son on Monday.

The Vietnam Travel and Tourism Summit 2019 will be held for the second time in Hanoi on December 9 under the theme "For Vietnamese Tourism to Really Take Off".