Wandering the streets and cruising on the river, Saigonese enjoy 'new normal'
HCM City residents now can clearly feel the strong revival of the city when taking trips on double-decker buses or going on waterway tours.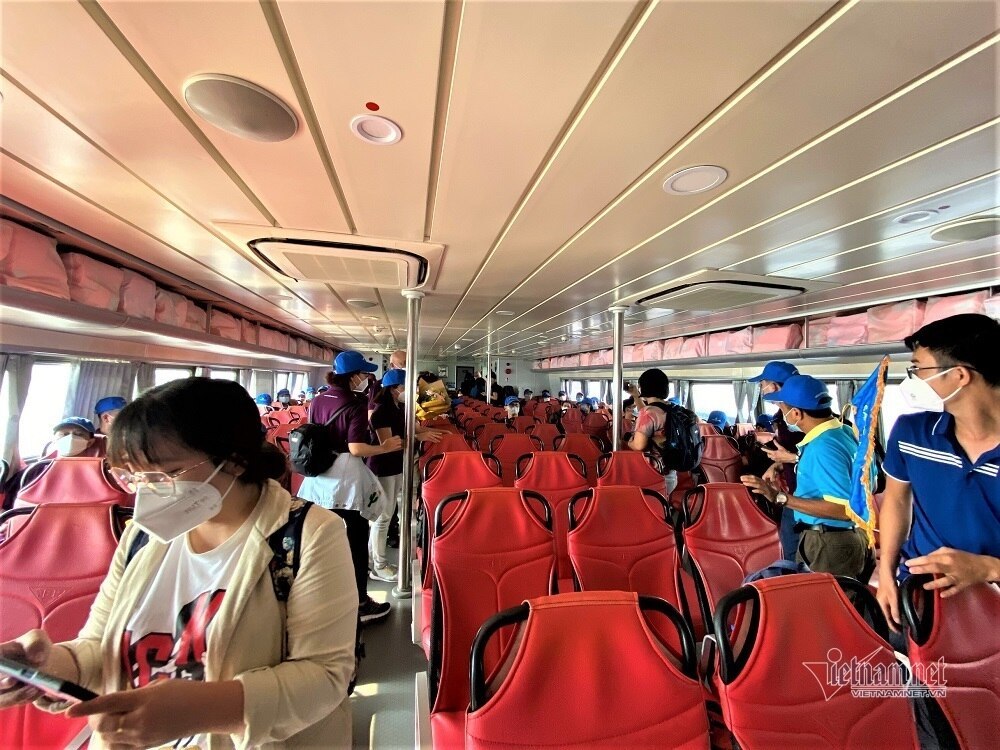 After canceling tourism plans because of Covid-19, Doan Thi Hong Linh took her first trip after the lockdown was lifted. She surveyed the landscapes and enjoyed the fresh air in the new normal from her seat on a double-decker bus.
"You can find it difficult to describe the feeling of going out after several months long of staying at home," she said. "This is the first time I have taken a trip on a double-deck bus. The city is recovering."
Nguyen Thi Lanh, 60, said she could clearly see the city recovering after the pandemic when she took the tour. The fresh air outside made travelers feel comfortable, while cautiousness in communications makes people feel more secure.
Linh and Lanh were the first clients booking the city sightseeing tours after the lockdown, beginning October 24. Tours are from 9am to 11pm, daily, with one tour every 30 minutes. The tour organizer is seeking the Finance Department's permission to offer a 70 percent discount in order to stimulate demand.
Nguyen Khoa Luan, CEO of Anh Viet Hop-on Hop-off Vietnam, said that 99 percent of clients booking the tour in the past were foreigners, while the company is now trying to attract domestic travelers.
He said that Southeast Asia and other countries are competing fiercely with each other to attract international travelers. If Vietnam is slow in reopening, it will miss a great opportunity to get travelers.
"It's expected that demand for air travel, transportation, hotel and food services will soar after the pandemic. Thailand and Malaysia have reopened their doors. From November, travelers from 46 countries will be allowed to enter Thailand. The competition in Southeast Asian market is extremely stiff," Luan said.
Also on October 24, the HCM City Tourism Department joined forces with Saigontourist Group and other units to receive the first group of travelers who took the waterway tour on Bach Dang – Can Gio route.
The Bach Dang – Can Gio tour is a new tourism product of the city after a long period of interruption. Departing from Bach Dang Station, the center of the city, from speedboats, travelers enjoy the landscapes on the river going from districts 1, 4, and 7 to Can Gio, and the landscapes on Thieng Lieng Island and Vam Sat mangrove ecological zone.
The city plans to launch a Can Gio waterway sightseeing program (2 days and 1 night), and tours on Bach Dang – Cu Chi – Binh Duong and Bach Dang - district 7 – Can Gio routes to diversify tourism products.
HCM City has also successfully launched interprovincial tours from HCM City to Tay Ninh, Khanh Hoa, Phu Yen and Binh Dinh. 
Tran Chung

The HCM City tourism sector has co-operated with travel firms and destinations in the city to promote online booking and payment solutions. 

The "travel bubble" model has been billed as a potential means for Ho Chi Minh City to recover its tourism sector, which has been frozen for many months.