Vietnam, Japan on track to achieving target of two million tourists

The number of tourists exchanged between Vietnam and Japan is expected to reach two million this year, well above the current record of 1.4 million.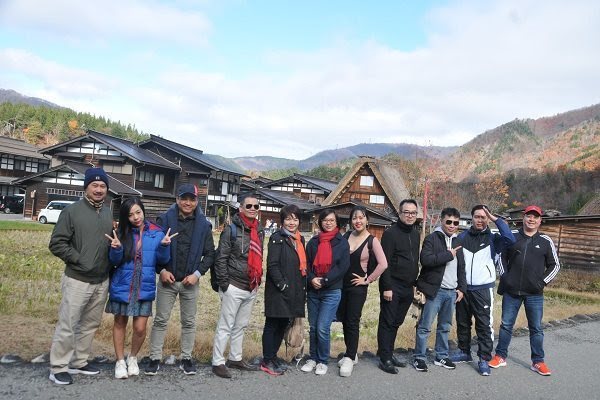 A fam trip delegation from Danang City visits Historic Shirakawago Village in Japan's Gifu Prefecture. The number of tourists exchanged between Vietnam and Japan is expected to reach two million this year
Statistics from the Japan National Tourism Organization and the Vietnam National Administration of Tourism indicate that over the past decade, the number of Japanese tourist arrivals in Vietnam has risen, with an average growth rate of 8%-10%.
The total number of tourists between the two countries hit over 1.45 million in 2019, up 18.9% against 2018, the highest ever recorded.
Vietnam welcomed over 950,000 Japanese tourists last year, up 15.2% from the 2018 figure, while over 495,000 Vietnamese visitors traveled to Japan, picking up by 27.3%, heard attendees at a seminar on Vietnam-Japan tourism promotion, held in Danang City on January 13.
Representatives of the two sides expected the number of tourists between the two countries to continue rising.
Tabata Hiroshi, head of the Japan Tourism Agency, told the Vietnam News Agency that the tourism growth targets of both countries will be met this year.
To attract more Vietnamese visitors to Japan, the Japan Tourism Agency has launched tourism promotion programs and relaxed a number of visa procedures, Hiroshi said.
Minister of Culture, Sports and Tourism Nguyen Ngoc Thien said that given the tourism growth momentum and the two countries' efforts to promote tourism and strengthen their partnership, Vietnam and Japan are likely to meet the target of two million tourists this year, contributing to the enhancement of bilateral cooperation.
The Ministry of Culture, Sports and Tourism also proposed the two countries create more favorable conditions for the exchange of tourists through tourism promotion activities.
At the seminar, Nikai Toshihiro, secretary general of the Japanese Liberal Democratic Party, pointed out that some 370,000 Vietnamese people are living, studying and working in Japan.
Vietnamese students and workers who have studied and worked in Japan are acting as a bridge, linking Japanese firms and the Vietnamese market, he said. As many as 1,900 Japanese firms are doing business in Vietnam, Toshihiro added.
Addressing the seminar, Deputy Prime Minister Vuong Dinh Hue stated that Japan is currently a leading economic partner of Vietnam.
Deputy PM Hue expected trade and investment ties between the two countries to grow strongly.
Besides this, Hue called on Japanese investors to make further investments in advanced and green technology.
In 2019, some 145,000 travelers from Japan visited Danang City, making it the city's fourth largest source market. SGT
Nhan Tam

India climbed into the top 16 markets with the highest number of visitors to Vietnam in 2019.

Airplanes remained the primary means of transport to carry international visitors to Vietnam, with 80% of the total 18 million foreign travelers to the country in 2019 arriving by air.