Vietnam among S.Korea's top tourism markets

Vietnam ranks seventh among the 10 largest source markets of the South Korean tourism industry based on the number of Vietnamese visitors to the country, according to the Korea Tourism Organization (KTO) in Vietnam.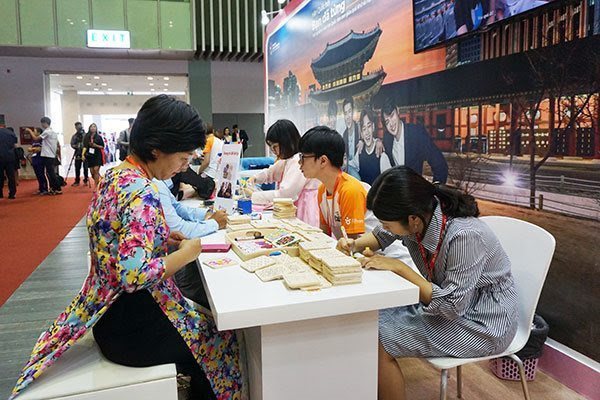 Visitors explore South Korea tours at a travel expo in HCMC. Vietnam ranks seventh among the 10 largest source markets of the South Korean tourism industry – PHOTO: DAO LOAN
A source from KTO Vietnam said that last year, Vietnamese tourist arrivals in the eastern Asian country amounted to over 460,000, soaring by 30% against the previous year.
Between January and September this year, an estimated 409,000 Vietnamese visited South Korea, up 25% year-on-year. The figure is forecast to reach 585,000 in late 2019.
KTO will organize the 2019 Korea Tourism and Culture Festival in HCMC on September 28 to promote Korean tourism to attract more tourists.
The two-day event is expected to feature a conference gathering the chief representatives of KTO in six countries in Southeast Asia -- Vietnam, Singapore, Thailand, Malaysia, Indonesia and the Philippines -- to discuss policies for diversifying tourism markets.
The organization pointed out that South Korea has issued various special preferential policies to boost the sustainable growth of Vietnamese and Southeast Asian markets.
The country's relaxation of visa requirements for Vietnamese tourists has encouraged Vietnamese travelers to visit South Korea.
As many as 30 booths at the event, with the participation of local tour operators, including Saigontourist, Ben Thanh Tourist, TransViet, TST Tourist and Vietravel, and South Korean firms, will introduce Korean tours and culture.
Dao Loan

A typical river tour starts at Long Xuyen floating market, which is bustling with people and boats very early from the breaking dawn.

The Vietnam Aerospace Association (VASA) has successfully performed a trial flight of an airship from Vietnam Space Technology. The made-in-Vietnam airship will be used in the tourism sector.