Vietjet offers zero-dong tickets to Phu Quoc

Local carrier Vietjet has announced a special offer of 85,000 discounted tickets priced from zero dong upward for domestic and international routes connecting with Phu Quoc Island of Kien Giang Province.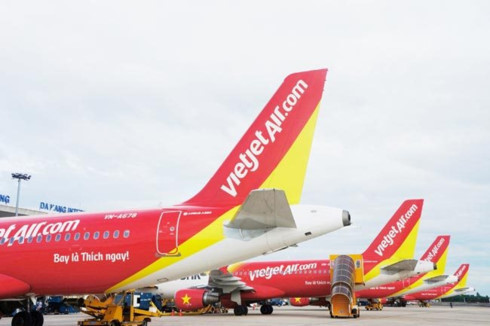 Vietjet aircraft park at Danang International Airport – Photo: Vietjet
The special offer follows the carrier's celebration of new routes to the tourist destination.
The promotional tickets are available from July 29-31 and travel must be completed between September 5 and December 31 for domestic routes connecting Phu Quoc to Hanoi/Haiphong/HCMC and between September 5, 2019, and June 25, 2020, for international routes connecting Phu Quoc to Hong Kong/Incheon.
The promotional tickets are available on all channels: the website www.vietjetair.com, on the Vietjet Air mobile app and on www.facebook.com/vietjetvietnam.
Payment can be made through Vietjet Skyclub; with international debit and credit cards, including Visa, MasterCard, AMEX, JCB, KCP and Union; or with any ATM card issued by 34 Vietnamese banks and registered for internet banking.
At the Kien Giang Investment Promotion Conference on July 29, Vietjet held a ceremony to announce the operations plan for two new domestic routes connecting attractive tourism and investment destinations: Phu Quoc-Da Nang and Phu Quoc-Van Don, with a frequency of seven flights per week from the end of 2019 and the middle of 2020, respectively.
Two new international routes, Phu Quoc-Chengdu (China) and Phu Quoc-Chongqing (China), will have three round-trip flights per week from the end of 2019.
Flight frequency on the Phu Quoc-Hong Kong (China) and Phu Quoc-Incheon (Seoul, the Republic of Korea) routes will increase to six flights per week and 14 flights per week, respectively, from the winter season of this year to meet the needs of customers during the peak season at Phu Quoc.