Tea islands lure tourists to central province

Lustrous green tea plants in the middle of a water area in Thanh Chuong District, the central province of Nghệ An have been attracting tourists.
The site has called the Ha Long Bay of Nghe An by some.
Green tea island in central Vietnam
Green tea island in Nghe An lures visitors
An aerial view of the site. Photos dulichnghean.gov.vn
Driving on the Ho Chi Minh highway, passing Thanh An Commune, Thanh Chuong District, one should turn right onto a smaller road. Keep going straight for 200m, then the tea islands will appear in the middle of a lake.
Tourists in costumes of local Thai ethnic group

More than 50 years ago, the site was a lake providing irrigation water for surrounding fields in Thanh An and Thanh Thinh communes. Locals started to grow tea on the islands three years ago.
Now some 200 families plant tea on more than 10 islands in the lake and inland hills in the area. Each island measures some 1ha and the temperature ranges between 17 and 28 degrees Celsius year-round.
Tourists can take boat trips to visit the tea islands to take photos and enjoy the fresh air in tea fields.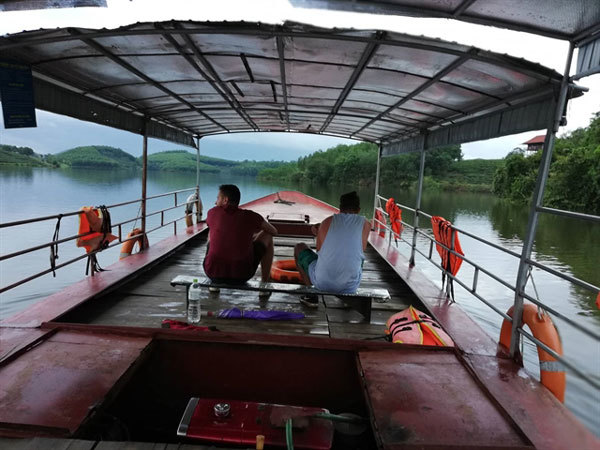 Taking a cruise around the area is refreshing

"Tourists have flocked here more since beginning of last year," said Nguyen Cong Can, 72, a local, who plants tea on an island and offers snacks for tourists at his temporary tent.
He said each year, locals harvest some eight crops of tea, which bring along steady income for families. On average, each family gets some VND200 million (US$8,600) each year.
"Early morning is the ideal time for wandering around the islands," said Nguyen Minh Thanh, a local guide. "It's fresh and cool. You may need a coat even in summer."
Taking a cruise around the island, the scent of fresh tea flood the nose.
A blanket of fog often covers the islands early in the day, before the sun comes and brings heat for the new day.
"The tranquil and clean morning atmosphere will recharge you," he said.
Locals offer homestay services for an average price of VND150,000 per room per night.
Wandering among the islands, you may find waterfalls deep in villages of the Thai ethnic group.
Thanh said some documentaries have been shot at the site, while dozens of couples choose the site for wedding photos each day during wedding season.

"We took wedding photos here as we have been dating here," said bride Ngo Thoa. "The site is also very magnificent and romantic at the same time."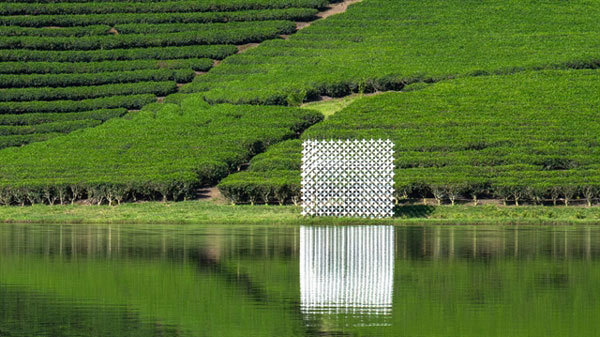 Module + space, a resting place for local farmer made by Dang+Partners, Nguyen Khac Phuoc Architects. The structure is made by over 2,000 details of wood and plastic.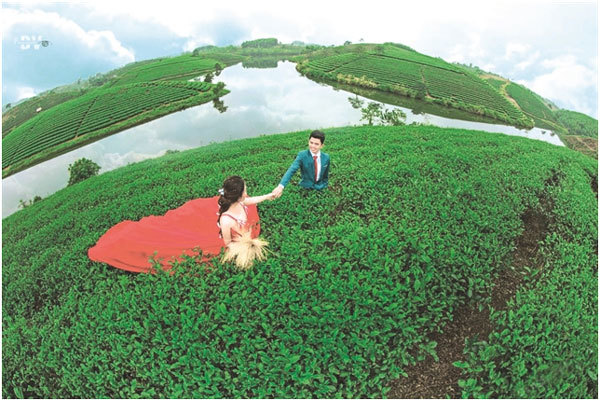 A couple take wedding photos at the site.

The Ha Long Kayak Club has used the site as a site for training for two years now.
"I have been to many places," said Dinh Quoc Hung, deputy chairman of the club. "This is the first time I have kayaked on an immense waterway with tea hills on one side. Looking from above, the hills of tea look so wonderful among romantic river.
"I hope local authorities preserve the pristine landscape while developing sport tourism like traditional boats and modern boats, and also restaurants and hotels," he said.
Nguyen Thai An, director of Thanh Chuong District's Culture and Information Department, said authorities have worked with the No 4 Traffic Construction Co-operation to examine a tourism plan and seek investors.
"In principle, investing should ensure security and order as well as safety in human lives and property for tourists," he said. "Especially, we want to ensure green, clean and beautiful environment."
The province intends to develop the area into a four-season eco tourism site of national level, he said.
Tran Hoang Nam
VNS