Tan Thanh Pagoda – a spiritual boundary marker in the north
Tan Thanh Pagoda near the Tan Thanh border gate which borders China features authentic Vietnamese architecture.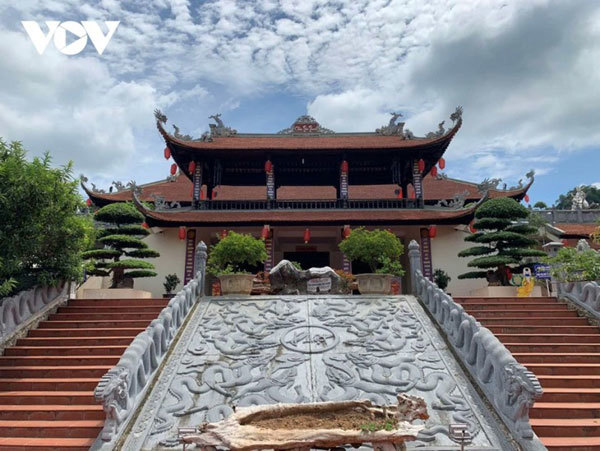 Tan Thanh Pagoda features typical Vietnamese architectural style.
Not just a place of worship, Tan Thanh Pagoda has a significance in affirming Vietnam's sovereignty.  It reflects Vietnamese culture and the Vietnamese people's peace-loving nature.
Tan Thanh Pagoda was built in 2015 in three parts. Inside the main hall is an altar to the "Three Refuges" of Buddhism - Buddha, Dharma, and Sangha. Two other halls worship General Tran Hung Dao, who is revered by Vietnamese people as a god, the Mother Goddess, and three emperors. 100 statues have been erected in the pagoda yard, which is decorated by peach trees.
Tan Thanh Pagoda is flanked by mountains, which look like a dragon to the left, an elephant to the right, and a throne behind. They all carry a sacred meaning in the Vietnamese belief system. The pagoda sits on a mound just 300 meters from the China border, closer to a border, in fact, than any other pagoda in Vietnam.
Nguyen Hanh Trang, a tourist from Hanoi, said "This is a green, clean, beautiful pagoda. I love the pure air here. Tan Thanh Pagoda is in proximity to the Tan Thanh Market, close to the Vietnam-China border, so we can combine sight-seeing and shopping in just one trip, which can teach us a lot of interesting things about this place."
The superb entrance gate has a tiled roof, each end of which is carved in the shape of a dragon's head, an icon of Vietnamese pagoda design. The gate has parallel sentences and lacquered boards engraved with Vietnamese calligraphic script.     
As visitors enter the pagoda, on their right stands a temple to pay tribute to the martyrs who sacrificed their lives to defend Vietnam's territorial integrity.
Venerable Thich Ban Chung, Tan Thanh Pagoda's caretaker, said, "Here we find peace in our soul, for the monks and visitors alike. Every day, we pray for peace and prosperity. As we guide visitors touring the site, we tell them about its history and significance."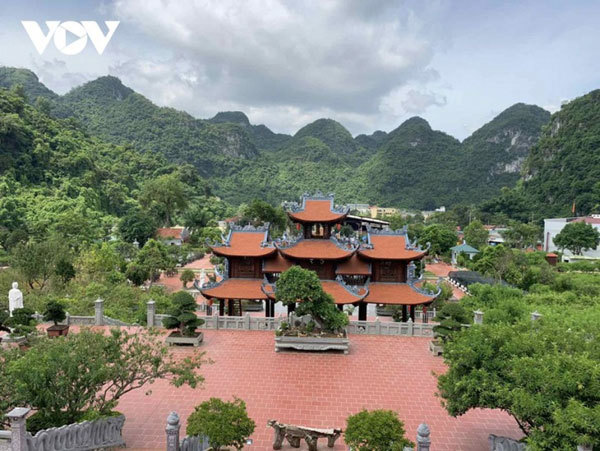 A bird-eye view of Tan Thanh Pagoda.
Standing in the yard, looking up at the sky and mountains, feeling the breeze, and listening to the echoing bell really puts people in a state of mindfulness.
According to superior monk Thich Quang Truyen, Abbot of Tan Thanh Pagoda, every single brick used to build the pagoda is embossed with the phrase "The Socialist Republic of Vietnam".
He told VOV "I'm the designer of Tan Thanh Pagoda. It's me who came up with the idea of engraving that phrase 'The Socialist Republic of Vietnam' and the year of Buddhist calendar construction began. This pagoda embodies cultural values and asserts Vietnam's sovereignty. Time ruins many things but not this undeniable truth.
Superior monk Truyen went on to say, "This pagoda sends a message of peace to all. We invite every visitor to this pagoda to love Vietnam more, to treasure the peace that we enjoy, and to reflect on ourselves."
Source: VOV/VOV5

Po Kit village in Khuat Xa communes in Loc Binh district in the northern mountainous province of Lang Son with 53 households has preserved 29 original trinh tuong houses.   

Lang Son, 180 kilometers from Hanoi, has huge tourism potential: historical relics, scenic spots, temples, and pagodas.