Streetside service station serves up surprise

When you travel a long distance these days you stop by a service station to take a rest and get some food. The trick then was to spot where the trucks were to find good fresh at a reasonable price.
Now, you don't need to follow the trucks because the internet does it for you.
We found Thanh Còi Restaurant many years ago the traditional way, and have been back over the years and shared it the netizen's way.
Located along National Highway 1 in Tinh Gia District, Thanh Hoa Province, Thanh Còi Restaurant is easily accessed by just pulling over from the busy main road. Its spacious parking area and attentive guards makes it convenient to find a spot.
Walking through bonsai trees, you'll reach the main dining hall, which can seat over 100 people. I've seen wedding photos taken there.
Under the roof, facing the entrance, is a large placard with a motto that reads: "Darling, there's only one Thanh Còi!"
After a long ride and a nice wash, soft laughter is great for any tired guests.
Taste of Thanh Hoa in the heart of Hanoi
Nem Chua - A unique fresh dish of Vietnam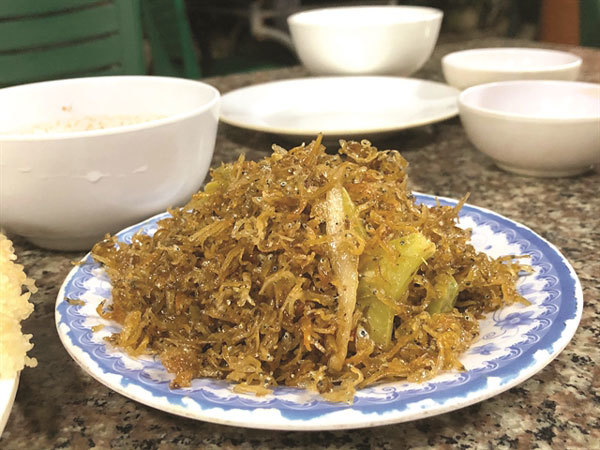 PILE UP: Sauteed tiny shrimp with starfruit, a special. VNS Photos My Ha

When we arrived, a big screen showing a football match with Vietnam playing was on. Everyone was enthusiastic, including the waiters. But they were focused and kept on their work.
Before giving us the menu, a waiter brings out a big tray to place the hot bowls on the table. They had just been washed with boiling water the minute we walked in. It always makes you feel clean and warming and comfortable to touch warm bowls before your meal. Some side-walk cơm bình dân in Hanoi also does the same, which is really nice. You don't have to be a fancy restaurant to bring your diner's experience up a level.
Then we checked the menu. There were several seafood dishes as the restaurant is located near the beach, so we chose sauteed shrimp with star fruit, served with crispy rice (VND50,000).
The rice used to be found at the bottom of the pan before electric cookers arrived in Vietnam. The burnt rice was regarded as less delicious than the soft steamed rice, and was usually divided between the owners of the home, rather than the elderly and children.
Today, burnt rice has become a rare delicacy, only served in restaurants or cooked in a normal pot. Ninh Binh has built its reputation on burnt rice with dried shredded pork, the most popular snack in the province.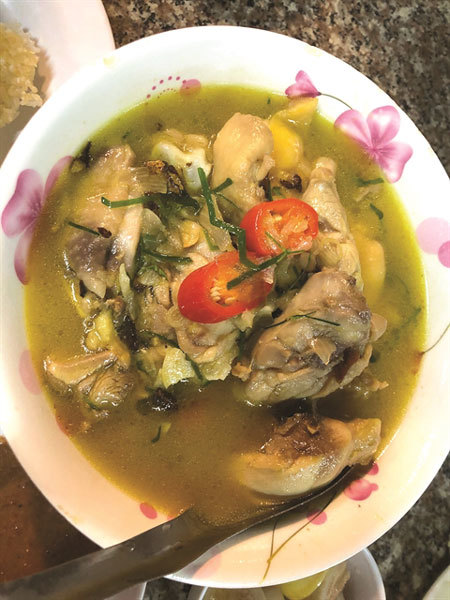 HEARTY: Chicken soup with lime leaves.

Next we had a simple fried egg with chopped meat and green onions (VND50,000) and mackerel in tomato sauce (VND140,000). We tried a new dish, gà xáo lá chanh (VND150,000), which was also the most expensive on the menu. Xáo stands for soup. "... Please xáo the mother in clear water, do not cook her in dirty water, which could hurt the children..."
I do not really get the cruelty in that song, though people sing it to put their children to sleep. This lullaby is mostly popular in the Red River Delta.
So we had the chicken soup with lime leaves, which was very comforting, like any chicken soup for the stomach or the soul.

To complete the meal, we had rice with mustard green soup, white rice and pickled white eggplant, all for VND80,000. A fresh herb plate with tomato sauce also came for free.
A dinner for four set us back VND470,000.
Thanh Còi Restaurant is named after its owner, Thanh, who is super skinny, hence the name còi. We asked our waiter who we should thank, but he only pointed upstairs, saying the boss was up there.
This guy seems mysterious, but he has built a dynasty around this peculiar name: a hotel of the same name offering single beds for VND400,000 and above. Prices are clearly posted on their website and facebook fanpage https://www.facebook.com/dnthanhcoi/?rf=581110142011159. VNS
by Nguyen My Ha
Traditional handicraft artisans from across the country have been demonstrating their skills and products during a five-day festival to celebrate Vietnam Cultural Heritage Day which fell on Saturday.

Tourists are being lured to enjoy the golden fields by the mountains of Hoa Lu District at the start of the Ninh Binh Tourism Week 2019 which kicked off on Saturday.