Story of Suoi Giang shan tuyet tea in Yen Bai Province

Shan tuyet tea in Yen Bai Province's Suoi Giang Commune is well known across Vietnam for its pleasant flavour and fragrance.
300-year-old tea tree in Yen Bai
Vietnam's unique ancient Shan Tuyet tea forest in pictures
The ancient tea trees in Suoi Giang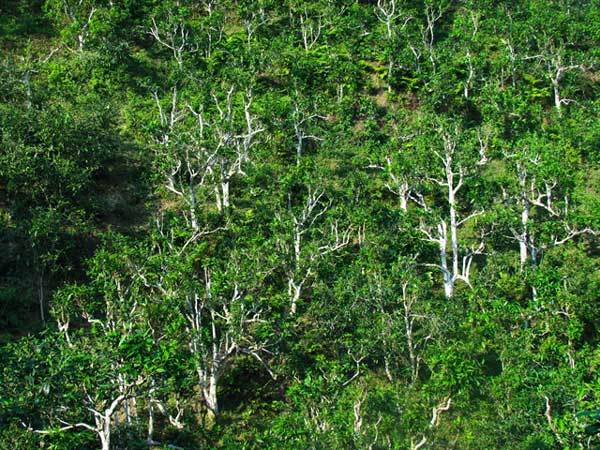 Shan tuyet old tea trees in Suoi Giang District of Yen Bai Province. Photo baoyenbai.com
The tea trees grow wild on the majestic Hoang Lien Son Mountain about 1,500m above sea level.
Elder Giang A Lu of the commune's Giang B Hamlet recalled that a long time ago when Mong ethnic people led a nomadic lifestyle, they often faced poverty and hunger.
They were constantly on the move looking for somewhere to settle, and eventually found a fertile land with lush forests and streams at the foot of a mountain, Lu said.
He said the group were happy but continued to face difficulties. Their children were fed on mèn mén (steamed maize powder) and green leaves from the forest.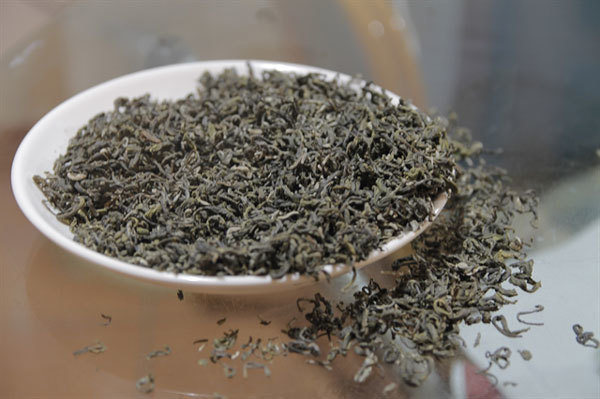 Hand-made shan tuyết tea is so excellent tasty that tea addicts have to order several months in advance. Photo Ho Hoang
After watching the local animals eating the green buds, the group grew curious and decided to cook it up for themselves, and immediately felt refreshed and healthy.
"The leaves are wonderful," he said, adding they had been named shan tuyet and the land Suoi Giang (Heavenly Stream).
"It has spirit of the heaven and Earth so it is excellent in quality. Local people consider the old tea trees a treasure from heaven, and thanks to them many families have become rich," Lu said.
He recalled another story: In the 70s, K. Djenmukhaze from Russia visited Suoi Giang and said the tea was equal to that of Japan such as Roast Sencha Tea, China's Tie Guan Yin and Sri Lanka's Royal Ceylon.
Several Mong households still prepare tea by hand to preserve their old tradition. Photo baoyenbai.vn
A shan tuyet tea addict from Hanoi, Nguyen Ngoc Tho, said he often travels to Suoi Giang to buy and enjoy the tea from his elder brother Ta Ngoc Thang's plantation.
"Although the tea is available at shops in the capital, I still like my brother's process of picking the tea buds from the trees and drying them in a pan by hand."
In modern times, tea makers often dehydrate the leaves by machine, but my brother is trying to keep the old tradition because it makes the tea more fragrant.
"We wake up very early in the morning to travel and climb Suoi Giang Mountain about 12km from my brother's home to pick the buds because after 10am the tea is not tasty.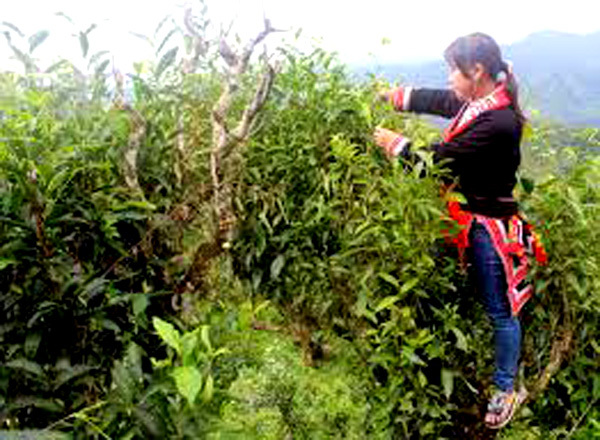 A Mong ethnic girl in Suoi Giang picks shan tuyet tea buds in early morning. Photo Enternews.vn


"Thang told us that the most suitable time to pick the tea buds is on cool or foggy days and we should dehydrate them as soon as possible to keep the original flavour," said Tho.
The next step is to crumple them very carefully to ensure quality, Thang said, noting the most difficult part was dehydrating them over a fire while adjusting the temperature and stirring them by hand for almost an hour until they became white and crispy.
"I make the white tea on the spot in a ceramic pot and when I take a cup of tea and sip it, its fragrance and excellent are beyond compare.
Thang said although his tea cannot meet the increasing demand, he prefers to stick to the traditional methods left by his ancestors rather than using a machine to please his regular customers from Hanoi, HCM City, South Korea and Thailand.
Shan tuyet tea buds should be brewed in a ceramic pot to make them tasty and fragrant. Photo shantuyetcothutra.vn


Apart from tea buds, shan tuyet fresh green tea leave is also very tasty, said Thang. The leaves have to stew for 30 minutes rather than 10 minutes for tea in the lowlands because it enhances the flavour.
An official from Van Chan District, Nong Ich Chan, said his locality had 540ha of old shan tuyet tea trees, and 400 had been recognised as Viet Nam Heritages Tree because they were more than 300 years old.
However, Chan said the trees and the livelihoods of 300 households were at risk from termites, and called on authorities to work to maintain the valuable quality of shan tuyet tea.
By Hoang Ho
VNS