Special policies and tours needed to promote educational tourism
Danang's tourism industry needs to offer specific policies and tours to attract guests to participate in educational tourism.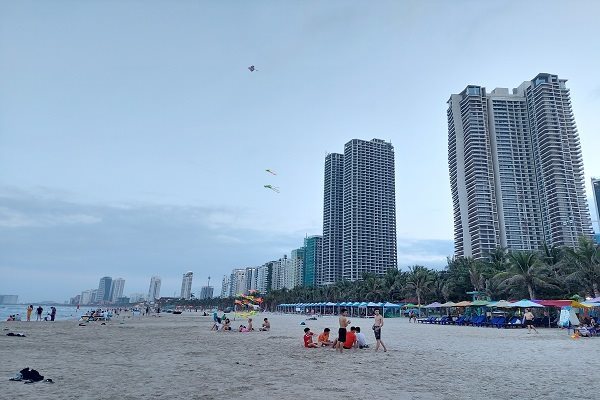 A beach in Da Nang City
Educational tours should focus on research, culture, experiential and teambuilding activities. The pricing policy for such tours must synchronously include promotions from travel companies and accommodation to transportation and tourist sites.
Nguyen Cong Hoan, Head of the Faculty of Tourism, University of Finance and Marketing in HCMC, said the educational tour is mainly for students to learn about destinations rather than just focus on entertainment. Therefore, this type of tour must offer spiritual culture or ecotourism.
"Visiting the craft village will be attractive to students," said Hoan, elaborating that students who join the tour in Danang can, for example, study the process of making fish sauce at the renowned Nam O fish sauce village.
Nguyen Ngoc Truc from the Faculty of Interdisciplinary Sciences, National University of Hanoi, had a similar opinion, saying that educational tours should be designed with more research experience, such as studying the history of the Marble Mount or the marble craft village.
Meanwhile, representatives of some other schools such as FPT University, Danang University or Hanoi National Economics University stressed on the pricing policy. According to them, a good policy will help woo students who are potential customers. Besides, schools need synchronous promotions from tour suppliers for travel and accommodation.
"We will seek ways to establish a working group whose members are enterprises offering promotional packages for educational tourism," said Cao Tri Dung, Chairman of Danang Tourism Association, adding that the association will work with other parties, including airlines, to offer reasonable prices for this kind of tour.
Reportedly, educational tourism is part of a wide range of activities to implement the master plan to promote Danang tourism. Accordingly, the municipal tourism industry identifies the domestic market as the main tourism market in the current period.
"In order to diversify the tourist markets, we have found that the educational tourism trend is very popular among schools and businesses. This tour must combine practical experience, relaxation and entertainment activities," said Tan Van Vuong, Deputy Director of Danang Tourism Department.
SGT

Travel firms and tourism experts have suggested making COVID-19 insurance compulsory for all inbound and outbound travellers as one of the key requirements to welcome foreigners back to Vietnam.