Phu Nhai church, one of four minor basilicas in Vietnam

Phu Nhai church, officially known as the Basilica of the Immaculate Conception, is a Roman Catholic church located in Bui Chu Diocese in Xuan Truong district, Nam Dinh province.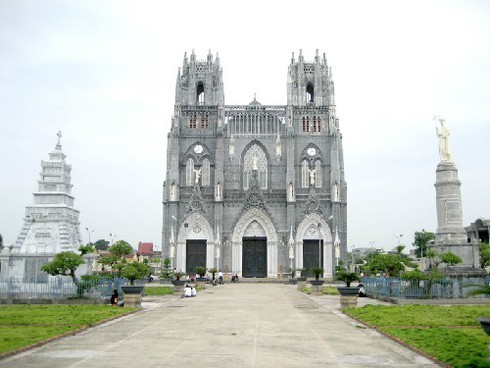 Phu Nhai church was the biggest in Indochina back when it was built. 
The church was originally built of wood by priest Emmanuel Riano Hoa in 1866, shortly after King Tu Duc signed a decree promising not to harm the Christian community, ending nearly three centuries of religious suppression. The church was restored several times, becoming larger and nicer and in a more Western style.
Unfortunately, it was leveled by a storm in 1929, but was rebuilt in 1933 to be the biggest church in Indochina at that time. After being damaged during the war, Phu Nhai church was remodeled by Bishop Nguyen Chu Trinh in 2004 into its current form. It was recognized as a minor basilica by the Vatican in 2008. The world now has four major basilicas, all in Italy, and 1,575 minor basilicas.   
Parishioner Dinh Ngoc Toan of Phu Nhai village said "Vietnam has four recognized minor basilicas, including Phu Nhai church, So Kien church in Ha Nam province, La Vang church in Quang Tri province, and the Notre Dame Cathedral in Ho Chi Minh City. Phu Nhai is a world-class church. It is packed with tourists all year round and most crowded during Christmas and holy ceremonies. The church borrowed the French architechture and was built by the Vietnamese."
Phu Nhai church covers 2,160 square meters. In front of the church is a square. On the right is a 17-meter tower dedicated to St. Dominic, who founded the Dominican Order in the 12th century.
Dominicans were the first missionaries to enter Vietnam in the 16th century. On the left of the church is a 15-meter tomb containing remains of 83 martyrs of the Phu Nhai diocese. Around the church are 14 embossments depicting Christ carrying the cross to his crucifixion.
Dinh Xuan Nghia, a Phu Nhai villager, told VOV "This church measures 30 meters high, 80 meters long, and 30 meters wide. The church has two towers, each 44 meters high, representing power. In Phu Nhai church, there are three statues, Mary in the middle flanked by two angels, symbolizing Jesus being born and in heaven. There are also statues of bishops who once looked after Bui Chu diocese. Inside the church are precious saint statues made of ivory brought from France." 
The church beguiles visitors with its Gothic decorations and architecture reminiscent of the Middle Ages in Western Europe. The embossments on the doors and walls are engraved with Chinese script. The two bell towers have four bells made in France, each weighing two tons. They are rung only during major festivals.
Two majestic wooden doors open to a cathedral with splendid arches. Like most Catholic churches, Phu Nhai church has a vertical form with an altar at the far end. On the altar is Jesus in the highest position with the virgin Mary placed a little bit lower. Both are delicately carved. 
Visitors can climb to the bell towers to enjoy a panoramic view of Phu Nhai village.
Tourist Nguyen Van Chien from Ho Chi Minh city said "I've been to numerous beautiful churches in Europe and find a lot of churches in Vietnam equally beautiful. Phu Nhai church has similar Gothic architecture with typical features like two bell towers, a pointed roof, asterisks, and Gothic doors. The church is not big but is as big as people at that time could build. The construction was entirely the work of Vietnamese people."
Major celebrations at Phu Nhai church include a dedication ceremony on December 7, the feast of the Immaculate Conception on December 8, and Christmas on December 24. Phu Nhai church is a tourist attraction that provides research material for architects and historians. VOV      

Located in District 3 of Ho Chi Minh City, the brightly coloured Tan Dinh Church has become a popular tourist attraction for both local and foreign visitors due to its unique pink shade coupled with Roman style architecture.

The So Kien Basilica, ordained in 2010, (also known as Ke So Church) is an interesting destination with massive and East-West convergent architectural style.