Oven-roasted veal, traditional French comfort food
Winter is the season of hot dishes to help fight the cold weather and hot ovens exuding warmth and the fulfilling fragrance of food around the house, showing signs of a happy family.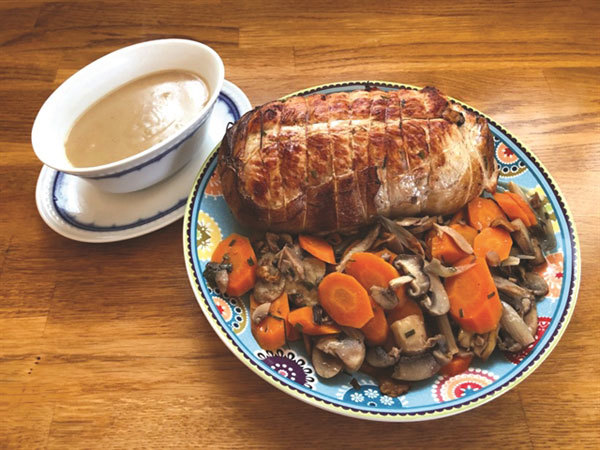 Oven-roasted veal in the traditional French style. VNS Photos Mathilde Tuyet Tran
The simplicity of a family is having food on the table, under one loving roof with loved ones around. 
Only when you lose these things do you know how having them is endless happiness.
It's getting colder in the suburbs of Paris where we live, though we turned on our heater in September. But on Monday, we ventured out grocery shopping for this very traditional French roast.
In France, like in many countries, there are both supermarkets and open-air markets. 
The open-air markets, usually open on fixed days, are where local farmers sell their poultry, veggies, fruits and eggs. Their produce may not be as easy on the eye as those sold in the supermarkets, but they are closer to nature. 
Prices at farmers' markets can be a little higher than in supermarkets, but many shop there just to have a chat with the sellers. 
During the COVID-19 pandemic, the French government issued two terms of social distancing and a curfew, that lasted for a month, and two months respectively. 
Travel was severely restricted to areas close to your residence, which caused many problems for those living in the countryside. Many villages lack commercial centres, bakeries and grocery stores, so it's quite a pain for villagers to drive long distances, sometimes up to 25km, to get their daily essentials.
French countryside people are used to living like that, but being restricted to staying close to home felt like deprivation of freedom for many. They then came to resent the laws and said only Parisians made the laws, and they made them to suit Parisians, who live in a metropolis where you can find anything at any time. 
This Christmas season, there will be more difficulties as the unemployment rate has risen, as some of the middle-class have gone bankrupt and lost their jobs. However, many families will always try at least to have a decent meal with little gifts for everyone, to bring about small happiness. 
That is what Christmas Eve dinner is for. It reunites everyone in the family for a healing process, that enriches and prolongs traditions. The warm lighting of the Christmas tree, the sound of children laughing, everyone telling their tales of the year, the hilarity when a present is opened, and the music, of course, the soothing sounds of Christmas carols make up for all the work and sacrifices mothers have made to bring everyone under one roof. The Christmas Eve dinner, as a result, is a sophisticated, sometimes costly meal, made especially for a special ocassion.
A complete white Christmas with snow quietly falling outside the glass window is the picture-perfect image of a Christmas Eve dinner. This year, I'll be making traditional French oven-roasted veal. 
A kilo of veal in France costs between 25-30 euros (US$30-$36) and you can roast the veal in a cast iron, in a pot or on a baking tray in the oven. 
For five people, you'll need a kilo of lean veal meat, the rump steak, wrapped around with the veal belly fat, then tie the whole bun up with cooking threads. In addition, 300gr of fresh mushrooms, 300gr of carrot, two cloves, two onions, one teaspoon of salt and pepper each, 1 tablespoon of all-purpose flour, some butter and olive oil, Provence herbs or a Provence bouquet that includes thyme, bay leaf, tarragon and a glass of red or white wine, or port is fine. 
What kind of wine you choose will set the tone for your sauce. I always mix half a glass of red with a half of port because for me, if veal is cooked with white wine, then it'll become another special dish, such as Marengo veal. 
In a large pot, add some olive oil, and sear all sides of the meat then take it off the heat. Butter a tin, then add a layer of sliced carrot, then a layer of sliced mushrooms, scatter onions and chopped garlic around the tin, sprinkle some salt and pepper, then put the veal meat on top. Add the wine, a tablespoon of olive oil, and a glass of water. Preheat the oven to 250 degrees Celsius, then put the tin in the middle rack. During the baking, which takes 20 minutes for half a kilo of veal, remember to pour the sauce on top so the meat won't dry up. So for a kilo of meat, you'll be roasting for 40 minutes. It depends if you like it medium, well or rare done to make the roasting time a little longer or shorter. For veal, you can have it rare on the inside. Use a sharp knife to see if no red juices come out, then the meat is well done and ready. The inside of meat still needs to show a pinkish colour when you serve it. 
Take the tin out of the oven and let it rest for five to 10 minutes. 
During that time, you can make the sauce. In a casserole, heat a tablespoon of butter, then fry a tablespoon of flour until golden, then add the juice from the meat in, mix well until it reaches a constant mix and season to taste. The fresh veggies, fresh milk, cooking cream and the wine have all added flavour to the sauce. 
Serve a thick slice of meat, accompanied with assorted vegetables, and ladle the sauce next to the meat. 
I hope you enjoy a delicious meal in the presence of your loved ones. VNS 
Mathilde Tuyet Tran*

Nha Trang not only has beautiful beaches and tasty seafood, but it's also a great place for bò nướng (grilled beef).
The first thing one notices about S-Villa is the old movie projector showcased at the lobby of the building.