Ninh Binh's time to shine

The magnificent province of Ninh Binh, home to winding water flows among beautiful karsts, rice fields and lotus swamps, the natural studio for the blockbuster Kong: Skull Island is now back in the national spotlight.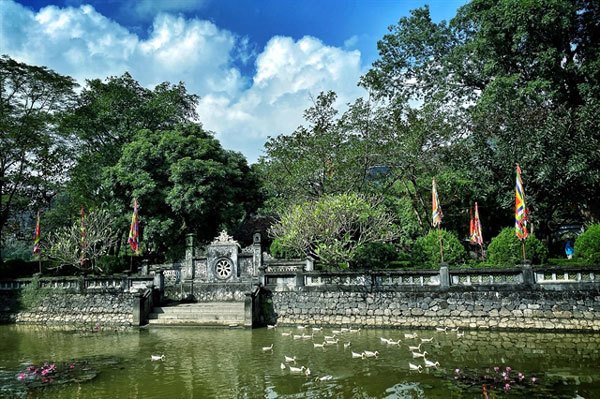 HISTORY RESONATES: The Hoa Lu Temple, built in the 17th century houses worshipping temples for King Dinh Tien Hoang and King Le Hoan.
This year the province will host the National Tourism Year programme, initiated by the Ministry of Culture, Sports and Tourism.
Home to the first independent kingdom of Dai Viet in the 10th century, Hoa Lu the royal capital features as the theme of Ninh Binh Tourism Year.
'Hoa Lu, the thousand-year-old royal capital' will shine through the year as the meeting point of international and local travellers.
Destinations for everyone
Located only two hours by car from Hanoi, Ninh Binh draws both international and local tourists. A visit to Vietnam's ancient capital of Hoa Lu is a must for students to pay tribute to the ancient kingdom as well as learn their history.
For high school students, the spectacular mountains and river background provide a stunning backdrop for yearbook and graduation photos.
In the early days of 2020, we made a trip to Hoa Lu, where the young woman at the ticket booth said they sold an average of 1,000 tickets per day.
"You are standing on the ground of the former treasury of King Dinh Tien Hoang," said Le Van Tien, 58, a local motorbike taxi driver-turned-tour guide.
"In 968, when King Dinh Tien Hoang founded our first independent kingdom named Dai Co Viet known as the Reign of Peace, he ordered the treasury be built here to store money coins, gold and food supplies to build the royal citadel," Tien said as he pointed around the valley, which is surrounded by mountains.
Legend has it that the king had to ride a horse to get down to the treasury. There weren't any roads like today.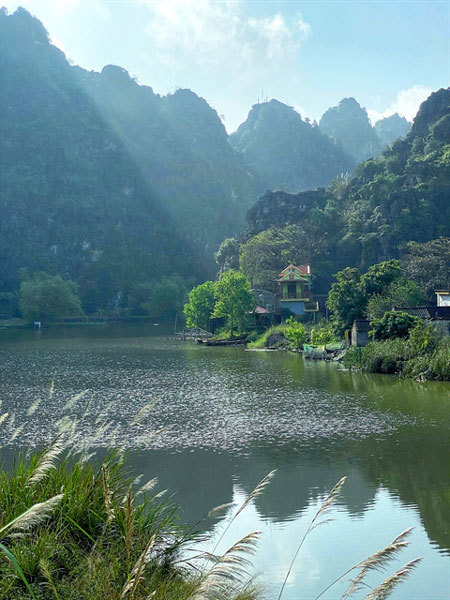 PICTURESQUE: The mountains nestled along emerald green rivers are Ninh Binh signature. VNS Photos Viet Thanh

He went on to say that in 1010 when King Ly Thai To decided to move the capital to the larger Dai La citadel on a larger area of flat land, a pagoda was built on the ground of the former treasury and named Kim Ngan Tu, which means Treasury Pagoda.
On the premises of the pagoda when we visited, a rare grapefruit tree was bearing more than 100 ripe fruits, which created an aura of prosperity during a special time as Tet, or Lunar New Year is just around the corner.
Most visitors who come to Hoa Lu only see the main worshipping altar to King Dinh Tien Hoang, King Le Hoan and his Queen Duong Van Nga.
Ancient stone beds were used as altars for royal ceremonies. Within the small gardens of the complex, you can hear English, French, Russian, Korean, Chinese, and of course Vietnamese.
A couple from the Netherlands told Việt Nam News this was their third time to Vietnam.
"This is my first trip to Ninh Binh," Julia van Bracht said. "I like the mountains and rivers, it's very nice. Fifteen years ago, I travelled from north to south: Ha Long Bay, Sa Pa, Hue, Hoi An, Nha Trang, Mui Ne."
"Seven years ago, I came back with my husband."
Her husband picked up from where she left off.
"We came here because of interesting people, culture, good weather, good food. It's lovely to be here. I feel quite comfortable to be here. No stress. It's touristic, but not too much. I like it the way it is now. It's quite authentic."
Masterplan
In a meeting to announce Ninh Binh would host National Tourism Year 2020, Minister of Culture, Sports and Tourism Nguyen Ngoc Thien said that many provinces have boosted tourism by hosting the programme. He added that it will also be a boon for the local economy and job creation.
"You need to take this opportunity to push tourism to Ninh Binh further up," he said.
He urged the provincial People's Committee Chairman Dinh Van Dien to work with neighbouring provinces to offer diverse experiences for tourists.
From 2010 until 2018, the number of tourists visiting Ninh Binh increased by 12 per cent each year, with revenue from tourism up by 25 per cent annually.
In 2018 alone, there were 7.4 million visitors, bringing in a total revenue of VND3.2 trillion (US$139 million) to a province with the country's 44th biggest population at 1.12 million people.
According to chairman Dien, Ninh Binh has become a popular spiritual destination for local tourists, who pay tribute at many local pagodas. But Ninh Binh's accommodation capacity is a maximum of 8 to 10 million visitors a year.
KEEPING THE FAITH: A temple worshipping Princess Phat Kim, daughter of King Dinh Tien Hoang in Hoa Lu.

Provinces typically use National Tourism Year to attract more visitors, but this is not the case for Ninh Binh. The province has long been a magnet for tourists, its only problem is how to ensure they don't all go to Ninh Binh at the same time of year.
This month, after Tet (Lunar New Year) holiday, thousands of local pilgrims will visit many pagodas in Ninh Binh, so tours channels need to be arranged to avoid congestion and overcrowding.
Several festivals will take place in Ninh Binh this year, including Tourism Year's opening ceremony in February, Bai Dinh Pagoda festival, Hoa Lu, ancient capital festival, Trang An festival, the Golden Week of Tam Coc - Trang An for the rice harvesting time and more. Other events will take place around the year and in 16 other cities and provinces.
The chairman of the Administration of Tourism, Nguyen Trung Khanh, confirmed its complete support for Ninh Binh and promised to fund public campaign to promote the province at international tourism fairs.
Excuse me? Sunbathing on a beach in Ninh Binh?
Bui Thanh Dong, head of the Tourism Department of Ninh Binh, has announced that work has been implemented so that visitors can enjoy the province's beautiful beaches.
With 3,000 km of coast, Vietnam has many popular beaches from north to south, but Ninh Binh has never been seen as a place for a beach getaway.
For the first time, the province has invested in accommodation facilities to host guests to its beach on Con Noi, or floating island, in Kim Son District.
"We have worked out a masterplan, in which tourism in Ninh Binh will reach its peak in 2030, bringing in the major source of income to our province," Dong said.
Making ends meet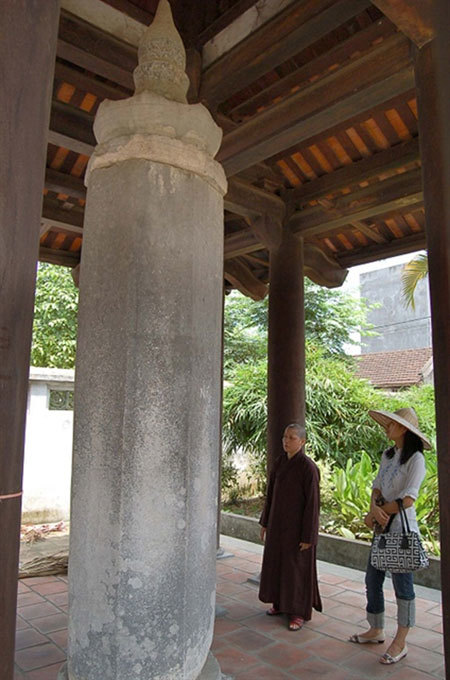 GOLDEN OLDIE: The stone pillar in Nhat Tru (One Pillar) Pagoda in Ninh Binh, which is older than the more popular One Pillar Pagoda in Hanoi.

During the low season towards the end of the lunar year, a 35-member team of motorbike drivers at Hoa Lu Ancient Kings' tombs make ends meet by driving elderly people around to visit six places, including the Treasury Pagoda, Hoa Lu and the most ancient stone pillar with ancient script, which is now weathered beyond recognition.
A roof had been put on it in 2010, when Hanoi celebrated its centennial founding anniversary.
"Can you feel the fresh air, the beautiful scenery and the tranquillity of this pagoda," asked Nguyen Van Cuong, a retired artillery soldier, who spent seven years in the army defending his country. Now he drives guests on his bike to tour the historic places of his home.
"What more can I expect as a retired armyman, showing people from all over the world our beautiful home, and making ends meet from it."
Definitely so, but only during the low season, when only about 1,000 people visit Hoa Lu a day, but not later this month, when many buses, cars and motorbikes will bring thousands of people daily.
Perhaps, Ninh Binh health authorities should also put their air quality monitors to work. VNS

National Tourism Year Timeline
2020: Ninh Bình Province: Hoa Lư, centennial royal capital
2019: Khánh Hòa Province: Nha Trang: - The Colours of the Sea
2018: Quảng Ninh Province: Hạ Long: The Heritage - The World Wonder - The Friendly Destination
2017: Northwestern provinces: Vibrant colours of the Northwest
2016: Phú Quốc island and the Mekong Delta: Discovery of the southern land
2015: Thanh Hóa Province: Connecting World Heritage Sites
2014: Lâm Đồng Province and the Central Highlands: Into the deep jungle of the Central Highlands
2013: City of Hải Phòng and the Red River Delta civilisation
2012: Thừa Thiên - Huế and the central coastal provinces: Festival Huế and the heritage path
2011: Phú Yên Province and the southcentral coastal provinces: sea tourism confirms Viêt Nam's sovereignty on its islands of Paracels and Spratlys
2010: Hà Nội - Thăng Long, the meeting point over the 1000 years
2009: The only year when National Tourism programme was cancelled due to Đắc Lắc Province's withdrawal
2008: Cần Thơ Province and the Mekong River Delta: Orchards of the Delta
2007: Thái Nguyên Province: Homecoming to the resistance war base in Việt Bắc
2006: Quảng Nam Province: One destination - two World Heritage Sites
2005: Nghệ An Province: In the footsteps of President Hồ Chí Minh
2004: Điện Biên Province: Proud home of the former battlefield of Điện Biên Phủ
2003: Quảng Ninh Province: The picturesque landscape of Hạ Long
by Nguyen My Ha

The National Tourism Year 2020 will be launched in the northern province of Ninh Binh on February 20, 2020, heard a press conference in Hanoi on December 10.

Tourists are being lured to enjoy the golden fields by the mountains of Hoa Lu District at the start of the Ninh Binh Tourism Week 2019 which kicked off on Saturday.